This stunning reconstruction of Arendal's Knubben harbour baths will mark the town's 300th anniversary.
Snøhetta are at it again. The world-renowned Norwegian design company responsible for Oslo Opera House have unveiled their striking design for a new harbour pool in Arendal, Norway.
If the real thing turns out to be anything like the design, the reconstructed Knubben is sure to be a hit with locals and tourists alike.
One of the main towns in Southern Norway, Arendal is home to approximately 37,500 people. Several more thousand live in the wider municipality.
Bringing history back to life
Knubben was first opened as a public bathing facility in 1937. Used by the local swimming club for competitions, the facility closed just a decade later.
It reopened as a jazz club for a brief period in the 1950s, before falling into disrepair and eventually being demolished in the 1980s.
In 2018, Arendal decided to revitalise the facility and launched a feasibility study together with Snøhetta. The landmark project is being launched to celebrate the town's 300th anniversary in 2023, although a specific opening date is as yet unknown.
Reinterpreting the past
The original idea was to restore the harbour bath to its former design. However, the town wanted a multi-use facility, which required major modernisation and a rethink in design principles.
"The new Knubben is interpreted as an architectural response to the past, conserving vital parts to be memorialized, whilst emphasizing the becoming of Arendal as an urban destination for both national and international audiences," explained Snøhetta.
The artificial island will sit on steel core piles to broaden its size and potential uses. Islets and skerries along Norway's coastline inspired the design.
"It will resemble a block of stone shaped during the Last Glacial Period, characterized by abraded shapes where soft concave and convex walls form cavities in the landscape. To represent the terrain as accurately as possible, the construction will consist of horizontal layers following the contour lines of a map," explained Snøhetta.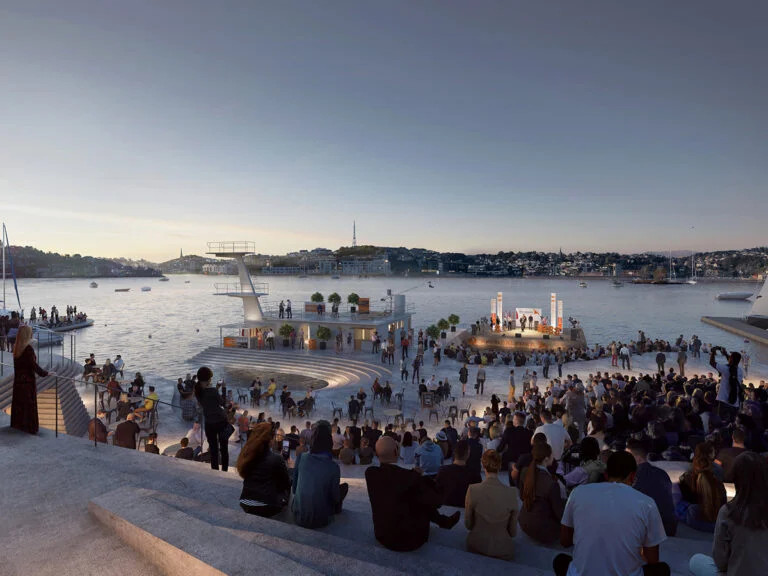 More than just a harbour pool
An exciting element of the project is the multi-use nature of the design. Summer swimming and diving will of course be important. The 750-square-metre complex will include diving platforms, changing rooms and space for sunbathing and relaxing.
But the town of Arendal hopes the facility can be used year-round, not just for swimming.
As such, Knubben will feature an open-air stage alongside a sculptural amphitheatre, creating a flexible setting for a variety of performances. Knubben will also be home to an indoor area, including a cafe/restaurant and space for intimate concerts.
What do you think of Arendal's proposed harbour pool?