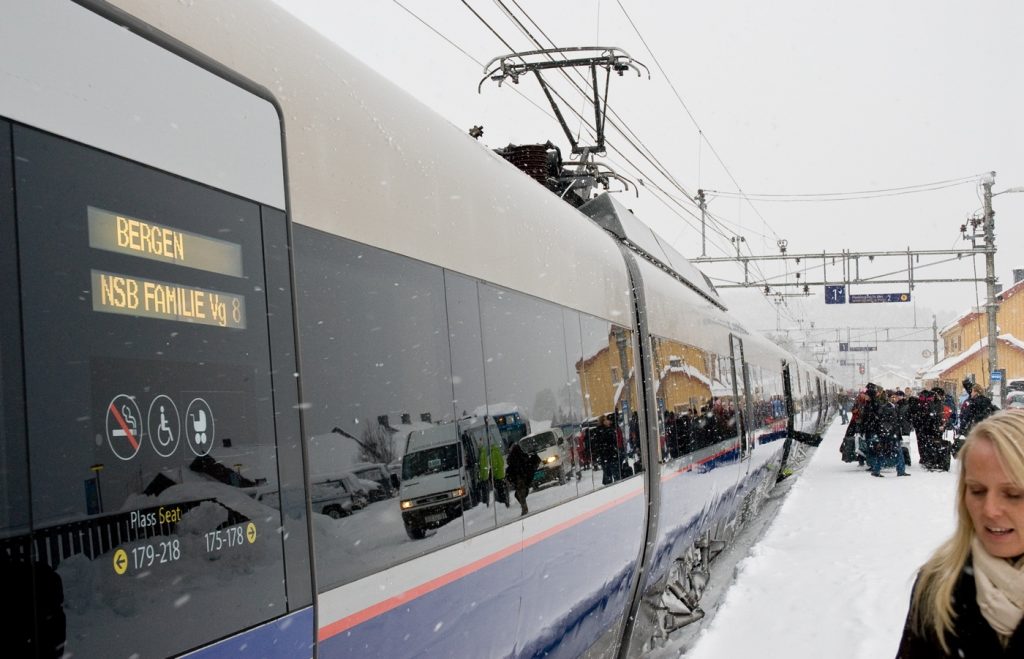 The line from Oslo to Bergen is one of the most famous and beautiful railway journeys in the whole world.
If you're wanting to see some Norwegian scenery, you really can't beat the Bergen Line (BergensBanen). Over the course of about six hours, the train will take you between over the mountains between Oslo and Bergen. The views are incredible. I'd read so much the BergensBanen, that my husband and I decided it was a must-see on our trip to Norway.
Read more: Norway by Train
We had started our vacation by meeting up with some friends in Oslo, and so we decided to take the train towards Bergen (though you can certainly also travel the other direction), and then to rent a car in Bergen and do some fjord exploration from there. Thus we only took the train one way.
Booking the trip
There are many ways to tour Norway, and Norway in a Nutshell is one way to do it. They offer a variety of trips up to the fjords where they cover all your transportation and a ride on the BergensBanen is included on some of their itineraries.
It's worth doing an Internet search for package tours, if that is something that interests you. As for us, we wanted to be as independent as possible, so we booked things "a la carte."
To book train tickets, you can go right to the Vy website. Eurorail also sells them (and if you Google for tickets, they will come up front and center), but the tickets were so much more expensive.
You can get seats in the Komfort car via Vy for way cheaper, even more so if you can buy at the minipris price. In 2015, we paid 878 NOK for 2 adults in Komfort via Vy, versus approximately 2,300 NOK via Eurorail. And that was for a regular car without seat assignments.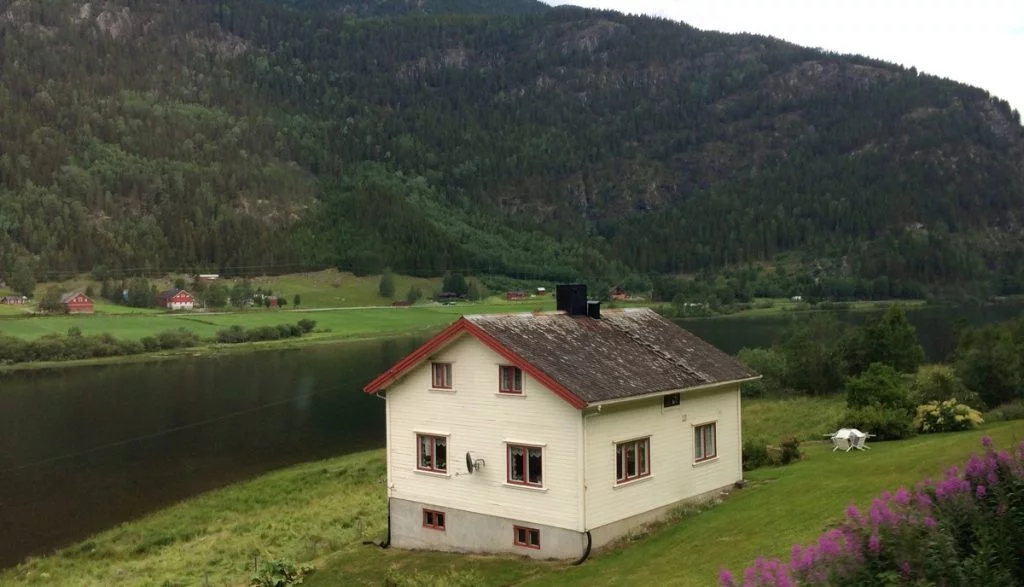 The Komfort car is nice, you can pick your seats, and it gives you more leg room. Supposedly it had a plug for charging phones, but I didn't find one on our car.  Get a window seat – of course.
The trains have two seats per side, and either side of the train will give you a beautiful view. But if you want to see Finse and a lot of the mountain scenery, I'd sit on the left (if you are headed towards Bergen). That's the side we sat on.
Sit back and enjoy
Some of the best scenery, up in the mountains, hits at around the fourth hour of the ride, and the last hour is all tunnels, so time your trip to the cafe car or the bathroom accordingly.
The food from the cafe cars was actually quite good and worth investigating. They have snacks and also hot food.  You can eat there or bring it back to your seat. We ate some heated food in the café car and also ate snacks in our seat.
As the train moves out from Bergen, it enters rolling, green mountains that reminded me a bit of Pennsylvania – though of course it pretty quickly becomes very Norwegian. As we climbed to higher elevations, we saw quite a lot of ice and snow – and we were there in July! I was told that this much snow in July was unusual, even in the mountains.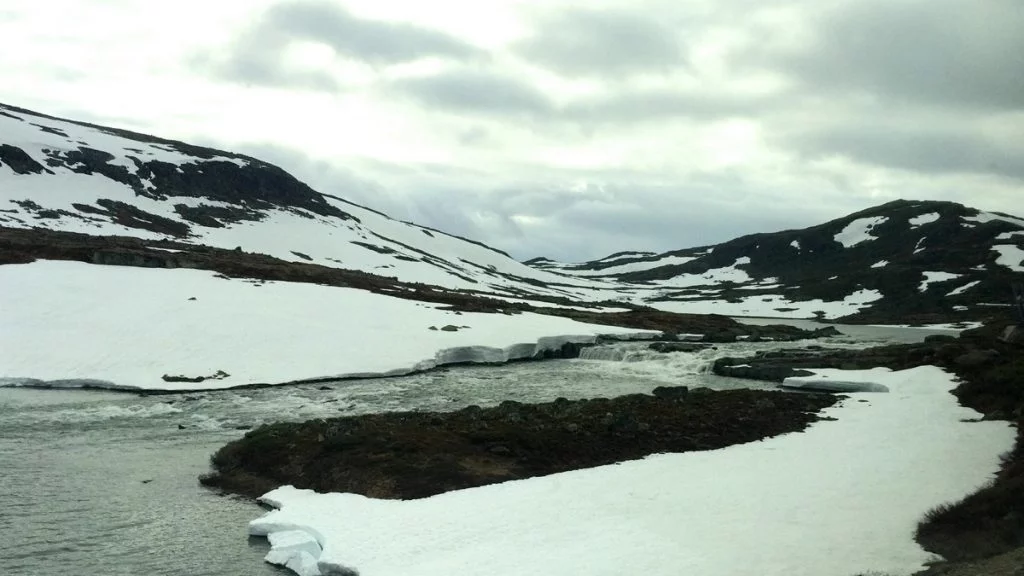 Here is Finse. It has an elevation of 1,222 meters (4,009 ft), which makes it the highest station on the entire Norwegian railway system. Fun fact: the scenes set on the ice planet Hoth in Star Wars' The Empire Strikes Back were filmed right here in Finse!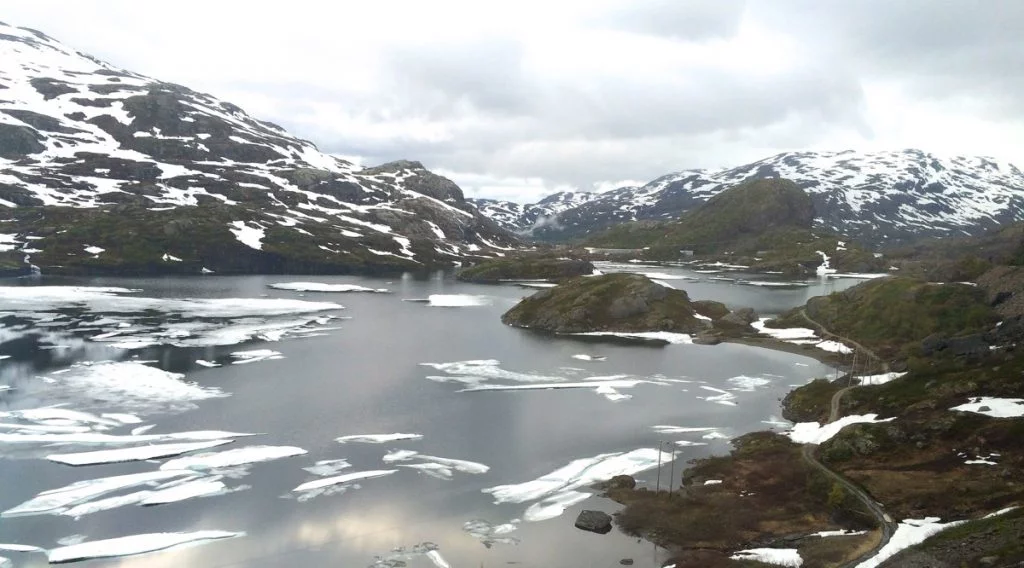 We got some dinner – kjøttkaker og poteter i brun saus, or meatballs and potatoes in brown sauce – from the café car. It was actually really tasty! Then, we were down and out of the mountains: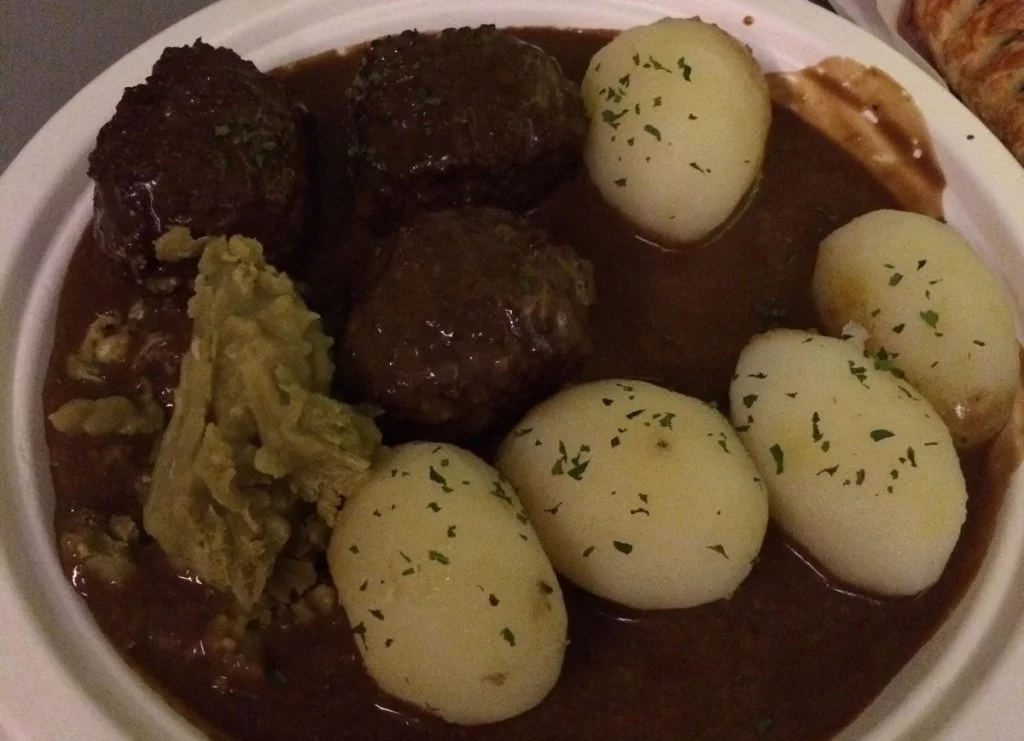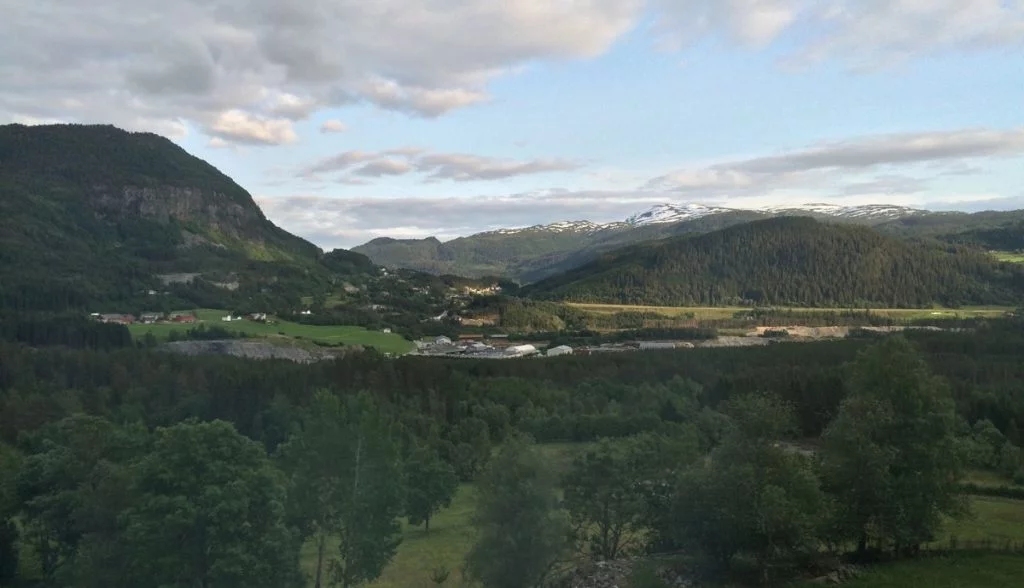 The last hour of the trip is tunnels. Lots of tunnels. So this is a good time to take a nap (because the scenery you just spent hours watching was exhaustingly beautiful), or to get something to eat. And I mean A LOT of tunnels. You won't get much of a view. When we drove the road that runs along train line later, we counted somewhere around 33 tunnels!
Of course, should you want to experience the ENTIRETY of the train ride, without actually going to Norway, the whole thing was recorded for Norwegian slow TV! The video doesn't do the views justice, so I definitely recommend seeing it for yourself. It's well worth your time.
Photos: Maggie Allien and abbilder