One of Bergen's biggest tourist attractions is now closed for refurbishment. Here's what you need to know about the future of Fløibanen.
If you've ever visited Bergen, chances are you took Fløibanen up to the top of Mount Fløyen in as little as five minutes. The funicular railway is a must-do in Bergen for the fantastic views of the city.
Since it opened in 1918, Fløibanen has carried more than 50 million people to and from Mount Fløyen.
Closed for six months
But now the famous attraction is temporarily closed. Extensive refurbishment works will take place at all five stations, to the track and the carriages.
Fløibanen's last journey in its current form took place on 20 September, and it will now stay closed until April next year. Of course there's plenty of other great things to do in Bergen, but visitors hoping to ride the funicular this winter will be disappointed.
In the meantime, you can of course check out our video of Fløibanen:
Driver Solveig Eikesdal has worked as a driver for four years. She told Bergensavisen the farewell journey was a sad night: "I will work in a restaurant but I look forward to coming back and driving the new carriages, which are getting bigger and better."
Improvement plans
During the six-month closure, all five stations will be rebuilt to lengthen the platforms and meet modern standards. Their design will make it easier for wheelchair users and people with prams to use the service.
The cable car system itself will also be upgraded. After 20 years in service, the blue and red carriages Rødhette & Blåmann will be replaced with larger, more modern carriages.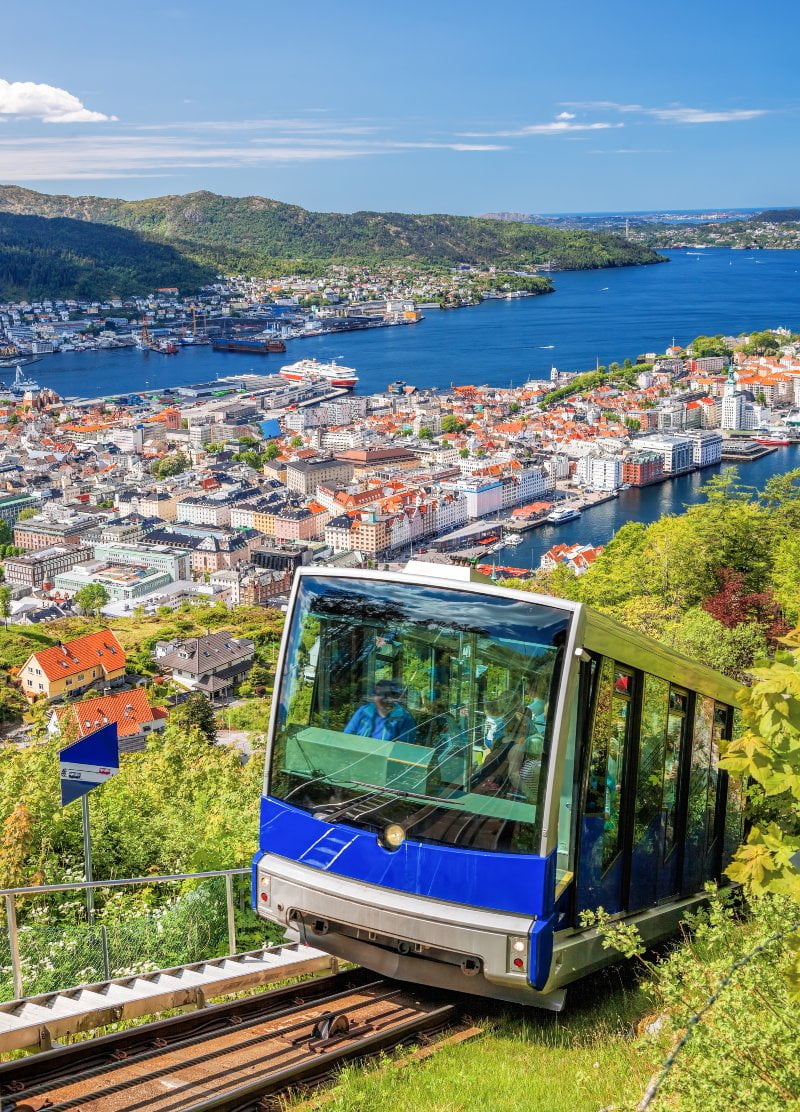 The current Swiss-built carriages have been in use since 2002, and are the fourth generation. They are 12 metres long and weigh 13 tons without any passengers.
Read more: Gamle Bergen Museum: A Taste of Old Bergen
In total, the upgrade is expected to cost NOK 160 million, or approximately $18.5 million. The planned reopening is scheduled for 1 April, 2022. That date gives a little wiggle room before the tourist season begins should there be any delays.
A landmark for tourists and locals
While Fløibanen is well-known among tourists, it also serves as a commuter service for many locals who live on the hillside.
Local resident Snefrid Thobru told Bergensavisa she uses the service daily. While she understands the need for improvements, she is concerned for the months to come.
"There will be a lot of walking in the next six months. I'm a little scared, because it's hard to carry the shopping bags home all the way from the city. They have promised to set up buses, but they will only run until 5pm," she said.
Keen hikers and skiers also use the funicular to quickly reach the trailheads at the top of Mount Fløyen.
The trek to Mount Ulriken is one of the most popular hikes in Bergen. However, it does take around five hours. At Ulriken, you can take a cable car back down. On a clear day you can enjoy the view all the way over to the Folgefonna glacier.