Dive into Norwegian history with this video tour and photos of the Old Bergen Museum in Bergen, Norway.
Anyone who has visited Bergen has surely spent some time wandering the alleys of Bryggen, Bergen's UNESCO World Heritage site. But there's so much more to discover in the history of Bergen.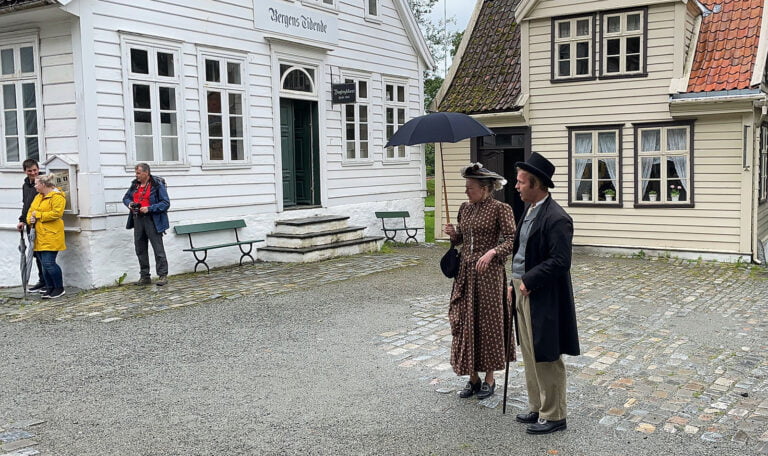 Located away from the city centre in the suburb of Sandviken, Gamle Bergen Museum takes visitors back to the city as it was in the 19th century.
Video: Gamle Bergen in 60 Seconds
What can visitors expect, and is it worth the trip? That's what this article aims to answer. Start by watching this brief video tour, or watch a higher quality version on YouTube if you prefer:
If you enjoyed the video, read on to discover more.
An introduction to the museum
First things first, Gamle Bergen is Norwegian for Old Bergen. The main part of the open-air museum is a reconstructed town square with around 50 wooden buildings.
The buildings give an insight into what life was like in Bergen in the 18th and 19th centuries, when Bergen had a very distinctive look. At the time, it was the largest wooden city in Europe with plenty of busy public squares and alleyways.
Most of the houses have displays that you can see through the windows, and in some cases go inside. It's well worth taking a look inside each one, as some have stairs leading to several rooms you won't otherwise see.
Read more: Fun Facts About Bergen
There are several cobbled lanes leading off from the square, so grab a map when you enter to make sure you don't miss anything.
The dentist's office
One word of warning. If you're the kind of person who gets squeamish at the dentist, you may want to prepare yourself before visiting the dentist's house!
Then again, one glance at the dental equipment and you'll realise how good we have things today.
Live performances
A highlight of the museum is the live re-enactments. The short performances are designed to be a comedic "slice of life" from the 19th century.
The performance I saw was delivered in English, but I think others are done in Norwegian.
Under "normal times" there are several performances per day during the high season, so check in advance or when you arrive to make sure you don't miss one.
Is it worth a visit?
I didn't learn a great deal at the museum, but I still enjoyed my visit. I'm someone who enjoys open-air museums and visits them any chance I get, so bear that in mind!
The museum is smaller than I expected so this certainly isn't somewhere you would come for the day. You'll need no more than two hours here, probably a little less. That does make the entrance charge of NOK 120 seem a little on the high side.
The big downside of the museum from a tourist perspective is its location. Sandviken is a popular residential suburb but it's a 45 minute walk north of Bryggen.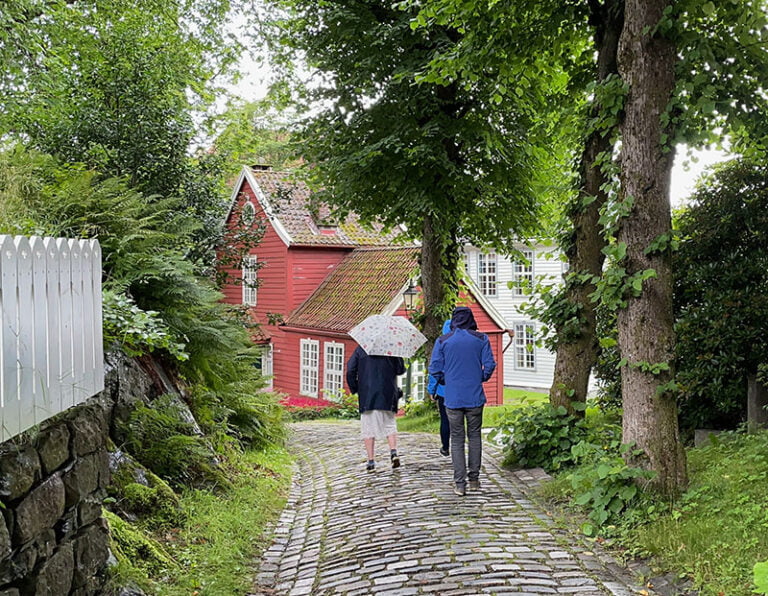 I actually did walk because I had other things to do in the area, but I don't recommend walking. Not least, because of Bergen's notoriously wet weather! Of course, you can take the bus or even a boat, but it just adds to the planning required.
Practical matters
At the time of writing, the museum cost NOK 120 for adults. The opening hours were restricted during 2021, so check in advance if you want to visit. You'll find the latest information on the website of Bergen City Museum, of which the museum is part.
During high season there is also a passenger ferry service from downtown Bergen. The ferry, Beffen, is a charming old boat, although I think a couple others also operate the route.
A day ticket is available so it's possible to create your own mini-tour of Bergen, or simply use the ferry as return transport to and from the museum. Either way it's a good value deal as you get to see Bergen from the water.