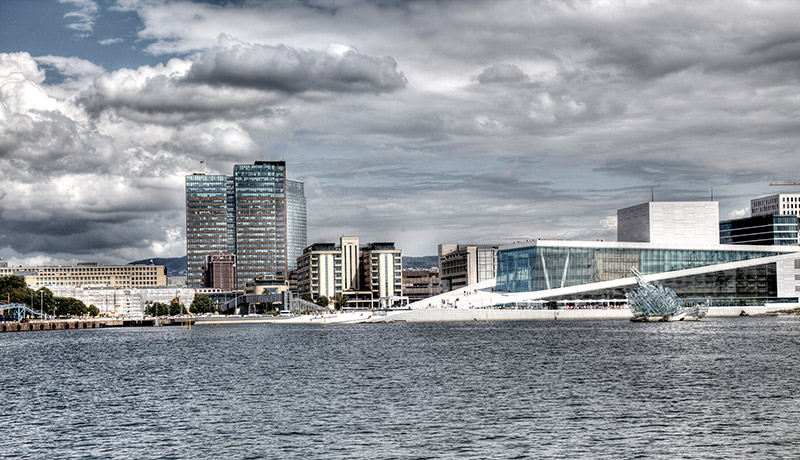 There are budget accommodation options in the Norwegian capital, but you may need to consider staying outside the central area.
If you're travelling on a shoestring budget, a trip Norway is probably not your best option. There's no getting round the fact that country is expensive for most overseas visitors.
But if you have the cash and want to make your budget stretch a little further, then Oslo has a large number of budget hotels and hostels. Checking into one of these will help you save money on accommodation and let you spend a little more on seeing the sights and enjoying everything the city has to offer.
Read more: Cheap holidays in Norway
In this article we'll take a look at both the good and bad points of some of these hostels to help you decide which ones might be right for you.
Anker Hostel
Co-located with the Anker Hotel, the Anker Hostel is situated around half a mile from Oslo Central Station and Karl Johans Gate and about a mile from Akershus Fortress and the Royal Palace.
Anker Hostel boasts a range of rooms from shared dormitory-style rooms with bunk beds to private single, double and twin rooms. Instead of the shared kitchen that's a feature of many hostels, most rooms have a kitchenette to allow you to heat your own food.
Be warned, you have to pay extra for bed linen, or sleep without, and you're forbidden to use your own sleeping bag, though in reality no one checks!
The hostel has a 24-hour front desk, which can be very useful if you're travelling around and don't know when you'll be arriving. There's free wi-fi available so you can plan your adventures without paying for data. There's also a shared lounge and TV room, snack bar, bar and terrace for a little relaxation.
In terms of security there are lockers to keep your belongings secure and a safety deposit box for valuables. You can also leave your luggage in free storage if check in and check out times don't match your itinerary. If you need to access cash then there's also an ATM on site.
Anker has a 7.5 average on Booking.com with the majority of reviews coming in as Good or Superb.
Good: "I enjoyed the size of the room, how close the hostel was to the central station, how friendly the staff was and how clean the room was."
Bad: "it was not announced in booking.com that linens are for extra cost. Dirty, fridge didn't work well. Beds smelled really bad"
Oslo Hostel Rønningen
The Rønningen hostel is located in the leafy suburb of Kjelsås, to the North of Oslo. At over 4 miles from Oslo Central station it may not be ideal for the city centre but is perfect for a picturesque stay in a quieter area.
Getting into the city centre is easy though, with a tram stop 10-15 minutes away on foot and Kjelsås station similarly close. This is also one of the best hostels for anyone travelling by car as parking is available at the hostel for free.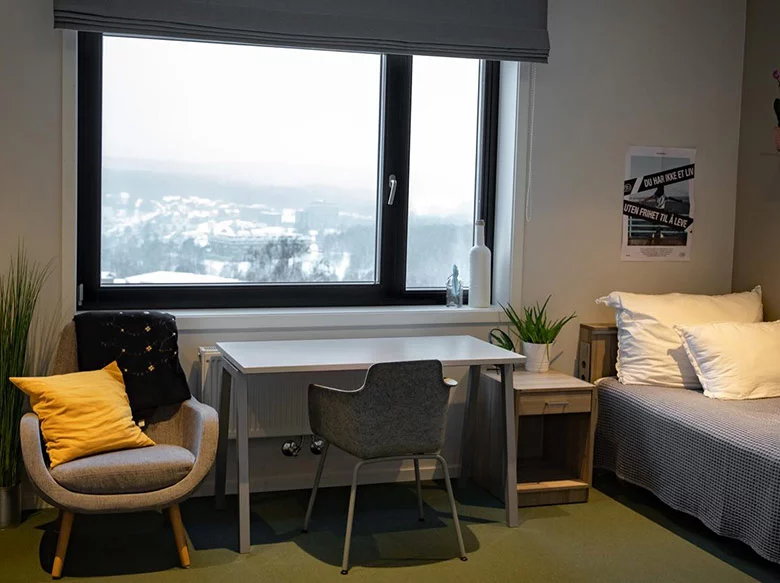 Rooms are mostly private rather than shared and some have private bathrooms too. Some rooms also offer a mountain view to add something a little bit special to your stay. The kitchen facilities are shared. There are also laundry facilities and the hostel is accessible throughout for disabled visitors.
The hostel has free Wifi throughout, a TV room and library, and offers at least 20 board games to help fill the evenings. Guests can also play billiards, table tennis and volleyball. Nearby attractions include the Museum of Science and Technology and the Maridalsvannet lake.
The hostel has an average rating of 8.4 on Booking.com.
Good: "Economic and much better than any hostel and many hotels!"
Bad: Finding bad reviews is difficult for this place. Most people mention that it's far from the city centre but then say that this is a plus point. One reviewer I found didn't enjoy the breakfast but then rated the place 9.6 overall!
Vandrerhjem Haraldsheim
Like Rønningen, the Haraldsheim is located in a beautiful green suburb where you can feel like you're in the countryside. But at only 2.5 miles from the Central Station, the city centre is walkable by most people in about 30-45 minutes.
Offering a mix of dormitory-style and private accommodation, the hostel has something to suit everyone's needs. There's a shared kitchen and a TV room and lounge, with books, board games and DVDs to provide entertainment. There's free parking, and free wifi in public areas.
Nearby there's the botanical gardens and the natural history museum and the Akerselva river is within a 10 minute walk.
Haraldsheim is rated 8.0 on Booking.com.
Good: "I liked the breakfast, desk staff, and the nice design of the hostel. Very beautiful setting and it felt very welcoming. The showers were nice, clean, and spacious as well as the bathrooms. Overall I loved my stay here."
Bad: Again, there are very few bad reviews but one mentioned that the top bunks in the dormitories don't have sockets so you may need to become friendly with someone on a lower bunk if you need to charge your phone!
Oslo Hostel Holtekilen
Holtekilen hostel is located 5 miles from Oslo City Centre, right by the E14 motorway. There are frequent buses into Oslo with a bus stop a couple of minutes away. It's also within a 10 minute walk of the Telenor Arena so if you're in town for a concert then it's your best bet.
There's a mixture of shared and private rooms, with shared bathroom and kitchen facilities. The Hostel has a TV room and lounge area as well as a large garden with barbecue facilities – great for al fresco dining in the summer. The hostel is also located right by the beach.
The hostel has free wifi and also free parking so if you're hiring a car then it's well worth considering.
Good: "The staff are all accommodating. The place is clean and public transportation is just a few meter walk, good value for your money."
Bad: "Most bathrooms smelled damp (moldy according to me, not according to staff because it was because someone had showered) and had black dots on the ceiling and on the floors that the owners had painted over."
Other budget options
If you don't fancy the communal, shared experience of hostels, Oslo also has a large number of budget hotels offering an upgraded experience without stretching the budget too much further.
Places such as the Boxhotel and HTL Karl Johan can certainly add a small touch of luxury to your low cost trip. You can check our thoughts on some of these budget hotels here.