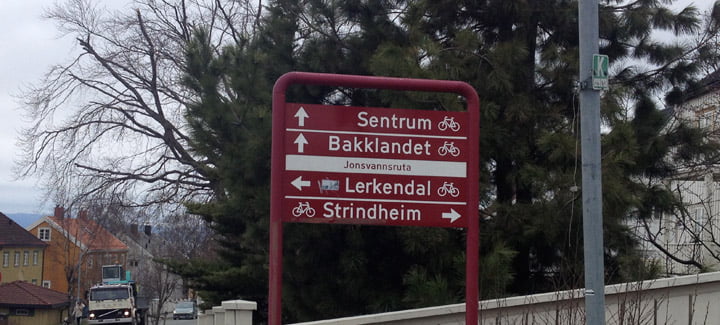 For a country buried under snow and ice for several months of the year, Norway has a surprising love of cycling. That's what I thought before moving to Trondheim. Here, I realise it's more than just a love, it's an obsession.
Trondheim is bike city!
I can't walk the three minutes to my local Bunnpris without seeing at least one cyclist; often many more. I'm passed by a ton of them on my morning walk to the gym, whether I take the cycle path or the road. There's cycle paths everywhere, and I don't mean just a section of the road. There's an entire network of purpose-built cycleways covering the city, mapped out and signposted.
The infrastructure really is impressive. There's a decent network in Oslo, but the convenience and ease of the bike tracks here is something I haven't seen anywhere else that I've lived. I'm sure other European cities rival Trondheim's cycling infrastructure, but bearing in mind Trondheim lies at 63.25 degrees north and suffers from interesting weather, it's all the more remarkable.
There's a bike rental scheme in the town centre. It's a much smaller program than in Oslo, but as every Trondheim resident seems to own a bike, it doesn't matter so much! If you're visiting Trondheim for a few days or longer, this is a great option to get around the compact centre.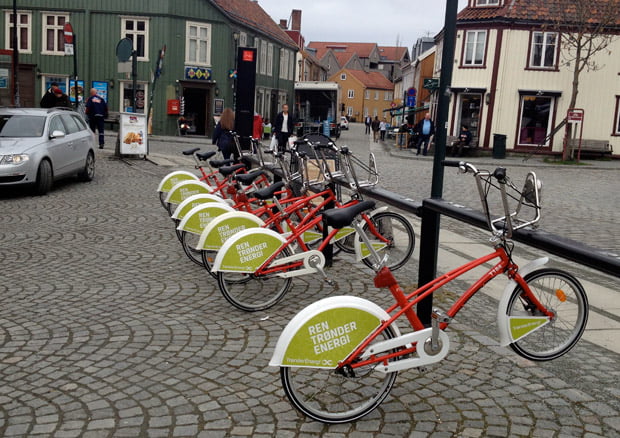 The bicycle lift
No post about cycling in Trondheim would be anything like complete without mentioning the bicycle lift. It's transported more than 220,000 bikes up a steep hill in the historical Bakklandet area of Trondheim since its opening 15 years ago.
Curious about what a bicycle lift looks like? Here you go:
Trondheim locals love the lift: ask anyone what to see while you're here and I guarantee this will come up in conversation! While I'm not sure it's all that amazing, it is a very unique part of Trondheim's charm!
I've been infected
It didn't take long. After just a few weeks of living in Trondheim, I've bought a bike!
It makes sense for me. Economically, because I'm saving NOK 620 on a monthly bus pass, but also for my health, as I'm cycling up and down some of Trondheim's steep hills. Okay, hands up, I'm cycling down them, and doing my very best to cycle up them.
Give me time – and I'll be zipping around like a local 😉