Oslo has its fair share of Christmas markets, but this one ranks as my favourite.
It's been a right royally cold week in Oslo!
The temperature has been below -10C for most of the week and even touched -19C at one point. It only got colder than that once last year, when I was introduced to biathlon. Not that I'm complaining though, I'd rather it be cold than wet.
As winter takes it hold on the city, my thoughts have drifted towards the upcoming holidays. Now I'm an expat, Christmas has taken on a new meaning. I was never a fan, but now Christmas means a chance to reconnect with "home" and spend some quality time with my family, something I always took for granted when I lived in the UK.
Many Christmas markets in and around Oslo
The Christmas season in Norway starts much later than back home, not getting going until December. It's also a more subdued affair, with simple lights (mainly white, not garish colours) and traditional customs. One of those traditions is the Christmas market.
Rather than one huge market, Oslo spreads the festive joy across the city with a number of events.
There's a small but popular market in the city centre, Christmas weekends at the Folk Museum, a Designers market, the Christmas market at Blå in Grünerløkka, and last but not least, the festive program at Bærums Verk, where I spent my Saturday.
Bærums Verk is a former ironworks across the city border in Bærum. These days its a shopping village, but still retains much of its original character. I travelled on the 143 bus directly from Oslo city centre.
The journey took about 45 minutes and took me through some bits of Oslo and Bærum I hadn't seen before, such as Stabekk and Bekkestua.
First impressions
As I arrived the first thing that struck me was the frozen river alongside old brick factory buildings, reminding me very much of Akerselva (the river running through Oslo) around Grunerløkka last winter.
At first I thought it odd to find a supermarket located here, along with a modern shopping centre inside one of the old buildings. But I soon realised this is not just a shopping village, it's also a village centre for the few thousand people who live nearby in the residential parts of Bærums Verk.
The centre straddles the River Lomma and its distinct areas are linked by several bridges, making for a picturesque environment – especially with the snow!
There were a lot of people about especially families with young children, but I couldn't seem to spot the Christmas market that had been advertised.
It turns out the centre was a lot bigger than I first realised, and a short walk along the river took me past a frozen waterfall to Verksgata, home of many more boutiques and at last, the Christmas market!
Christmas Weekends at Bærums Verk
The centre hosts a program of activities throughout December, mainly aimed at families with young children. As I wandered around Verksgata it gradually became a picture postcard Scandinavian Christmas… there were reindeer pulling children on sledges, Glühwein by the bucket and yes, even chestnuts roasting on an open fire!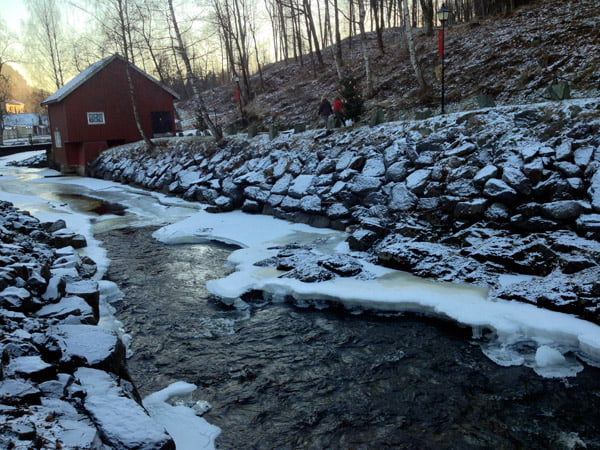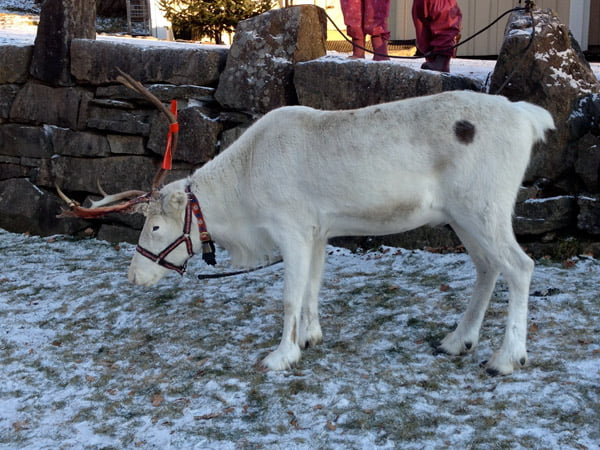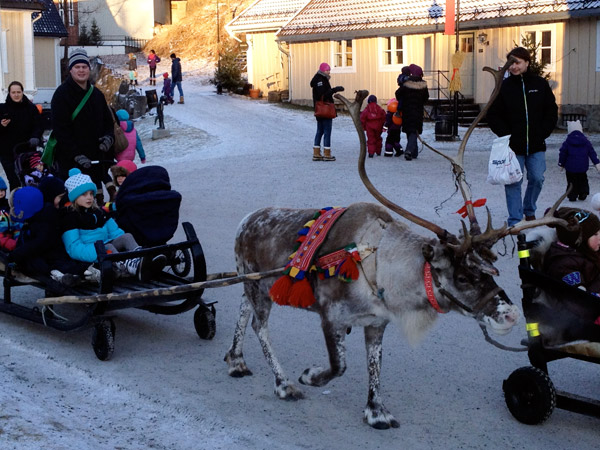 Surprisingly so for such a market, there was some pretty decent stuff on sale. Between the stalls and the boutiques, there was arts, crafts, interiors, toys, hats, clothing, chocolate, and a whole load of Christmas food. For the hungry there were a couple of cafes and restaurants, including an impressive looking Pancake House!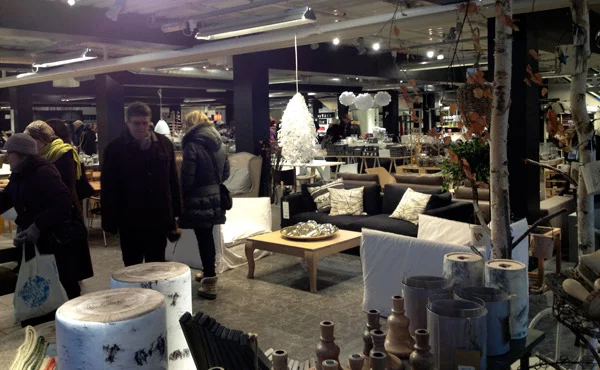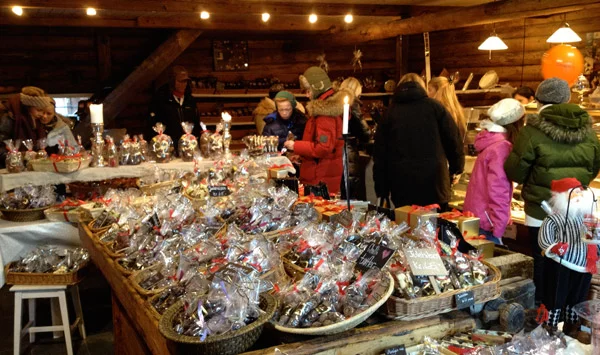 The history of the site is fascinating, but with the holiday spirit in full swing I didn't really pay a lot of attention to it. I will return to Bærums Verk at some point to find out more about the former ironworks, but this visit was all about the magic of Christmas.