The coast of Norway offers relaxed snorkelling, scuba diving, freediving and deep sea diving, albeit in often chilly waters. Discover the best diving locations in Norway that are starting to make a splash on the international scene.
The waters off the long coastline of Norway are certainly not a warm, tropical environment. But that's not to say they don't offer some fantastic conditions for diving.
Opportunities for diving in Norway
Norway has a diverse range of dive sites, from wall dives to shipwrecks, of varying difficulties. The waters in this region, even though they can be cold, are clean and clear which makes for great underwater adventures.
We take a look at some of the best and most popular diving locations along Norway's coastline. Let's dive right in!
Gulen, Vestland
Located just north of Bergen is the popular diving site of Gulen. Its location may be a little isolated, but it's well worth the journey for the underwater treasures that await.
Perhaps the most popular of those treasures is DS Frankenwald, a German steamship that ran aground in Sognefjord in 1940. Her remains are well preserved and offer an underwater playground for divers. But because the wreck lies in a sheltered cove in the fjord, visibility is poor, so it's a dive for more experienced divers.
However, there are also other sites to explore, from soft coral reefs to macro diving options (dives that do not focus on large things). All sites are situated in the fjord or on the coast and are no more than a short 30-minute boat ride away.
Accommodation: the Gulen Dive Resort offers packages that include accommodation, organised dives with experienced divers that explore up to 25 dive locations and transport to and from dive sites.
Hottane, Møre & Romsdal
Some 922 kilometres (573 miles) north of Norway's capital Oslo, set amongst the green and mountainous region of Møre & Romsdal, are the diving sites at Hottane. It's an area that's also known for its hiking.
In the water, there are several options for diving. Sites offer a mixture of kelp forests, sand-based bottoms and rocky shorelines, and importantly, there are dives for beginners as well as the more experienced divers. There are vertical drop-offs and staged drop-offs ranging to a depth of about 30 metres in the area.
Korsvik, near Kristiansand
On Norway's south coast in Kristiansand, there is plenty of fun to be had in the water and not just on the city's famous sandy beaches.
Beneath the surface in nearby Korsvik fjord, lies one of the county's most famous shipwrecks, MS Seattle. She was a German cargo ship that sank in 1945, and luckily for divers, her remains are still in relatively good condition. However, there is some controversy around visits to the site.
In 2010, two Danish divers lost their lives on a dive after sections of the wreck collapsed in on them. Although dives to the site are not forbidden, it is strongly recommended that you go with a fully qualified and experienced diver.
Narvik, Nordland
Northern Norway has a host of great dive locations, but Narvik is perhaps the most popular place for wreck diving. The town's diving scene is tied to its position as a point of interest during the early part World War II,  when both the British and the Germans raced to occupy the ice-free port in order to control the iron ore that came across the border from neighbouring Sweden and left via the sea.
As result of the conflict in Narvik, many wrecks are present in the area. One of the most interesting is the Dornier, a German plane that crashed and sank there in 1945. The wreckage sits only 36 metres below the surface on the muddy seabed.
Because it lies in shallow waters, dives to the site can be inhibited by windy conditions above the surface and strong currents below it. But if you are lucky enough to find a gap in the weather which corresponds with the tide, then this is a hugely rewarding dive.
Saltstraumen, Nordland
If you are an experienced diver in search of ultimate excitement and exhilaration, then the dive at Salstraumen is perfect for you. It's located close to Bodø in Northern Norway and offers something quite different.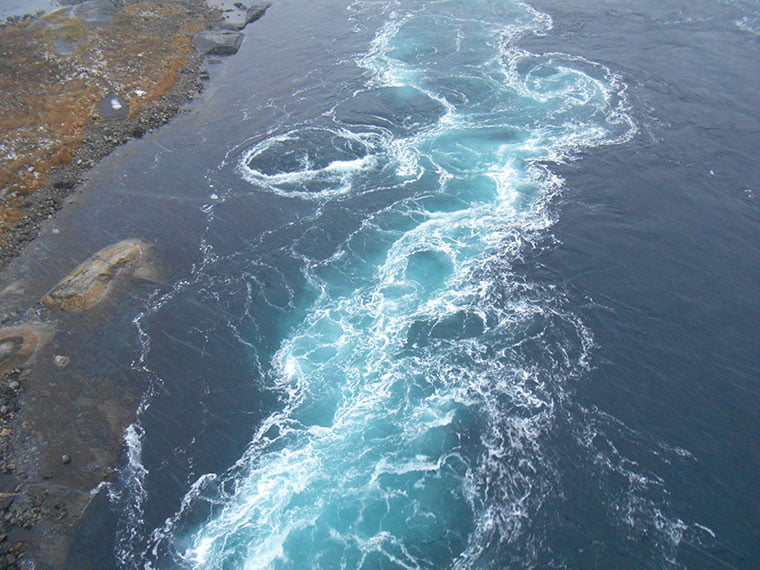 Saltstraumen is a narrow strait that features one of the world's strongest tidal currents. The swirling waters often make for spectacular photographs from the banks and from the bridge above the river.
Below the surface, largely because of the fast-flowing saltwater, there is a rich and diverse range of fauna, including a thriving kelp forest.
But perhaps the most exciting element about this dive are the coalfish and cod that often swim above divers in large schools, blocking out the sunlight and casting divers into near darkness in the process.
Skarberget, Nordland
Finally, there are many spectacular dives to be had in the beautiful Lofoten Islands. One of the top sites in the area is the one at Skarsberget, a location that has a reputation for being one of the best wall dives in Norway.
The clear waters in the area allows divers to see the colourful reef and many amazing sea creatures. There are various types of Crustaceans, Sea Urchins and Starfish that have made these waters their home.
The wall can also be explored at night, offering a different type of diving experience. Night dives at Skarberget have become increasingly popular in recent years, – armed with just the light from an underwater torch, it's eerie and exhilarating in equal measure.
Did you enjoy this article? If so, why not share it on Pinterest so others can enjoy it too? Just hit those social sharing buttons for the perfect pin.