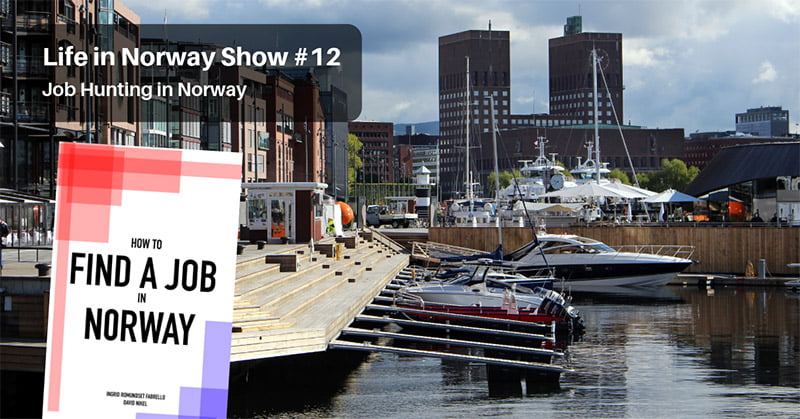 The co-authors of How to Find a Job in Norway discuss their top job-hunting tips.
Yes, we're finally back with season two of the Life in Norway Show! Thanks so much for your patience everyone.
I had only intended to take a few weeks break following season one, but it's amazing how quickly a few weeks can turn into almost a year.
Welcome to season two
Still, the break has been put to good use, as we've delved through the mailbag to work out how we can improve the show going forward.
Coming up in season two, you can expect to hear a lot more interviews with Norwegians and not just foreigners living here, to try and put across a more rounded view of life in Norway. We'll also try to keep the show length down to 20-25 minutes to make the shows an easier listen.
So starting as we mean to go on, this is episode 12!
Play the episode here
You can listen to the Life in Norway Show on Apple Podcasts, Stitcher, Spotify (coming soon!), YouTube, and many other podcast players. Just search for "Life in Norway" and hit subscribe!
If you prefer to listen now:
Today's show notes
Regular readers will know that over the summer we published How to Find a Job in Norway, a book designed to help foreigners put together a job-hunting strategy.
I co-authored the book with recruitment expert Ingrid Romundset Fabrello, who has years of experience leading workshops and one-on-one consulting to help English-speaking foreigners land a job in Norway.
On the show we talk about a couple of the top tips from the book, including:
The importance of learning Norwegian: This is Ingrid's number one tip. Ingrid says that even if you've just moved to the country, showing you have made progress and are keen to learn is critical.
Building a network: Many jobs are not advertised, or positions may be created for the right candidate. The only way to benefit from this is by getting your name out there and building a professional network.
A Norwegian reference: A CV with only foreign references listed isn't a good look. Ingrid's tip is to volunteer as soon as you arrive in Norway so you can have a Norwegian reference for your CV.
To put these tips in context and get a whole heap more advice on seeking employment, check out the book How to Find a Job in Norway. It's available now in both paperback and digital formats.
If you enjoyed this episode, why not share it on Pinterest?