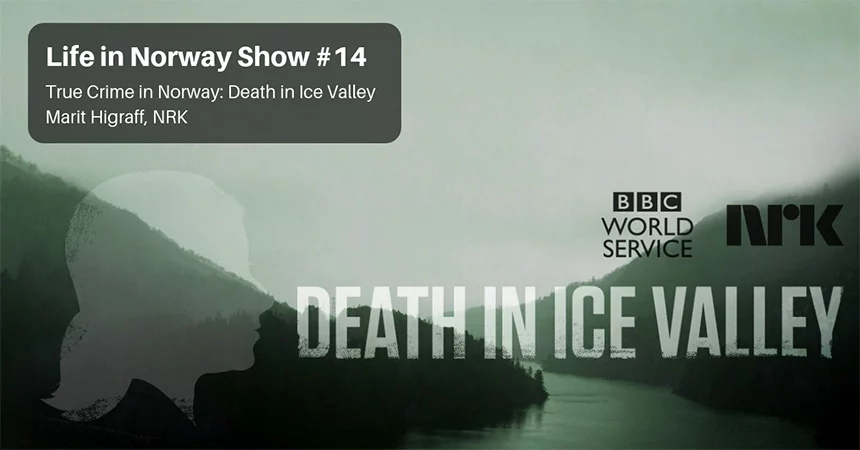 Episode 14: A chat with Marit Higraff from the hit true crime podcast Death in Ice Valley.
For episode 14 of the Life in Norway Show I'm joined by NRK journalist Marit Higraff, co-presenter of Death in Ice Valley.
The hit true crime podcast from NRK and the BBC has been picking up celebrity fans and awards all around the world. It looks in detail at the case of the Isdal woman, one of Norway's most infamous unsolved mysteries.
We talk a little about the case, how the podcast came to be, the international success of Scandinavian crime stories, and what it's like to work as a journalist in Norway.
Listen to the show
You can listen to the show using the web player below, or on your podcast player of choice, including: Apple Podcasts, Stitcher, YouTube (audio only), and now Spotify. Just search for 'life in Norway.'
Death in Ice Valley
An unidentified body. Who was she? Why hasn't she been missed?
A woman's body was found badly burned in a remote valley in Norway in November 1970. Objects were found laid out around her body and labels had been removed from her clothes and personal items.
Read more: The Trude Espås Case: The Unsolved Geiranger Murder Mystery
The police never found her identify and still, no-one knows who she was or what happened to her.
The Death in Ice Valley podcast combines modern forensic techniques, material from the original Police investigation, investigative journalism, and input from fans around the world to try and solve the mystery.
Show notes
I talk with Marit about the case and the making of the podcast. Some of the things we talk about include:
How Marit first got interested in the case
How the podcast came to be
The success of the show and the international fan base
How NRK, the BBC and the Norwegian Police worked together
The popularity of Scandinavian crime around the world
What it's like working as a journalist in Norway
Useful links
If you enjoyed this episode, please subscribe to the podcast and leave a review! It will help others find the show. Speaking of which, you can also share the episode on Pinterest with this handy pin: