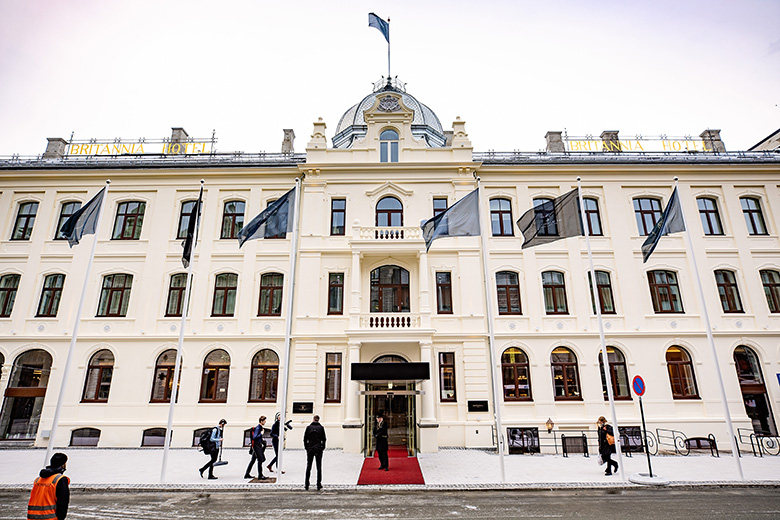 Life in Norway Show Episode 32: Wil Lee-Wright of Trondheim's Britannia Hotel welcomes me for lunch as we chat about the hotel's renovation and what luxury experiences are available for visitors to central Norway.
Trondheim recently saw the reopening of the historic Britannia Hotel at the heart of the city. It's one of a number of top-tier hotels to open in the country recently, in what seems to be a trend towards luxury tourism.
When I was invited for lunch and a look around by a former guest of the Life in Norway Show, I got to see it for myself. It's an impressive place, the likes of which we've not had in Trondheim before.
Over lunch, we chat about what the Britannia is trying to be, both for international travellers and for locals here in Trondheim, and about the possibilities for luxury travel here in central Norway.
Listen to the show
You can listen to the show using the web player below, or on your podcast player of choice, including: Apple Podcasts, Stitcher, YouTube (audio only), and now Spotify. Simply search for 'life in Norway' on your platform of choice to get started.
Wherever you listen, don't forget to hit 'subscribe' to ensure you don't miss an episode!
Stories from the Britannia
On the show we chat about the hotel's own newspaper, the Collector. It's one of the ways the team tries to enrich the guest experience through storytelling.
Rather than promoting the hotel itself, the newspaper leans more towards stories about the supplies and the other people connected with the hotel.
New dining options for Trondheim
One of the major themes of the newspaper and the hotel itself is food. Espen, the hotel's Executive Chef, joined us for a quick chat about the concept.
"We're trying to offer unique experiences and build our menus upon the seasons. We try to use as much local ingredients with international influence as we can."
"One of the biggest successes so far is the afternoon tea that we serve every Saturday. Last weekend we had over 300 bookings. Instead of the clotted cream, we use sour cream from Røros, plus local salmon and cheeses".
Luxury travel in Norway
Wil says the ambition is to recognise and help create a luxury travel market in central Norway. "We can send someone whale watching in Lofoten, salmon fishing in the Trøndelag rivers or even skiing in Sweden. I love the opportunity to recommend things because they are the best."
"We have a concierge team who put together packages for people. We have just launched a new fishing package so people can stay in the hotel and then travel out to one of the rivers to fish in an exclusive stretch of river."
Links from the show
If you enjoyed the show, please consider sharing it on Pinterest so others can find and enjoy it too. Here's a pin for that: