An affordable self-catering accommodation option at the heart of the Norwegian fjords.
When booking our summer trip, one of the first things we had to do was secure accommodation.
Despite its tiny size, thousands of people pass through Flåm every day in high season, so accommodation is scarce. After my first few attempts resulted in "we're full" messages, I fired off an email to Flåm Ferdaminne, which I discovered buried in a list on the Visit Flåm website.
I received a friendly response, which remained friendly even after I shifted the dates – always nice!
I hadn't given too much thought to the accommodation, just getting somewhere to stay was the priority. So on arrival at Flåm, I was somewhat nervous as we approached this unmissable yellow building: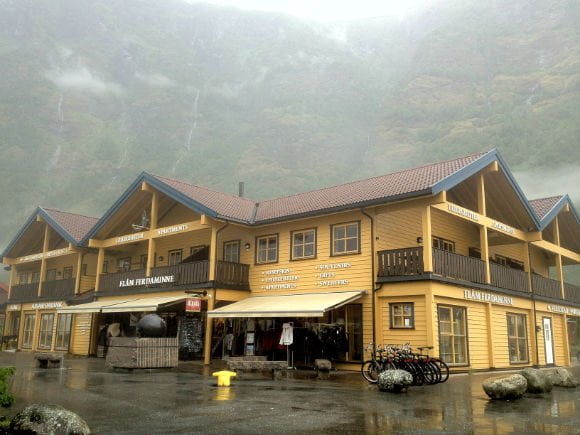 The four apartments are dotted around the top floor, above a souvenir shop. To check-in we had to go into the shop and fight all the cruise ship tourists buying up toy trolls and fridge magnets for their loved ones back in Minnesota.
Thankfully, the moment we introduced ourselves we were taken aside and dealt with away from the hoards!
Our first impression of the apartment itself was fantastic. It was clean as a whistle, all new furniture and mod-cons! We were instructed not to wash up but to use the dishwasher at the end of our stay – no arguments from us!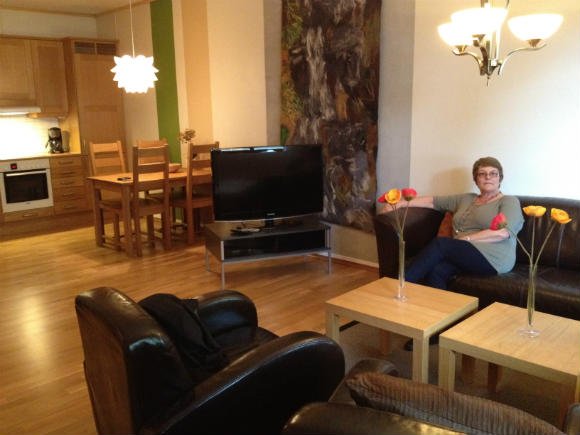 The kitchen also came with a new oven, fridge freezer and coffee maker. There was a dinner table for four, a sofa, two armchairs, a coffee table and a TV.
The two bedrooms were small but adequate, one with twin beds and one with bunk beds. As I was here with my parents, I had to take the bunk beds 😀
The best feature of our apartment? The balcony! Whether rain or shine (and we had a lot of rain), it offered a lovely view of the mountains, village and fjord.
At the end of a long day, sitting out there enjoying a coffee, watching peace fall over the village as the cruise ships pulled away, was unbeatable. Just take a look below!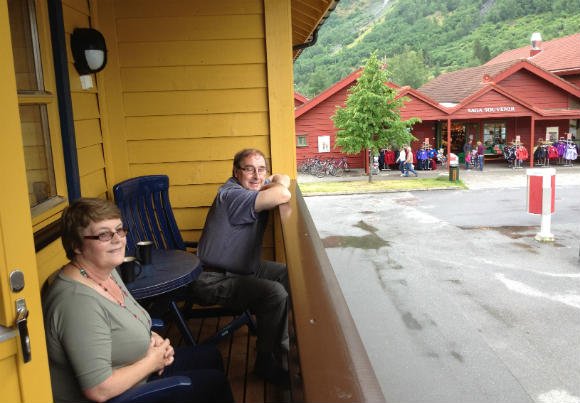 There is a supermarket nearby where you can buy all you need to self-cater. The price for the apartment was NOK 3000 for the three of us for two nights, which is good value compared to the other hotels.
I can't speak highly enough of the Flåm Ferdaminne Apartments. I highly recommend them and would not hesitate in booking in again should I return to Flåm – which is highly likely as I want to go kayaking along the fjord!