The Norwegian-American roots in the Twin Cities are clear for any visitor to see.
I previously talked about the surprising number of Americans with Norwegian heritage, more in fact, than the native population of Norway today.
Many states lay claim to significant Norwegian influence, such as Washington state in the Pacific Northwest that's home to Poulsbo, also known as "Little Norway on the Fjord." Yet Minnesota arguably trumps them all.
On my recent trip, I couldn't resist investigating the claim that 868,361 of the state's 5.3m residents claim Norwegian ancestry. That's 400,000 more than in any other state.
Norway House
First up has to be a mention of the lovely folk at Norway House. Not to be confused with the rural community in Manitoba, Canada, which shares its name, this Norway House is an organisation with an interesting ambition:
Imagine a place in Minnesota where all things Norwegian are located, embraced and cultivated
Although founded in 2004, the organisation had no permanent home of its own until very recently. The Building Project fundraising drive aims to provide a multi-purpose centre for the Norwegian American community to gather and thrive. Part one is complete with the purchase of an office building next to the Norwegian Lutheran Church in Minneapolis. Future plans for the block are really impressive:
One of the first tenants at Norway House is a language school offering immersion courses in Norwegian for kids at their specially constructed Skogfjorden camp. Cool! My sincere thanks to Elizabeth for showing me around and pointing me in the direction of some of the other places below.
American Swedish Institute
A short walk from Norway House is the ASI, and it's obvious to me this is a place Norway House aspires to be. It's a vibrant museum, cultural, and community centre in the leafy suburbs of Minneapolis, the two buildings providing a stark contrast of old and new. I popped into the new building to be greeted with white walls, Swedish minimalism, and cardamom buns. A little stereotypical perhaps, but I'll let them off.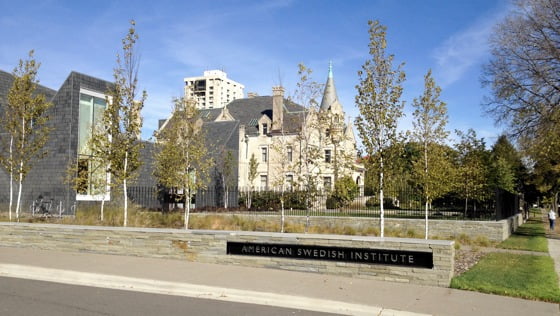 Norwegian Lutheran Church
Right next to the new Norway House office stands Mindekirken, the impressive Norwegian Lutheran Church. It was 1922 when Norwegian immigrants, wishing to worship in their own native language founded the church. Worship is on offer in English and Norwegian, and it was lovely to hear Norwegian being spoken by almost everyone I met, including a group of Norwegian tourists on a slightly more organised version of my discovery tour!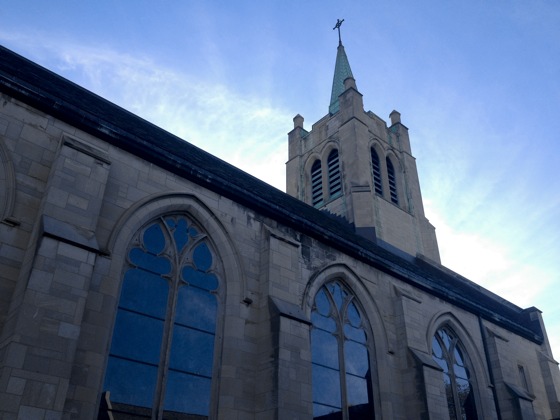 Ingebretsens
A Minneapolis institution! Ingebretsens is so much more than just a shop. Surrounded by Mexican takeaways in the ethnically-diverse Midtown neighbourhood, Ingebretsens offers a wide variety of Scandinavian food, specialising in meats. But they also offer a range of community activities, including needlework, and a classroom for year-round education in Nordic crafts and culture.
Ingebretsen's has been at 1601 East Lake for 90 years. We now have a web site, a thriving mail order department, and a presence on Facebook. But fundamentally, nothing has changed. "I think it's important neighborhoods have some stability, whatever that may be. I think that's true for individuals too," says Julie Ingebretsen. "People come in here and they love what they see. They love the atmosphere and they like being treated personally and we at Ingebretsen's are very proud of that."

Sons of Norway
The largest Norwegian-American organisation in the world, unsurprisingly headquartered in Minneapolis. I didn't have time to visit Sons of Norway, but I did walk right past their building on my way to Lake Calhoun.
The mission of Sons of Norway is to promote and to preserve the heritage and culture of Norway, to celebrate our relationship with other Nordic Countries, and provide quality insurance and financial products to our members.

Sons of Norway was organized as a fraternal benefit society by 18 Norwegian immigrants in Minneapolis, Minnesota, on January 16, 1895. The purposes and goals of the Founding Fathers were to protect members of Sons of Norway and their families from the financial hardships experienced during times of sickness or death in the family. Over time, the mission of Sons of Norway was expanded to include the preservation of Norwegian heritage and culture in our Society.

Norwegian American Weekly
During my travels I saw more than one copy of the Norwegian American Weekly lying around. It's a regular weekly newspaper rounding up all the news of interest to Norwegian Americans – not dissimilar to my own Norway Weekly project! The paper claims a readership of 22,000, with readers in every US state, as well as Norway, Canada, Mexico, Sweden, and the Netherlands.
The Bachelor Farmer
This new Scandinavian-inspired restaurant with a rooftop garden has exploded in popularity, thanks in part to awesome write-ups by the likes of the New York Times:
last year, along came the Bachelor Farmer, a modern (even chic) restaurant that playfully blends Scandinavian design and tradition with a handmade-food ethos and friendly Midwest unpretentiousness. With roasted rutabagas and reinterpreted cinnamon rolls, pickled Lake Erie perch and house-made rye toast, all served in an airy, reclaimed industrial space softened by country-Swedish wallpaper and cleverly deployed gingham, the Bachelor Farmer has given Scandinavian food a much-needed adrenaline shot.
I'm gutted that I didn't get the chance to visit the Bachelor Farmer. There simply aren't enough hours in the day!
Alt for Norge
I can't possibly talk about Norwegian Americans without mentioning Alt for Norge, the NRK reality show currently airing its fourth run in Norway. When broadcast in the USA the show is known as "The Great Norway Adventure". The premise is simple – a group of Americans with Norwegian heritage travel to Norway for the first time to compete in a series of "Norwegian" challenges.
The winner gets to meet their living Norwegian ancestors, but all participants find out more about their families. The current series emphasises Minnesota's close ties with Norway, with three of the 12 contestants hailing from the Twin Cities.
I'm aware I only scratched the surface of the Norwegian-American community in Minnesota. The biggest reason? I never left the Twin Cities! Still, I feel I gained a real understanding of the links that tie these two parts of the world so closely together, not to mention spreading the word about Life in Norway even further afield!
I wish all my Norwegian American readers the very warmest of welcomes!