Trip report: My recent journey flying from Oslo to the new Istanbul Airport on Turkish Airlines.
Recently I took a work trip to northwest India, and had to change through Istanbul on Turkish Airlines. The Istanbul-based airline is an increasingly popular option for long-haul connections from Norway, especially to Asia.
I'd heard great things about Turkish Airlines and the brand-new Istanbul Airport, so was excited to make the trip. How did they measure up? Read on to find out!
Why fly Turkish Airlines?
At the time of writing, there are two daily flights between Oslo and Istanbul, giving easy access to the global Turkish Airlines network. This includes destinations in 110 countries including Europe, Africa, Asia and the Far East, the Americas, the Middle East, and Australia. Yeah, that's pretty much everywhere!
In my case, I was travelling to Mumbai. This meant a 3.5h flight to Istanbul followed by a 6.5h flight to Mumbai. The first was classed as a short-haul and the second a long-haul, with service to match.
Turkish are also members of Star Alliance, so this makes connections with SAS much easier and is a bonus for those of us who collect frequent flyer points.
Check-in
I had a very complicated itinerary for this trip. The first leg of my journey was from Trondheim to Oslo was with SAS. As they are in Star Alliance along with Turkish Airlines they were able to check me through to Istanbul from Trondheim, and my bag on to Mumbai. I would have to collect my boarding pass for the Istanbul to Mumbai leg in Istanbul, though.
Oslo lounge
I had time to check out the renovated Scandinavian Airlines Gold lounge on the international side of Oslo Airport. It was much quieter than the regular lounge and was the ideal place to charge my devices and enjoy some peace and quiet before getting on board.
Aside from the number of people, the main difference between the regular lounge and the Gold lounge is the availability of several different bottles of wines and spirits. However, as it was around 10am, I stuck to water and coffee!
Boarding
Turkey is not part of the Schengen Area so passengers at Oslo Airport need to clear passport control. The non-Schengen Area at Oslo is small with very few facilities, so most people do this at the last minute. Since the introduction of automatic passport gates for EU/EEA passports, this is much quicker than it used to be.
An extension to this section of the airport is under construction, which will allow more long-haul flights to leave from Oslo.
The gate staff held a pre-boarding procedure so the vast majority of passengers had already been processed once the plane was ready for boarding. This meant for an efficient boarding procedure and we were up in the air a few minutes ahead of schedule.
In-flight
My first impression of the Airbus A321 was positive. The seats looked comfortable and each seat came with an IFE screen and a pair of earphones. This was more than I expected for a 3.5hr flight, so we were off to a good start.
There was an entertaining Lego/Batman safety video but it did take a long time to get through as it was done in both Turkish and English, one after the other. It also became somewhat tiresome after watching it for the fourth time in a week on my return to Oslo!
The food was the biggest point of contention for me. While there was a choice of hot meals on the flight, they didn't have my pre-ordered dietary meal. In fact, of my four flights with Turkish Airlines during the week, only once was I able to have the meal I'd pre-ordered.
My pre-order was because of a dietary preference rather than a serious dietary need, but if I'd had a life-threatening allergy or similar, I'd be seriously put off from ever flying with the airline again. Each time I queried it, I was met with a simple shrug of the shoulders.
There was no explanation, or even any attempt to find out what had happened. This wasn't the first problem I encountered with the crew. They were generally blunt bordering on rude throughout the flight, and one of them who was clearly having a bad day snapped at a passenger seated close to me for virtually nothing at all.
Thankfully I was able to enjoy the vegetarian pasta meal, which was served with warm bread, a small salad, and small dessert along with a choice of drinks including a full range of alcohol.
The white wine served was a Louis Eschenauer chardonnay, a French wine. This wine blogger says that while Turkish wine is available, you have to specifically ask for it. That seems like a missed opportunity for a partly state-owned airline!
Istanbul Airport
The majority of travellers on my flight from Oslo were transiting onto another Turkish Airlines flight. This is common behaviour on the airline and so the new Istanbul Airport is well designed to cope. The new airport only fully opened in April so I wondered whether everything would work as it should.
There was no need to worry. The new Istanbul Airport – claimed to be the biggest in the world – is enormous but it's well signed, extremely airy and spacious.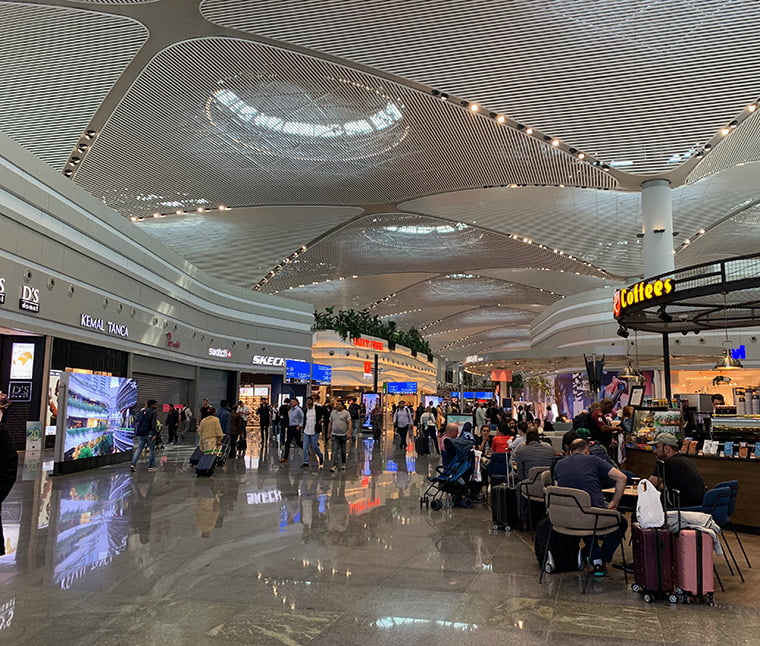 If anything it's a bit too spacious! Most of the gate areas are significantly bigger than other airports and so getting to where you need to be can take a lot of time. There are plenty of moving walkways if you need to rush.
When arriving at Istanbul for an international connection, you need to clear a security check but then you're straight into the departure gates.
There are some outstanding retail and food options, but I didn't check any of them out as I headed straight for…
Turkish Airlines lounges
At present there are two Turkish Airlines lounges in the departures area of the new Istanbul Airport. One is for Star Alliance business class passengers and the other is for Star Alliance Gold card holders. While you can sign in a guest, it's not possible to pay for access. There is a third independent lounge where it's possible to pay to enter.
I met my colleague who had travelled from Stockholm in the Miles & Smiles Lounge. What an experience! Easily the best airport lounge I've been in and a great way to spend a short layover in Istanbul in comfort.
The lounge was zoned into various seating areas geared towards relaxing, working, or socialising. The number of food and drink options was outstanding, with several cooked-to-order outlets, all included of course. But my favourite spot of all was the make-your-own-blend tea bar!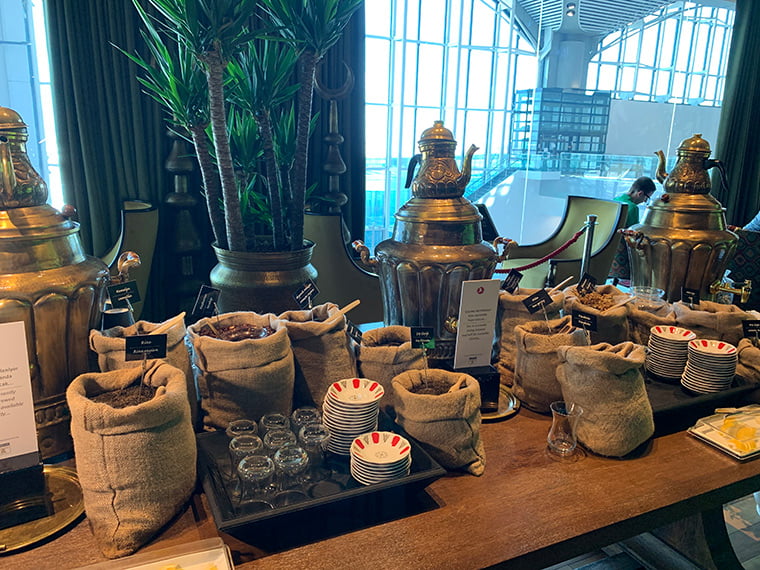 Verdict
On the whole, I'm torn. The Turkish Airlines offer from Oslo in terms of the network and prices is extremely good. The experience at Istanbul Airport is outstanding.
However, the experience on-board was a bit of a let down and this came down to the negative attitude of the crew especially when I queried the food. That wasn't something I experienced just on this flight either. It was a similar story on my long-haul flight to Mumbai. It seems that service with a smile is not something to expect on Turkish Airlines.
We all know that the crew are there first and foremost for our safety. But is a simple smile really asking too much?