Are you flying to Norway? Chances are you'll land in Oslo. Here is everything you need to know to prepare yourself for a visit to Norway's biggest and busiest airport.
While there are international flights to several airports in Norway, the vast majority of foreign visitors to Norway arrive to Oslo Airport (OSL). Like all airports, it's a hectic place and it can be confusing for newcomers.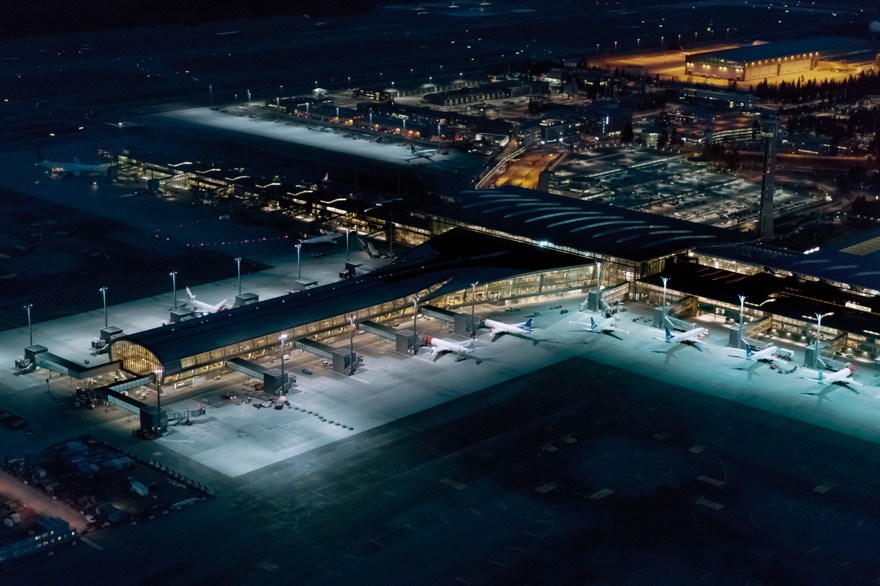 If you've not been through Oslo Airport recently, you're in for a surprise. There has been a major expansion, with even more planned in the years to come.
Norway's largest airport
The airport, still referred to as its previous name Gardermoen by many locals and flight crew, is Norway's largest, and it's getting bigger all the time.
Oslo Airport is owned and operated by state-run Avinor, which operates the vast majority of airports in Norway.
A major expansion began in 2009 and was finally completed in 2017. Its main feature is the new pier (gates C & D) built from curved laminated timber beams and cladded with oak, significantly expanding the number of gates available for both domestic and international departures, along with retail space.
The expansion isn't over yet
By 2022, the capacity will be increased yet further, with a special focus on non-Schengen routes.
Oslo has been attracting more and more international routes to and from non-Schengen countries, and the area at the airport beyond passport control is simply too small to cope with many more.
Qatar Airways and Emirates are among the airlines that have already expanded. Once the expansion is complete, more routes to the USA and new direct routes to China seem likely, although bosses remain tight-lipped.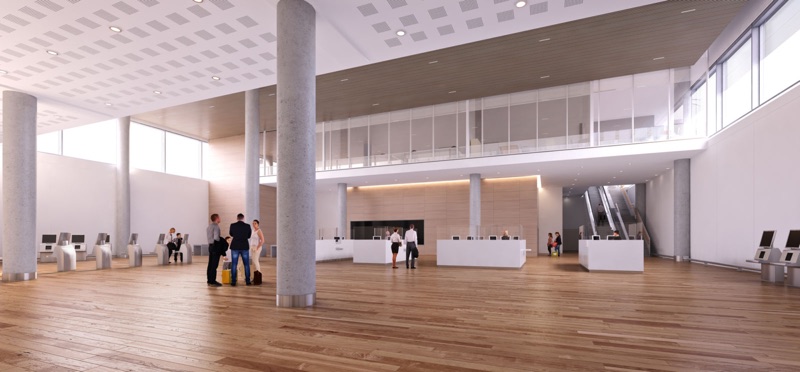 Already underway, the work is planned for a summer 2022 completion at a total cost is NOK 3.3 billion, which at the time of writing is around $402 million US Dollars. Wowsers.
Where is Oslo Airport?
OSL is located 22 miles / 35km to the north-east of the city in the Gardermoen area of Ullensaker municipality in Akershus county. It features two parallel runways and a single terminal.
Up until 1998, the city's main airport was actually much closer to the city in Fornebu, which is now a business park home to Statoil, Telenor, Aker Solutions and many other major companies.
Find the best rates on car rental at Oslo Airport
Gardermoen was no stranger to air traffic though, having been home to a military airport for the Norwegian Army since the 1940s. With demand exceeding capacity at Fornebu, charter traffic moved to Gardermoen and after much debate, the somewhat controversial decision was made to build a brand new airport at Gardermoen.
Who flies to Oslo?
The Norwegian capital is a main hub for domestic and international flights for SAS and Norwegian. It's also an important hub for regional airline Widerøe, which operates direct flights to many smaller airports.
Most European carriers operate flights to/from OSL including Air France, British Airways, Icelandair, KLM, Lufthansa, Ryanair, and Turkish Airlines.
Read More: Where You Can Fly From Oslo
In addition to SAS and Norwegian, long-haul operators include Air Canada, Delta, Ethiopian Airlines, Norse Atlantic Airways, Qatar Airways, Thai Airways, and United.
Getting from Oslo Airport to the city
Public transport is a priority for Avinor bosses, so much so that Oslo Airport has one of the highest percentage of travellers arriving by public transport anywhere in the world.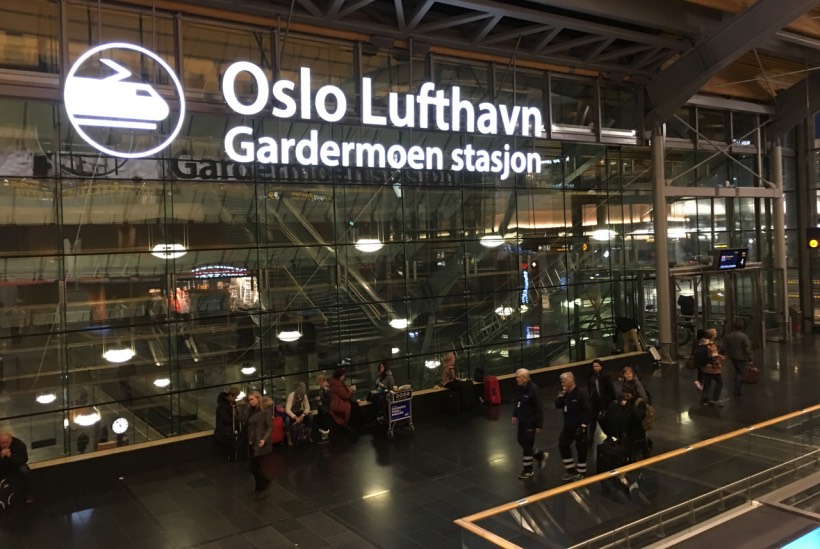 The most heavily advertised option, which also happens to be the most expensive, is the airport express train, known in Norwegian as flytoget.
These trains are quiet, quick and regular, leaving the airport every 10-15 minutes and arriving in the city (Oslo S and Nationaltheatret are the main stations) in around 20 minutes. But a single ticket costs 190kr, and there is no discount for a return trip.
The regular railway (NSB) also runs from the airport to the city albeit with slightly less frequency, usually 2-3 times per hour.
However, the trains are much cheaper and take a similar time, usually 20-25 minutes. They are less suited to people travelling with a lot of luggage and can be very busy during rush hour with commuters, so bear this in mind when making your choice.
You can buy a ticket for either train at the airport. The flytoget ticket machines are silver and orange, while the NSB machines are red.
There is also an airport express bus service but this tends to take at least 45 minutes to reach the bus station in central Oslo.
Find the best rates on car rental at Oslo Airport
Taxis are best avoided given the high cost. That said, they could be worth considering if there are three or more of you with luggage and/or your final destination is not in the centre of Oslo.
Car rental desks are also available for the major European chains, situated together in the domestic arrivals hall. The cars themselves are within a fairly short walk of the terminal building.
Check-in and security
Most Norwegians check-in online or via the apps provided by SAS and Norwegian. Many other airlines operating at Oslo will offer online check-in, and its by far the easiest option.
If you can't, or would rather do it at the airport, the departures section of the airport is easy to navigate. Just bear in mind that some budget airlines may charge you for the privilege.
The spacious check-in area is packed with many automated machines that are simple to use. You can check-in, choose seats, print baggage labels, update your frequent flyer details and more for SAS, Norwegian, Widerøe, and many other airlines.
If you have checked bags, attach the labels and use a barcode scanner at a "Bag Drop" desk. There are desks with people on hand to help you if you're stuck.
There are two security areas and although one is closer to the Norwegian check-in area and one closer to the SAS area, all passengers are free to use either. That said, those with access to the fast track security lanes will need to head to the appropriate area: Norwegian to the left and SAS / Star Alliance passengers to the right.
Typically the queue for security tends to take 5-10 minutes, although you should allow more time during the morning or early afternoon rush.
Domestic departures
Whichever security area you use, you will enter the domestic departure area. If you have an international ticket, it's best to head straight through to the international terminal by turning right once you are through security.
During the revamp in 2017, Oslo Airport's gate numbers were overhauled. They are now listed with a letter and a number, for example gate C4. The letter indicates the zone of the terminal. In the domestic area (gates A-C), all zones are clearly marked on the signage.
Food options have been overhauled following the recent expansion. Some of the best in the domestic terminal include:
Bølgen og Moi Food Garage
Fiskebaren (seafood)
Jamie's Deli
Norgesglasset (bar)
TGI Friday's (upstairs above security)
Two Tigers (sushi and noodles)
International departures
The international terminal is split between routes within the Schengen area (gates D & E) and outside the Schengen area (gate F). To reach the non-Schengen area you will need to pass through passport control.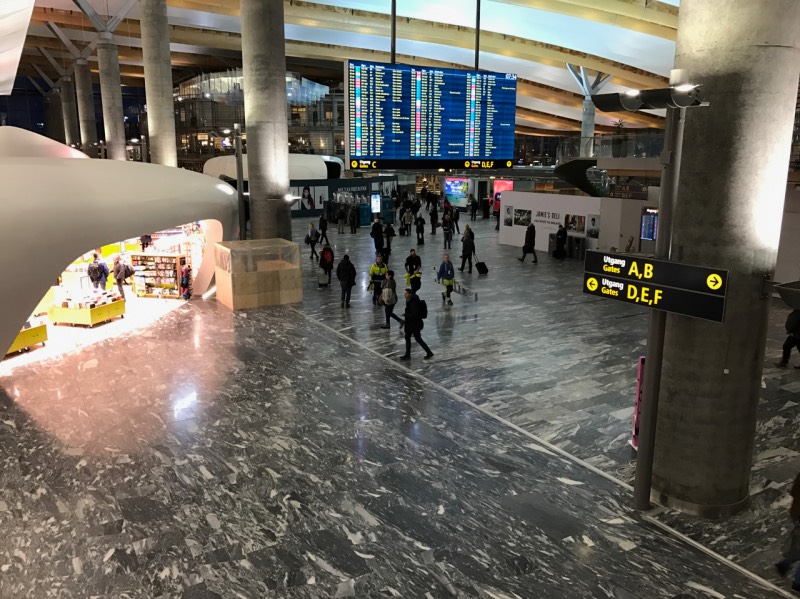 There aren't a great deal of shopping or eating options beyond passport control, so most passengers prefer to stay in the main international terminal. Just be sure to keep an eye on the length of the queue at passport control!
The main international terminal has benefited hugely from the recent expansion, with many good options for eating, drinking, or shopping while you wait for your flight. The most notable difference is the Duty Free store, which is several times bigger than the previous one.
Other shopping opportunities include:
Tanum (books)
Ting (Scandinavian design)
Way Nor (Norwegian souvenirs)
Æra (fashion)
Some good choices for food and drinks include:
BIT (coffee and light snacks)
Fjøla (Norwegian bistro)
Haven (organic soups, salads, juices and smoothies)
Havsalt (seafood bar)
Jamie's Italian
O'Leary's (sports bar with pub food)
Seats in the general terminal area are still somewhat at a premium, so it's worth seeking out a gate without a departing flight if you want some peace and quiet.
Airline lounges at Oslo Airport
The best lounges at OSL are run by Scandinavian Airlines for passengers of SAS and its Star Alliance partner airlines. Generally speaking, if you're travelling on a SAS Plus ticket or have Star Alliance Gold status or better, you'll be entitled entry along with a guest.
Precise rules vary especially if you're travelling on partner airlines, so do check in advance if you're unsure to avoid disappointment. The lounges can be busy at any time of day, but the domestic lounge is at its busiest during the mid-afternoon to early-evening rush.
In the domestic terminal, the newly-built SAS lounge has a buffet of cold food and usually a hot option such as a soup, a barista serving coffee-based drinks, beer and wines, a quiet area to focus on work, and even a gym (at an additional cost).
In the international terminal, the SAS lounge offers a similar level of facilities. There is also a Gold lounge (same entrance) which is restricted to Gold card holders (and above). Close by, the OSL Lounge is used by all non-Star Alliance airlines including premium passengers of Norwegian.
Transferring flights at Oslo Airport
If you're arriving on a domestic flight and transferring on to another domestic or international flight, things are straightforward.
Upon disembarking the plane, simply follow the signs for transfer and you will be led down into the domestic terminal. If you have an international flight, you do the same and simply walk through to the international terminal.
If you are arriving on an international flight and are connecting on to a domestic flight, things are more complex especially when you have checked baggage.
Up until recently, and even now for many international arrivals, you have to collect your baggage and clear customs as if you are arriving in Oslo. Once done, you go up to the departures level to re-check your bags and then clear security with all the other passengers. This is time-consuming, frustrating, and confusing.
Thankfully there is a new expedited process that has approved things greatly, but it's not available for everyone.
For passengers arriving on SAS, Norwegian and Widerøe services from within Scandinavia and some of Europe, you can use the new transfer procedure. You will be notified on board if this new procedure does not apply to you.
If you don't have checked baggage, you simply follow the signs to the new domestic transfer point within the international terminal, scan your boarding pass and walk through past a customs check (rarely used) into the domestic terminal.
If you do have checked bags, you have to wait at the same transfer point until your flight appears on the screen, at which point your baggage has been processed and you can scan your boarding pass to proceed. If there are any issues with your baggage, you will be directed into the customs area.
Read More: Baggage Transfers at Oslo Airport
Note if you are using the new domestic transfer process you must do your duty free shopping before passing through, as once you are through the gates you walk straight into the domestic terminal.
Oslo Airport hotels
Do you have an early departure or very late arrival? Although it's easy to get to/from the city centre at most times of day, it could be more convenient to stay by the airport itself especially if you are travelling with a lot of luggage.
Although many hotels give themselves the proud name 'Oslo Airport', only two hotels are within walking distance of the terminal: The Radisson Blu and the Park Inn.
Find the best rates on car rental at Oslo Airport
Although the other accommodations branded as 'airport hotels' are often very cheap, all hotels except the two mentioned above are outside the airport area and require you to use an expensive shuttle bus to reach them, or an even more expensive taxi. Bear this in mind when comparing options.
A brand new neighbourhood
Could you live by an airport? How about in a city free of cars? Soon you can! Outline planning permission has been granted for a new sustainable city from scratch next to its busiest international airport.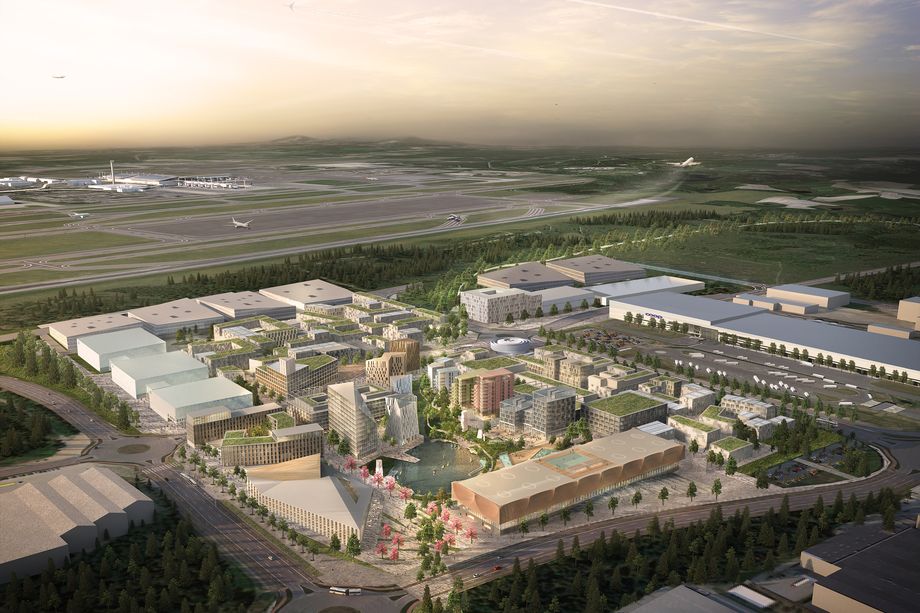 The bold plans for the 260-acre site includes about 11 million square feet of new buildings, but the environment is front-and-centre of everything. Residents of the new city will have the use of electric-powered driverless cars, for example.
The new city is designed to be powered entirely by self-generated renewable energy, and once fully utilised should even be capable of generating an excess.
This spare energy would then be sold to other cities in the region, or possibly used at the airport to, for example, power the de-icing procedure of planes during the harsh winter months.
Do you have any questions about Oslo Airport that haven't been answered on this page? Let us know! In the meantime, if you found this article useful, why not share it on Pinterest? We've got just the pin for you. Just hit those social sharing buttons.