My story of how I am now living a 'life in Norway' began a little over two years ago.
My best friend of 12 years had moved to Norway 2 years prior to see if she could "make it work with this Norwegian guy". She had met Torstein 5 years prior to that in China!
How much more random does is get, a Norwegian and an Australian meeting in China, then 8 years later getting married. But the story gets even crazier.
24-year-old me took the very long flight from Australia to Norway on the 17th of April 2014. It was the first time I had flown anywhere on my own.
The sense of independence was liberating! I remember so clearly flying low over Jæren, the rolling green fields, the pockets of water scattered all over the land. I had a strange sensation of feeling like I was 'home', which at the time I could hardly make sense of since I had never been to Norway before.
A great first impression
The beauty of Norway captivated me instantly. The drive from Sola Airport to Bryne sent tingles of excitement through me as I soaked in my surroundings. I loved Norway from the first moment I breathed in its springtime air.
On the 4th of May I was a part of my first Norwegian wedding. I have to say it was the best wedding I had experienced. Norwegians have so much culture, and traditions that are so far from what I have grown up with in Australia.
The creativity and the warm and heart-felt speeches could move even the coldest of hearts. I have to admit, I didn't realise it was not far from an endurance race to actually make it through them all!
Well we all know weddings bring people together, and to my surprise it brought me together with my best friends new brother-in-law! But I was not the only one to be swept off my feet by the Norwegian Viking charm. The best man found love in the eyes of another Australian girl.
A year and a half later Sal and I took the leap of faith and moved our lives to Norway. So here we are, 3 Australian best friends with 3 Norwegian Vikings. It is with great excitement to tell you that Sal and Kjartan will be getting married in December this year, another Viking and convict wedding takes place!
Long-distance difficulties
Gunnar and I had 11 months of dating long distance before I moved to Norway. Long distant relationships are not easy. In those 11 months, we saw each other on 2 separate occasions. Gunnar came to Australia for one month and I went to Norway for three months.
Besides that, our relationship was mainly messaging each other via text or Facebook. The time difference wasn't easy so I had to stay up until almost midnight, which wasn't always great since I woke up between 4:30-5am. So that didn't happen as often as we would have liked.
I also had pre-paid Internet and the data used to Skype was huge so I ran out of data after two calls. Communicating certainly wasn't easy.
We learnt very fundamental lessons during that time. We had to trust each other, if you didn't you could spend hours worrying yourself sick. For someone who has had a really hard time trusting men, this came surprisingly easy to me. I just trusted Gunnar.
It also helped that I didn't let myself think too much about things. With social media we get glimpses into everyone's life even when we are on the other side of the world.
So I would see whom he met up with, when he had work events on, family events, vacations, etc. If I read too much into every photo I saw I would have driven myself crazy.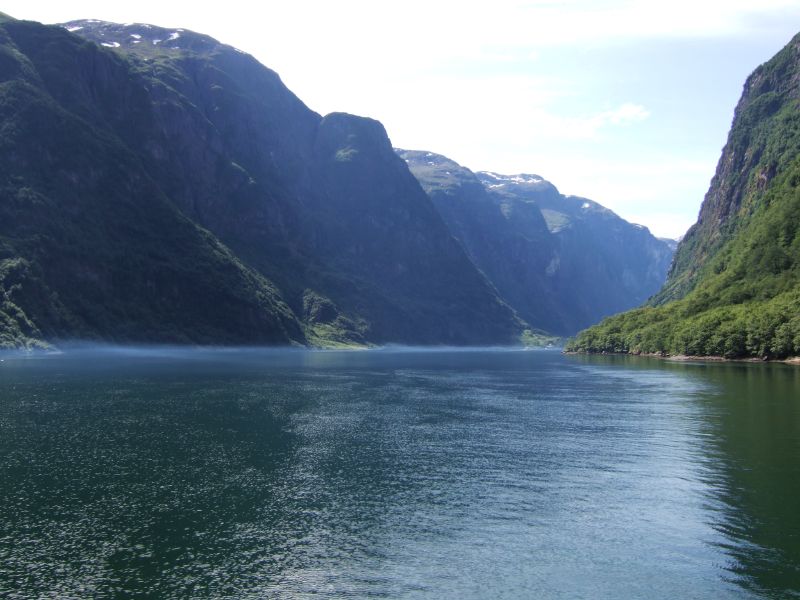 We had many awkward Skype calls. There is something about planning a talk with each other that doesn't allow the natural progression of conversation to occur like when you have a whole day hanging out together.
We also never got to go on dates. A long distance relationship can be challenging, but it can work! It can be the most amazing adventure you ever have. It takes 2 people who are committed to each other no matter what to make it work.
When a person is in the 'in between stage' of moving their life from one country to another, all of the sudden everything you are doing can begin to feel very pointless.
This happened to me with the cafe job I had, the friendships I was investing in that were soon about to have oceans between them, the little things you accomplish each day to help you step towards the goal you had for the life in Australia.
Mentally it was very confusing. Those months I had to wait for my visa approval were long and tedious. I was so eager for this new life in Norway, so ready to be in the same country as my boyfriend! I was so ready for a normal relationship.
A culture shock
Little did I know waiting for me in Norway was a whole new version of our relationship and a whole new set of challenges. All of the sudden this person I had known myself to be in Australia, was not the same.
The Facebook messaging and sporadic Skype calling relationship I had known was now up close and personal, it was face-to-face, day-to-day.
A new country, with a new language you don't speak, a new relationship, new friends and family to get to know, and a whole new culture turns your whole sense of identity completely up side down!
I was stripped bare. Things from my past began to surface that I had no idea were there, I began to have insecurities that I had never experienced before.
All of the sudden I felt like I was an awkward 17 year old stepping out into the big world of adults having no idea where my place was or how to even communicate to them.
It was scary. It was scary to even go to the supermarket to buy groceries. I felt like a fraud. I didn't belong here.
But I was determined to make myself belong here, in the new life in Norway. After 2 months I enrolled into a language school so I could learn Norwegian. I had never learnt a language before, but to my surprise it was something I really enjoyed! I also did have a lot of motivation.
I wanted to fit in here; I wanted to be able to communicate with people in the shopping center. After 1 month I was already understanding and speaking enough Norwegian to move up to the next level.
This was a great confidence boost for me. I felt so empowered and had a new confidence to start being a little braver, a little more me.
The challenge of finding a job
Although I was doing really well in my Norwegian, there were still so many other roadblocks that kept putting a stop to me being able to really start up a life for myself here.
It isn't easy to find a job in Norway, especially if you don't speak the language properly. It really helps if you know people! It seems like that is how most people find jobs here, they are recommended by a friend and then they get a job.
I kept telling myself I would just give myself a 6-month leeway so I can master the language and then I'll be ready to get a job. I have now been in Norway for 10 months. I have not mastered the language and I do not have a job. One big lesson I have learnt is that it is ok to not be ok.
It is ok to realise sometimes in life you need to take the time to look after yourself and get better.
In the process of moving countries, leaving everything I knew behind, losing my sense of identity, my security, starting an almost one year relationship from scratch again and realising I wouldn't find a purpose for my life in Norway even after the 1st year of being here, triggered PTSD (post traumatic stress disorder).
It also didn't help to leave the weather in Australia where it is literally summer all year round, to moody, unpredictable, cold, wet and grey Norway.
A new support system
A foreigner coming to a new country can be a very frustrating and complicated process; there are many hoops you have to jump through when it comes to receiving the same privileges you would if you were a Norwegian resident.
When being confronted with a mental illness, it then became apparent that I was going to have to rely on the Norwegian system in order to get help. Sometimes the system fails you and sometimes it saves you!
This time I was saved. After seeing my assigned doctor, I filled out a mental health questionnaire that placed me on a scale. I was then referred to the local Psychiatric Center. Every other psychologist we had called prior to this had a year wait list. I received an appointment at the center the following week!
That appointment at the Psychiatric Centre happened just last week. I am right in the middle of all these challenges, some days it feels like I will never get on my feet with this new life in Norway.
Some days I feel confident and can imagine myself taking on a job and not minding that I may make mistakes when I speak Norwegian.
I have had to learn to be completely vulnerable with Gunnar; we have had to keep choosing to fight for our relationship, to keep walking towards connection with each other and to keep our love strong over and over and over again.
I have had to live in a way where I hold nothing back. I have had to strip myself bare and admit that I couldn't do things on my own, that I needed help. It has been some of the hardest months. But I couldn't think of anywhere in the world I would rather be than right here in the safe and beautiful country of Norway.
Moving countries can turn your world upside down. It can turn you into a version of yourself you had never known before. It can leave you feeling completely lost in the direction and purpose of your life.
It can be the greatest and most necessary step you have to take in order to find out who you really are, what you are really made of. If you take the step (or more like giant leap) to move to a new country you are made of all things brave and courageous.
So don't give up even when it's tough, it's worth it.