A Christmas TV advert made by Norway's Posten showing Santa Claus in a gay relationship has been praised by global media as 'beautiful', 'powerful' and 'progressive'.
When the Norwegian postal service Posten released their Christmas TV ad 'When Harry Met Santa', they likely expected a reaction within Norway.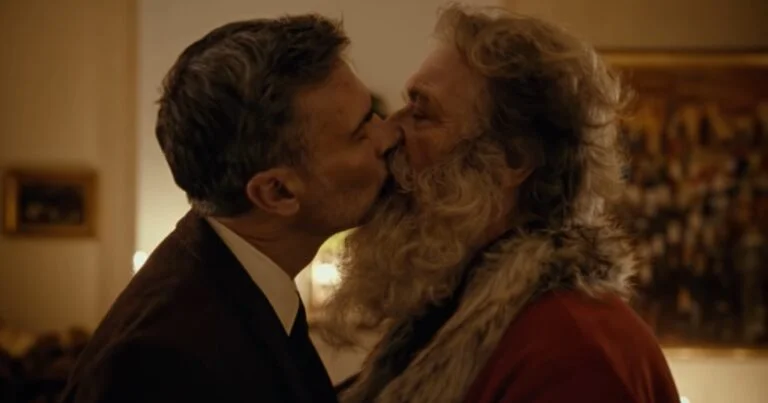 The festive ad, depicting Santa Claus with a boyfriend, is designed to mark the upcoming 50th anniversary of Norway's decriminalisation of homosexuality, a key moment in Norway's LGBT history.
What they probably didn't expect was the international attention it would bring.
Watch Posten's gay-themed festive ad
Just as in many other countries, Christmas adverts have become a popular Norwegian Christmas tradition in recent years.
The Posten advert shows the development of a relationship between two older men over several Christmasses. One is Harry, a lonely Norwegian man albeit with a loving family. The other is Santa Claus!
Each year, the two men get to know each other a little better. But the problem is Santa can only visit on one day every year.
Eventually, Harry sends a note ("all I want for Christmas is you") to the North Pole. Next Christmas, Harry's Christmas wish comes true!
Santa calls on Posten for help delivering Christmas gifts (this is a Posten ad, remember!), allowing him to spend more time with Harry. The two finally share a kiss.
"The tradition has been to look at Christmas with a slight slant in the previous two years," Monica Solberg, Posten's marketing director, told LGBTQ Nation.
"Posten is an inclusive workplace with great diversity, and we would like to celebrate the 50th anniversary with this fine love story," she added.
One popular tweet came from the husband of the actor who plays Harry in the commercial. Mats Strandberg called it an "amazing Christmas campaign."
A positive global reaction
There has been some inevitable negative comments from some sources. Moscow-based RT bemoaned the reimagination of Santa Claus "to suit woke causes." However, the coverage in most mainstream media around the world has been positive.
Yahoo described the ad as "heartwarming" while the New York Post dubbed the author of one negative comment a "scrooge."
Sky News noted the ad "prompted both widespread praise – and lots of tearful reactions." LBC also noted the positive reactions, saying the video "gained widespread praise."
"It really is the festive advert that has it all," said PinkNews, one of the first English language publications to carry the story.