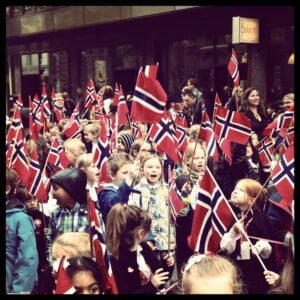 On Thursday the whole of Norway got together to celebrate its 198th birthday.
Last year I had only been in the country for two weeks before the festivities began. I had little idea of what to expect and it felt like I was crashing a party. Fast forward 12 months and with my future in Norway assured, I was ready to enjoy myself 🙂
So what is Norway's Birthday Party – Constitution Day – really like?
Instead of embarrassing games of Twister there were children's parades in every town and village. Instead of cake there was champagne breakfasts, hot dogs and ice cream. And instead of suffering with a hangover at work on Friday, for most it was an additional day off!
Traditions
Norway's traditions really shine through on 17th May.
The Clothes – Many Norwegians wear the Bunad, the traditional folk costume of Norway. It's more popular with women, but of the men who aren't wearing the male version, the majority are suited and booted. My friend Dave once told me "Norwegians dress down for work and dress up to get drunk" – he was right on the mark with that one.
The Food – Friends and families get together for frokost (breakfast), featuring a hearty spread of fish, eggs, bread, hams, cheeses, and a bottle or three of fizz. Throughout the day pølser (hot dogs) and waffles are consumed in astronomical quantities, washed down by barrel loads of beer. One of the reason kids love this day so much is they can get away with eating as much ice-cream as they want – a practice I chose to follow 😉
The Parades – Norway's society places children at the forefront and that's no more obvious than on the National Day, where local schoolchildren lead parades around their towns and villages. I presume it's celebrating the future of Norway rather than the past? They practice for weeks for the big day, I know this because kids from my local school, Møllergata, marched past my balcony several times over the past week!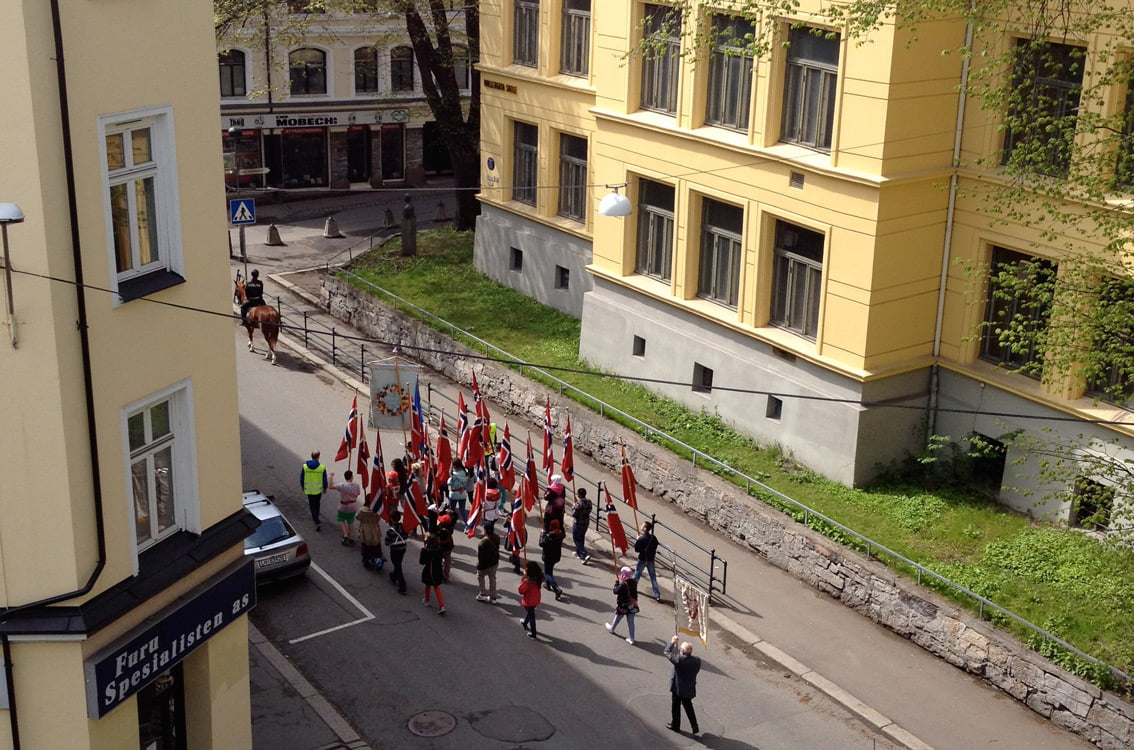 The Oslo Parade
In Oslo the 17.mai parade is a spectacular sight, with virtually every school in the city joining in the parade. It seems most of the kids are members of "musikkorps" (the school orchestra) and they are all pretty talented! Watching band after band after band march by, I couldn't help think back to my "music" lessons at school and wonder how on earth anyone thought the recorder would be the instrument to inspire a generation of children.
The kids march through the streets watched by tens of thousands of onlookers, towards the Royal Palace. The King and Royal Family stand on the balcony waving at each and every school that passes, it takes hours but it means the world to the children.
It's interesting to see a national day celebrated with so little visibility of politics and the military. One interesting exception to this is the President of the Norwegian Parliament, who is allowed to view the parade and wave a flag from a small balcony. I snapped him doing just that, below!
I found myself absorbed by the colour and the noise, taking a whole bunch of pictures and sharing many of them via Instagram and Twitter. Through Twitter I discovered the National Geographic journalist Andrew Evans was also in the city snapping away. He had some interesting things to say about his impressions of the day on this video:
Norway around the world
It's not just the capital that hosts a celebration. Towns and villages all across Norway celebrate of course, but also some unexpected places much further afield. A quick glance at state broadcaster NRK during the day showed celebrations taking place as far afield as Bali and Brisbane!
And in my little corner of Oslo? Well, I felt much more a part of things this year. Roll on 17th May 2013 🙂