One of the Life in Norway team checked out the new Holland Norway Lines ferry from Eemshaven to Kristiansand. It's a practical, useful service, but there are some kinks to iron out.
The new ferry link between the Netherlands and Norway is a welcome addition for people looking to take the airlines out of their Europe to Norway travel equation. Dedicated staff make the crossing a pleasant experience, but foot passengers are let down by puzzling management decisions.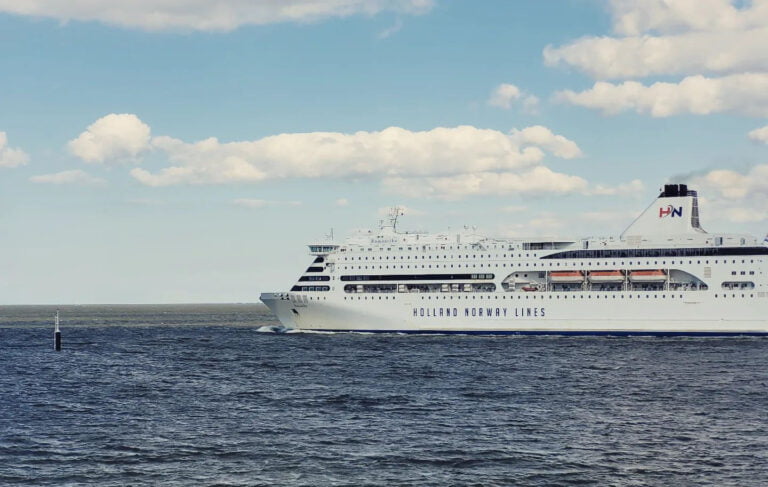 We tested the crossing for you, from booking to disembarking. Read on for the good, the bad and the ugly about this new travelling option.
A welcome addition to Norway ferries
Many were pleased when startup Holland Norway Lines announced a new passenger and car ferry service between the Netherlands and Norway last fall.
Until then, ferry links between Norway and continental Europe were limited to Germany (Kiel) and Denmark (Copenhagen, Frederikshavn and Hirtshals).
With a new link between Kristiansand and Eemshaven, Holland Norway Lines provides the westernmost of all options on the European side. If you want to reach Norway from the Netherlands, Belgium, Northern France or even the UK, Eemshaven is now the nearest crossing point.
The ship, Romantika, was chartered from Tallink Group subsidiary Tallink Latvija for a three-year period. It has room for 1,500 passengers and 350 cars.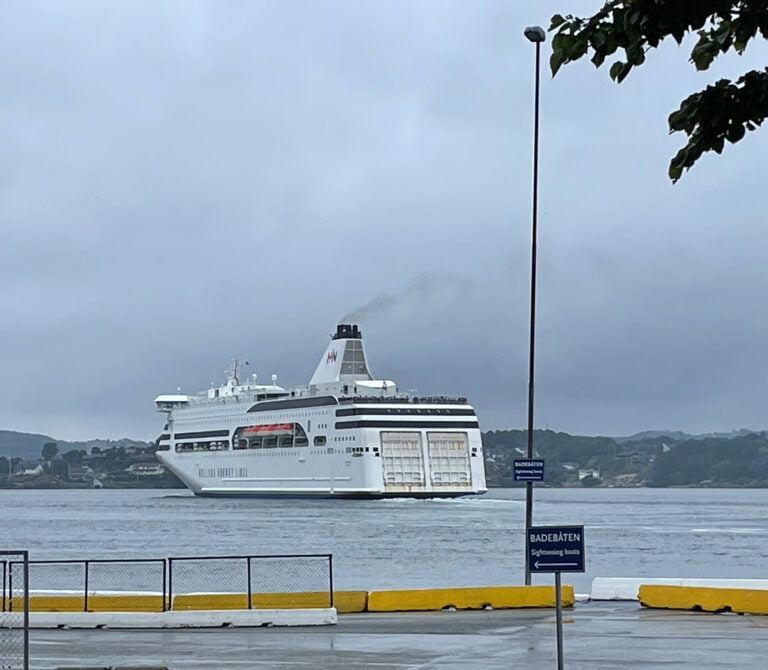 Like most other ships linking Norway to the continent, it offers a "cruise ferry" experience, meaning that there's a larger focus on entertainment and dining than on a traditional ferry. That being said, the "cruise" aspect on the Romantika feels a bit muted compared to what can be experienced on the Oslo-Kiel link (by established competitor Color Line).
Booking the Holland to Norway ferry
Our test trip was a car-free one. Two passengers sharing a luxury cabin, with tickets pre-booked in May for an August crossing.
The cost for the crossing itself for two people was 220 euros. Add to that 255 euros for the luxury cabin (an outside cabin with about 50% more space than a regular one), 70 for dinner, 30 for breakfast, 10 for choosing the specific cabin ourselves (as opposed to getting one assigned) and 4 for the shuttle bus in Eemshaven, and you get a grand total of 589 euros for two people.
Keep in mind that those prices may be higher than normal because we were travelling at the height of the summer season.
Booking online on the Holland Norway Lines website was straightforward. Our tickets showed a departure at 3PM on August 11 and an arrival at 9AM the next day. More on that later.
Getting to Eemshaven
Getting to Eemshaven as a foot passenger is best done by train, from Groningen. This small university town is worth a visit, if only to view their genius Forum; a prime example of architecture being put to use to design usable (and beautiful) public spaces.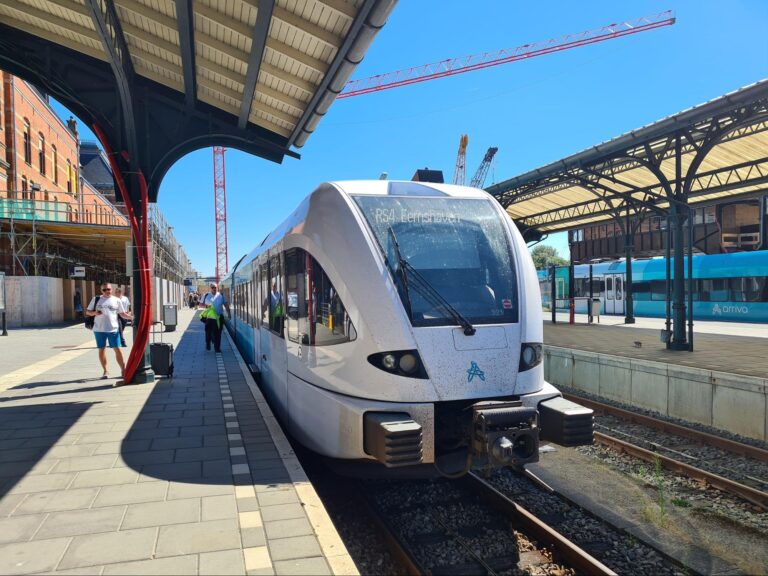 Holland-Norway "strongly discourages" walking from the Eemshaven train station to the terminal. For this reason, we booked the shuttle service, which cost just 2 euros per person for a 750-metre ride.
Note that the train can easily fit 200 people, and that the shuttle had 8 seats. Most people on our train opted for the "strongly discouraged" walking option.
Check-in
The check-in process was very efficient. Because we took the shuttle, and because the shuttle could fit so few passengers, we had very little waiting at the terminal.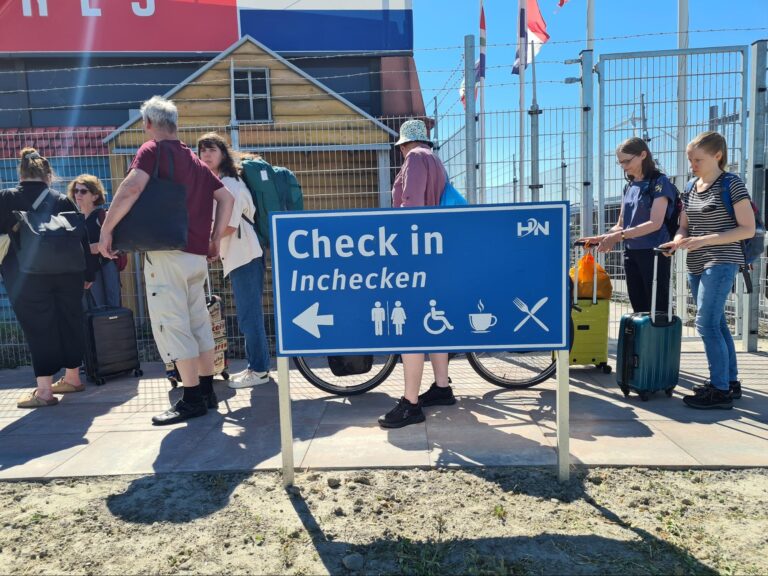 Other people who were on the train had to line up. That being said, the check-in consisted only of showing tickets (more specifically the QR code they contain) and ID for all passengers, a process which took just a couple of minutes.
The check-in process for car passengers is slightly different. Container-based customer service representatives meet them directly at the vehicle, and direct them to the designated waiting area for cars once the process is completed.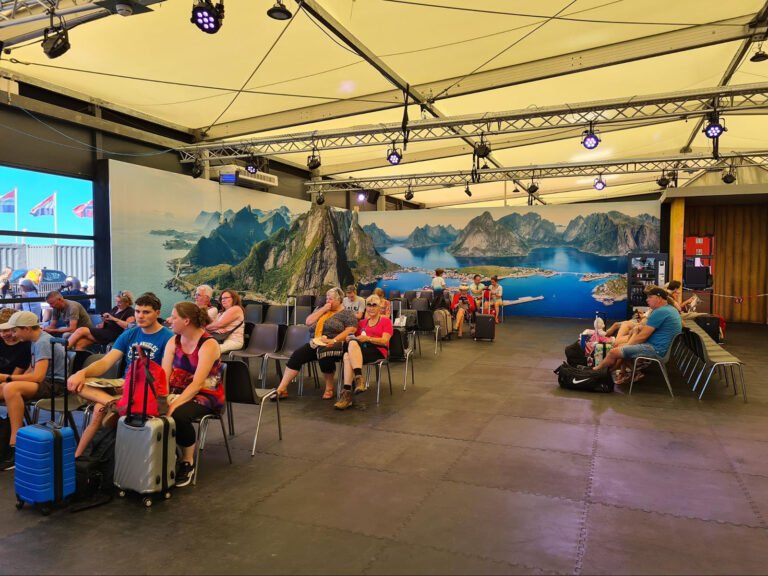 The terminal "building" looks decidedly temporary, with glass walls topped by a canvas roof. It contains seating areas and a snack bar.
Boarding the ferry
Boarding is where the lack of investment in infrastructure starts to show. Unlike other ferry links that have dedicated terminal buildings that allow foot passengers to board via a bridge that brings them directly to a passenger deck, Holland-Norway foot passengers have to board via the car deck.
This has several unfortunate consequences. It makes the boarding process slower, because it means foot passengers and cars have to board separately (for obvious safety reasons).
It also means that the foot passengers enter the ship at the very bottom and have many floors to climb to get to their cabins. The stairwells from the car deck effectively act as bottlenecks.
Compounding the bottleneck effect is the fact that many people with luggage understandably wish to use the elevators. The queues that form impede the circulation of everyone (including people willing to take the stairs).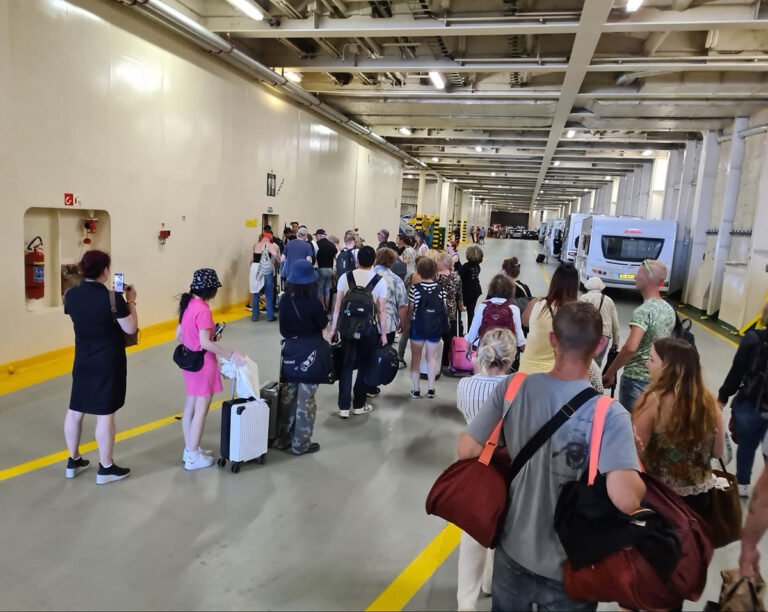 Situations like these are not uncommon on any type of ship, but the fact that everyone has to board on the same level makes the traffic jam a bit more severe in this case.
Passenger cabins
The cabins have everything you can expect from a ferry cabin. A bed, a desk and chair, a television and a toilet and shower.
Remember we booked a 'luxury' cabin so that's what you see in the picture. The luxury cabin is similar to the standard cabin, but has about 50% more space.
Note that the floor of the shower is on the same level as the floor of the rest of the bathroom, which means that you can expect water to cover the whole floor by the time you are done (especially if there is motion due to waves).
The facilities onboard
The Romantika is not a huge ship, but it boasts several dining options, a showroom, a pub and tax-free shopping. It must be pointed out that as tax free shopping goes, the experience is much more laid back on a ship than at the airport.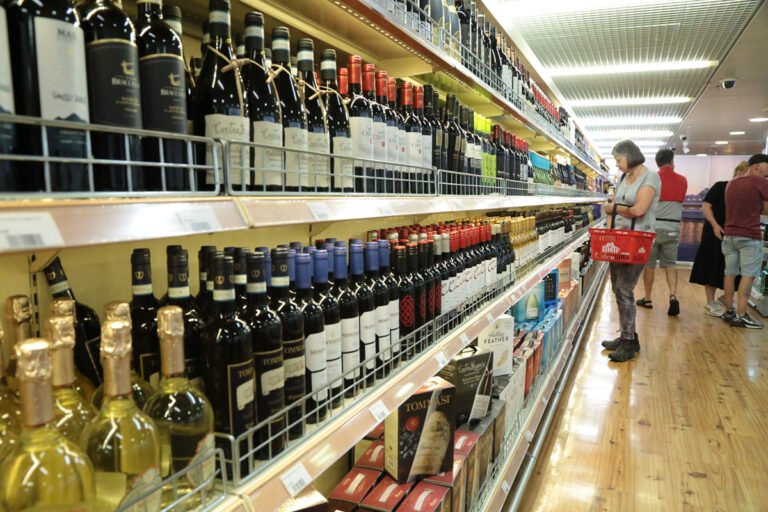 Tax-free shopping when going abroad is a national sport for Norwegians. The Romantika's tax free shop has a selection of wines, spirits and beers, as well as beauty products, perfumes and snacks.
The ship has a few entertainment venues, with the "Starlight hall" being the largest.
The food
For our crossing, we ordered the buffet for both dinner and breakfast. The buffet provides good value for money (especially when seen from a Norwegian perspective).
Food is varied and plentiful, and drinks are included – this applies to coffee, tea and soft drinks, as well as to red wine, white wine and beer.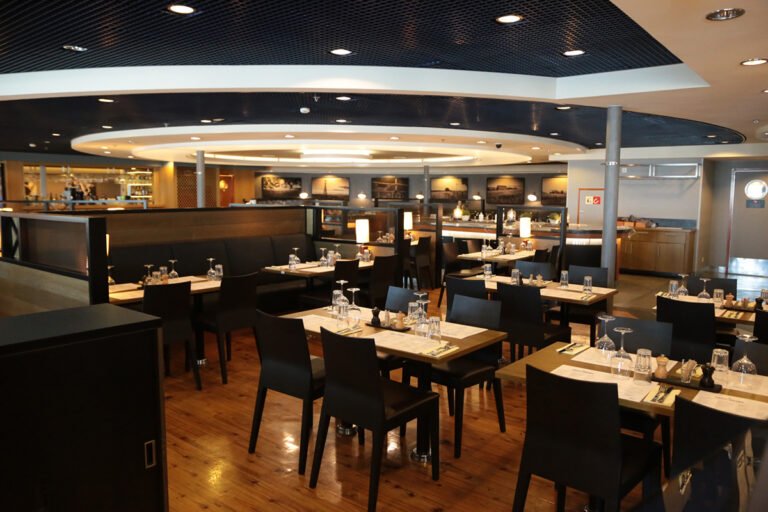 Maybe it was because the ship was fully booked when we were there, but the ambiance at the buffet was not exactly relaxed. Be prepared to have to share a table with strangers if the restaurant is busy.
The à la carte option may provide a calmer experience, but we did not test it. There's also a cafe-style dining option for lighter meals.
If your heart is set on a particular dining option, book it at the time of buying your tickets to ensure you have a spot. Changing your mind aboard is possible but subject to available space.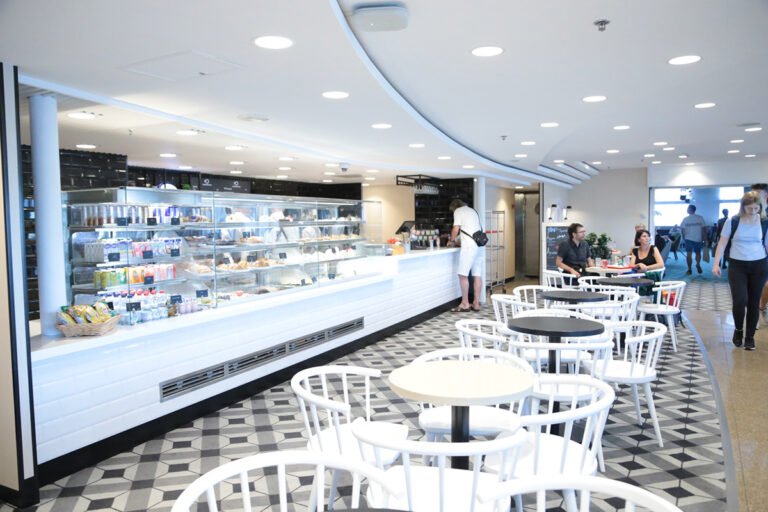 Disembarking in Kristiansand
Disembarking was a relatively straightforward procedure, but again, the process suffered from a lack of investment. Despite the presence of a dedicated foot bridge at the terminal in Kristiansand, foot passengers were made to disembark via the car deck.
Presumably, this is because the existing bridge (part of the Color Line terminal) is not calibrated for the Romantika. Whatever the reason, this lack of a dedicated exit for foot passengers means that motor vehicles disembark first.
In our case, vehicles started disembarkation at 10AM, while foot passengers were allowed off ship at 10:13AM. Another bottleneck was created off-ship though, because all foot passengers have to access a dedicated walkway by way of a single flight of stairs.
Considering that everyone is carrying their luggage, this is a slow process. To add to the frustration, this walkway is the one you would end up on if the foot bridge was in use.
The Romantika was plagued by even more serious infrastructure problems when the service launched, as several vehicles were damaged in Kristiansand due to the ramp leading to the ship being too steep.
These problems have since been fixed, but the current situation with the foot passengers seems to indicate that investments in port infrastructure have been kept to a minimum.
A serious oversight
The biggest problem with the journey, though, was an unannounced schedule change. As we explained previously, our ticket stated an arrival in Kristiansand at 9AM. Based on this, we had purchased train tickets for the onward journey, with a 9:56 departure to Oslo.
As the ship was leaving, an announcement was made saying that we would arrive "on schedule, at 10AM". This had us frantically checking our ticket and confirming that it did, indeed, mention a 9AM arrival.
Schedule changes happen, and are a part of travelling. But the least one can expect is to get the information ahead of time when the change is a schedule change and not an unexpected, last-minute delay.
This left us having to plan our onward journey with a spotty phone connection at sea. The train tickets were lost, of course, and we managed to secure bus tickets to get us to Oslo.
Other passengers were equally surprised at the unexpected change. Of course, it may be a one-time event; the result of a series of unfortunate circumstances which will not be repeated. But since it did colour our experience, we feel it's only fair to mention it.
Verdict on the Holland to Norway ferry
A practical new crossing, competent, dedicated staff, plentiful food: the Eemshaven-Kristiansand has a lot going for it.
There are some details to iron out on the foot passenger side, but all in all it provides an attractive option for anyone trying to reach Norway from continental Europe (or vice-versa) while avoiding flying.
The Romantika has been chartered for three years. If the link proves a financial success, maybe infrastructure investments will follow. On its website, the company says it aims to become the first cruise-ferry line with net zero emissions by 2026.