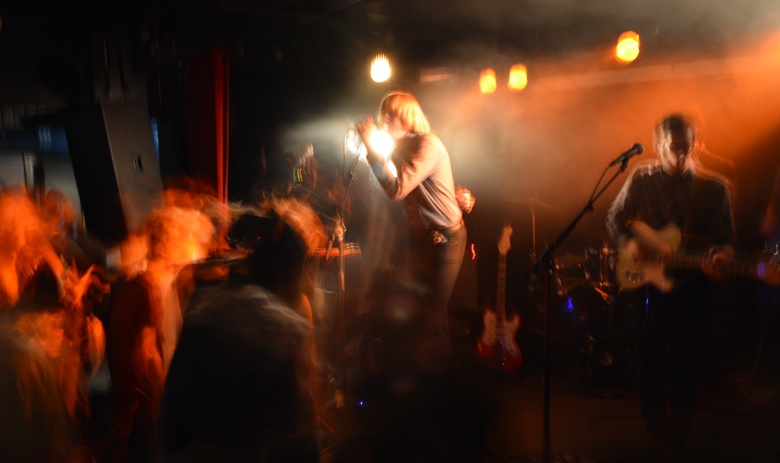 Introducing Death by Unga Bunga, five Norwegian lads from Moss, exploring the boundaries of garage-rock, touring relentlessly, and having great fun doing so.
On record their sound harks back to the explosion of garage-rock in 1960s America, but they crank up the energy with a punkier presence when playing live. I saw them perform as part of Trondheim Calling and based on that it's no surprise their live-show is so in-demand, both in Norway and across continental Europe.
Getaway and Stare at the Sun (play below) are the standout tracks on the new album and showcase Death by Unga Bunga's recent experimentation with California surf rock. The band chose to open their blistering 30-minute set with both tracks, before returning to their earlier, spikier sound, with tracks like Don't Go Looking For My Heart (video below)
I sat down with lead singer Sebastian and guitarist Stian moments after they came off stage from their lively all-ages show, one of the band's two appearances at Trondheim Calling.
So, Norwegians do dance after all?
"YES, they do! Our most out of control concerts are either for very sober kids, like this, or really really drunk people."
The beginnings
"We all went to the same high school in Moss. You find your friends in a town like that through sports teams or music, for us it was music! The name comes from the old Mummies album, but it's also the punchline to an old joke. We listened to the album, loved it, and loved the name."
Influences
"We have many influences, but mostly genres themselves rather than individual bands. So garage-rock, psychedelic-rock, power-pop, punk-rock and soul. Listening to bands like the Sonics, and especially the Nuggets collections from the 70s where they showcased the best of the dirty garage bands from the 60s. When we discovered that music we knew that's we wanted our sound to be like."
Writing songs in English
"Stian, Preben and me (Sebastian) write the songs. We did one song in Norwegian at my father's 50th birthday, but everything else has been in English."
"English music is the music I listen to, and grew up with. If you don't write really well in Norwegian, it can sound a little stupid!"
"Because English isn't our first language there's always some holes with grammar and stuff, but for me writing in English is much more interesting. If we think of an idea in Norwegian it can be really hard to put it down in English, some phrases and expressions can be lost in translation. In Norway we have our own way of everyday thinking, so I'm sure theres some things that just don't translate well."
Three albums in three years
"Well we don't have real jobs so we have a lot of time for writing and recording! This is what we love to do. We've had some great opportunities here in Norway for support to go into the studio, which means it's not that expensive for us. After the first record we made enough money with the band so we didn't have to pay out of our own pockets anymore. Also it's just the five of us, plus one sound engineer. That reduces the cost and speeds things up."
Playing live
"It's always good to play something new for ourselves and break up the routine of playing the same songs all the time. But when we do play old songs, the response can be really fun."
"Big stages are fun of course, but playing on the floor in small rooms can be really special. Revolver in Oslo is probably our favourite small venue."
You can follow Death By Unga Bunga on Facebook, MySpace, and YouTube.