Most people haven't heard of Landåsbygda, and that's okay.
It's a little Norwegian paradise about a 20-minute drive from Gjøvik and the Mjøsa. My partner and I hadn't heard of it either, before we bought a house and moved here in 2015. At the time we also knew nothing about Østlandet (eastern Norway) in which Landåsbygda is situated.
Prior to our move to Landåsbygda in the county of Oppland, we lived on the west coast of Norway, in downtown Stavanger. I had moved to Stavanger in 2013 after living and working in southern Germany and Switzerland for four years. The first steps of my life in Norway included getting married to a native of Sandnes (down the road from Stavanger), and trying to wrap my head around Norwegians and the Norwegian way of life (like moving to another planet after life in Germany).
My move to Norway was a major diversion from my plan to return to Australia. Norwegians seem to possess an irresistible charm that attracts and lures unsuspecting non-Norwegians like a bear to honey. Suddenly you find yourself in a place you never imagined you'd be, and what's more, find yourself still there several years later, happy about it.
Funnily enough, there are many similarities between life in Norway and life in Australia. Both countries have small populations, an abundance of wild nature which you can enjoy all for yourself, extreme temperatures, deadly animals (although there is a higher volume and outstanding variety down under), and citizens who are laid-back egalitarians.
Growing up as a kid in New Zealand and Australia, I was always fascinated by the Vikings – their wild ways, no-nonsense laws (Håvamål) and the Norse gods (Thor, Freja, Odin) and myths. So it was probably destiny that brought me here to Norway. Although it was definitely Stavanger's incessant wind and rain that brought me/us to the county of Oppland.
After a daily regime of being rained on and/or blasted by wind (which is actually good training for acclimatising yourself to Norwegian weather), we decided to leave Stavanger, and seek out a place where we could enjoy a stable climate, and closer proximity to Sweden (cheaper shopping), Oslo (cheaper flights out of the country) and central Norway's wilderness parks.
Never in a million years did we ever think we would end up in a place where there is snow for up to six months of the year, where sometimes summer seems to get swallowed up in a never-ending rain cloud, and there is enough water to supply the entire Australian population for multiple generations.
One fateful weekend in January 2015, we hopped on a plane in Stavanger bound for Oslo, with the intention of viewing several open homes for sale. The inclusion of the house for sale in Landåsbygda was a last minute addition. At first, it seemed a little too far out of our travel radius, but the price was right and the house just perfect for our needs.
Upon arrival in Oslo, we stepped into the middle of an Østlandet winter, with a snow storm that dumped most of the season's quota in one day. It was our first time navigating through snow in a tiny rental car, but as we arrived in Gjøvik, on a very early and sleepy Sunday morning, the landscape was like a fairytale, with lake Mjøsa blinking at us in the rays of the rising sun and everything around it covered in white. We were instantly charmed.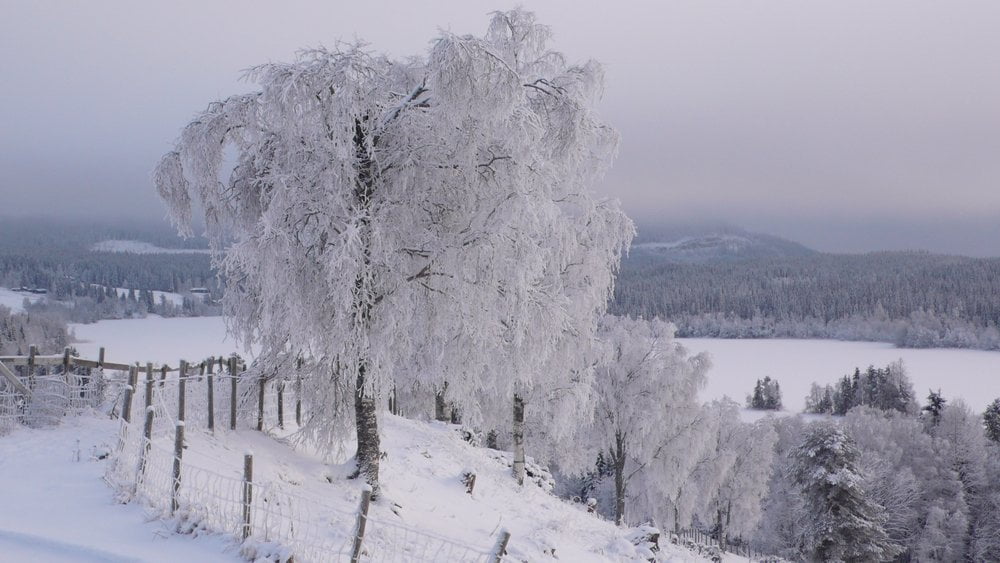 The drive from Gjøvik to Landåsbygda takes you up to a kind of plateau, from where it's possible to see all the way to Valdres and Synnfjell in the west. The further we drove away from Gjøvik's civic centre, the more it felt like we were driving into a white unknown. 'Where on earth are we?' 'Where on earth are we going?' were the thoughts that popped into my mind. At the same time 'wow, this is great!' also vied for attention, and so we continued along the enchanting forest road towards Landåsbygda. I'll never forget that drive, because somehow we knew before we even saw the house, that we had found 'the' place.
After having spent the better part of two years looking up and down the west coast of Norway, including a year of visiting and researching prospects in the Hardangerfjord, we had found 'home sweet home' in a place we knew nothing about, had never been to before, hadn't even thought about looking into, and which was on the other side of the country.
Some people may think we were/are crazy, but it was one of those moments where you trust your instincts. The rest as they say is history. We moved to Landåsbygda one month later, leaving Stavanger at midnight, with two nervous cats in the back of the car, and drove 10-hours non-stop to our beautiful, and very sunny, home in Landåsbygda. It was pure kos (a Norwegian word which is similar to 'cosy bliss').
Landåsbygda is one of those places, where you feel like you can breathe for the first time. Surrounded by a sea of forest and a natural lake as a main attraction, it lies at a height of around 550-600 metres, in the middle of Norway's pristine mountain and forest country. Landåsbygda, which is pronounced Land-ors-bygda, contains a number of surprises, some of which we are still discovering even after more than two years of living here.
Located roughly midway between the regional towns of Dokka and Gjøvik, Landåsbygda is a rural village with a population of 300. Lying within the boundaries of the Søndre Land (southern Land) municipality, it was once upon a time a part of the greater Land municipality, which was later split into north and south in 1847 (they tried to rejoin the two municipalities in 2016 but the proud locals would have none of it).
Landåsen is probably one of the stand out features of Landåsbygda. Literally, it means 'Land's ridge', and its prominent hill position is easy to see from our verandah. Today it's a rehabilitation centre and one of the local landmarks, place of historical importance, and Søndre Land's largest private employer.
The site where Landåsen stands has had a colourful past, with archaeological findings dating human settlement back to the stone age. Back in those days, the farm was known as Aas or Hillestad, and it was a place that often changed hands. At one point it was owned by the diocese of Hamar, then later by one of Norway's first prime minister's, who acquired it after purchasing the surrounding forest. In 1914 Landåsen was turned into a kind of tourist wellness hotel, which indirectly paved the way for its present incarnation as a rehabilitation centre. Today its professional health services attract a steady stream of patients throughout the year.
The centre is behind the fabulous hiking trail network that shows off the beauty of Landåsbygda on both sides of the lake and beyond. One of the most stunning hikes patients and locals can do is up to Venholhøgda (750m), the highest mountain in the local area, where a breathtaking 180-degree view of the local area can be enjoyed. Even in winter, cross country ski trails are maintained, and it's not uncommon to find snowshoe hikers down at the lake, moving against the backdrop of silent snowfall.
Landåshaugen is the hill onto which the Landåsen centre backs. This hill offers history in the form of Viking burial mounds located at its summit. There's a horse riding trail that goes up and around Landåshaugen, but to make it to the very top, you have to blaze your own trail on foot. The magical view from the top overlooks Bergstien, the little forest path connecting Landåsen to the lake. I haven't found the actual burial mounds yet, but this may be because there is quite an eccentric collection of rusted old farm machinery and cars that have been left up there, perhaps covering their location.
On the other side of Landåshaugen is another one of Søndre Land's employers, the Land Montessori school. One of the amazing things about Norway is that you find Steiner and Montessori schools in the most unexpected locations – places you'd think nobody would ever go to school, but they do, and these schools are in good supply all over the country, offering free alternative education.
Near the school, on Bergstien and overlooking the lake, is a home-made gapahuk (emergency wooden shelter) and a rustic barbecue area with another stunning view of Landåsvatnet (the lake). Built by the locals, it's testimony to Norway's appreciation of the outdoors and faith in social responsibility and trust, with a range of DIY outdoor furniture, BBQ equipment and hyggelig (cosy bliss) effects like cushions available to anyone who wishes to use them, with the implicit rule of 'take care' and 'leave everything for the next person as you found it'.
While having a brew and enjoying a crackling fire, the view from the gapahuk over Landåsvatnet lake is like meditation in motion. The lake is no doubt a natural attraction, and the perfect place to fish, swim, picnic or relax in the sun. A relatively flat gravel road goes right around its southern border connecting back to the main road in and out of Landåsbygda, totalling a distance of approximately nine kilometres (if you use our home as a starting and finishing point).
This gravel road hooks up with one of Landåsbygda's best kept secrets, den Gamle Ridevegen, the old riding trail which is a 1,000-year old historic transport route. It connects Landåsbygda with the nearby village of Fluberg down at Randsfjorden. Its 45 kilometres of trail is a paradise for runners, hikers, and horse riders alike, offering amazing views of Randsfjorden and the Dokka delta and wetlands reserve.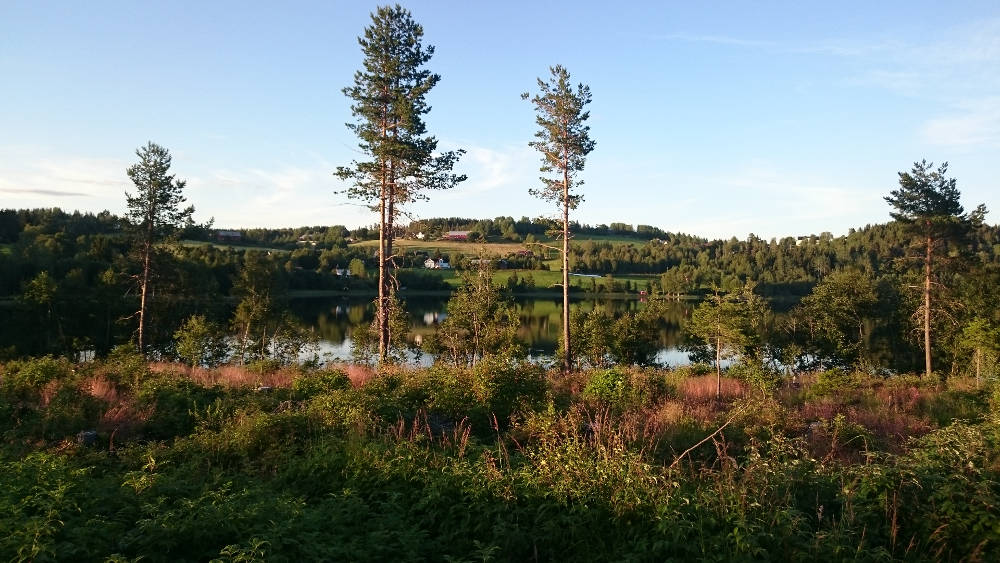 As for the other places around Landåsbygda, Brennodden is what you'd call a 'meeting place'. It's located down at the lake's edge, next to the fishing pier, and has a large grassy area where several social get togethers take place organised by the Landåsbygda Velforening (local community association), such as the St Hans bonfire on the 23rd of June and the Landåsmila (10K foot race).
Directly opposite Brennodden is Dammen or Landåsbygda's 'industrial zone'. Every year a group of enthusiasts meet here to show off their vintage bikes, tractors, cars, buses, and trucks. The nearby farm that overlooks Dammen was given the name Kvernhushaugen by Bishop Jens Nilssøn of Hamar, when he travelled through the region back in the late 1590's. A kvernhus is where the grinding of grains takes place. A sawmill was also built at Dammen. The water running off from lake Landåsvatnet was used in both the saw and grinding mills. It's possible to see the remains of these two buildings at the edge of the Landås river as it heads down to Randsfjorden, Norway's fourth largest lake (and actually not a fjord at all).
Moving up from the lake along the main road (Landåsvegen), you can see the oldest building in Landåsbygda, called Brenden Store, which was built in 1730. It still stands in all its glory, but today is uninhabited and looks slightly worse for wear.
Further up the main road, is the Landåsbygda chapel, local supermarket and post office, which form the social heart of Landåsbygda. The chapel offers services several times a year, to celebrate Easter, Christmas and Norway's national day. Several farms surround the local shop, as well as the historic Villa Granne, where the original post office and store (from 1916) used to be.
On the way out of Landåsbygda, heading towards Gjøvik, is the Kronviksætra farm. It was originally an alpine hut, where two Sami lived, and was called Lappsætra. Today it's operated as farmstay accommodation, with several Viking graves near its old sheep barn. One of Kronviksætra's neighbours practises traditional non-motorised farming, and you can often see him preparing fields and harvesting hay with his horse.
Across the road from Kronviksætra is a bird biotope called Ospeskogen (aspen forest). The forest is a natural wildlife sanctuary for woodpeckers and almost half of the 35 different cave breeder birds native to Norway. More Viking burial mounds and graves are found above Ospeskogen.
Birds are not the only kind of wildlife possible to see in Landåsbygda. Visitors may also catch the occasional glimpse of long-legged moose dashing across the road, followed by smaller moose, perhaps a dog, and an exhausted looking hunter trying to keep up (in autumn only).
Of course, there's also the rumor of bear, which is actually a neat little tale told by the locals to naïve newcomers. When we first moved to Landåsbygda, one of the friendly local fishermen down at the lake told us about sightings of bear, wolf and lynx in the local area. It all sounded fantastic to the ears of a west coaster and an Aussie. Lynx sounded plausible, but bear and wolf – this far west from the Swedish border? Coming from the land down under and knowing how Aussies love to tell tales about drop-bears and killer koalas to scare the tourists, I thought there might be a tall tale in the making here. Fortunately, during one of our hikes last year, I found the source of the 'bear' tale in a magazine lying in one of the hiking huts we stayed in.
The bear story dates back to a freak event in the early 1990's when a Swedish brown bear decided to go walkabout. The bear crossed the Swedish-Norwegian border on its way to Lillehammer, where it swam across the Mjøsa and hiked all the way to Land. Feeling a bit peckish after its long passage, it ate one of the local sheep, which naturally outraged the farmer. When the sheep was found (in bits and pieces), the authorities were called in. They promptly caught the bear, sedated it and transported it back to Sweden. Unfortunately the bear didn't survive the trip. This one incident actually documents the entire history of bear in Land.
While Landåsbygda is not a bustling metropolis, you may have gathered that it's not a boring place either. Having hosted quite a number of Airbnb guests, we've found that it's an ideal starting point for experiencing Norway's unparalleled outdoors. Many tourists flock to the capitals or heavily promoted attractions, like Oslo, Bergen, Preikestolen, Trolltunga and Besseggen. Of course, these places are swamped in the summer season for a very good reason. They're stunning. But Norway is a huge country, and there are many alternatives where the 'wow' factor is just as, and maybe even more, spectacular because you can have the whole place to yourself.
Landåsbygda may make up a small part of Oppland, but it's in an area rich in history due to its fortunate position near the east-west and north-south transport and trade routes. At the nearby Randsfjorden, you can hear about the story of Harald Hårfagre (fair-haired), the first king to unite Norway. In Dovre, you can hear about the legend of Nor, the ice giant who fathered the first Norwegians. In Gudbrandsdalen, you can hear about Peer Gynt and the satire of the Norwegian soul. And in the Valdres valley, you can hear about the legend of the Jutul, or giants, who guard Norway's natural secrets in their Jotunheimen home. All this within a two-hour radius from a little place like Landåsbygda.
Since our arrival in Landåsbygda, we've naturally been occupied with exploring our new home and discovering everything that it has to offer, as well as unravelling the hidden secrets in this beautiful part of the world. Part of the adventure is meeting and finding out about the people that make up the little community we are a part of, and listening to their stories.
There are so many ways to experience Norway. Sometimes the places with the smallest footprints have the biggest and most authentic adventures to offer. That's how we feel about our new home in Landåsbygda.