This weekend saw the biggest local rivalry in Norwegian football, the Oslo-Akershus derby between Lillestrøm (LSK) and Vålerenga (VIF).
Lillestrøm are known by many outside Norway due to their regular appearances in Europe during the 80s and 90s, whereas Vålerenga are the biggest club in the Oslo area; in fact they are now the only team to play (at the professional level) within the city itself.
I'm still new to Norway so don't know the history of the rivalry (feel free to chip in down in the comments section folks!). However, I do know many LSK fans live or work in Oslo so there's bragging rights around the city to be had, not least in my own office! Vålerenga have had the better of Lillestrøm in recent seasons, but that means little in these fixtures.
I haven't yet been to a Vålerenga away game and chose not to make this my first, so watched the game at home on TV2. I didn't fancy going into the heat of a derby atmosphere on my own…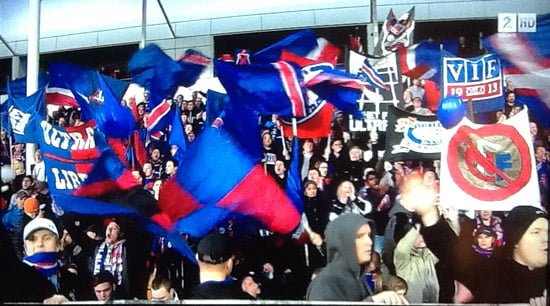 The heat of a derby atmosphere… which was heightened when Martin Pusic broke free after just 32 seconds to slot the ball into the far corner to give 'enga an early lead…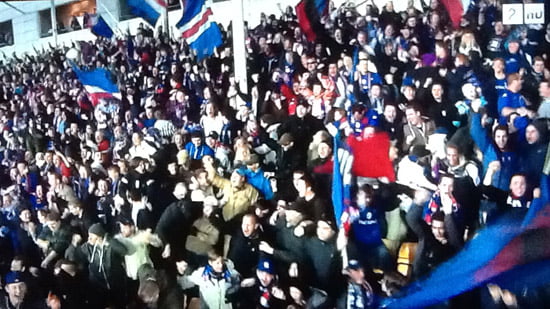 'enga dominated the opening exchanges and wasted two further chances. But Lillestrøm soon found their feet and created chances of their own. It wasn't a surprise when they equalised, Petter Moen converting from the penalty spot.
Over the course of the game Lillestrøm created several clear-cut chances, Sigurðarson and Rodgers in particular should've been on the scoresheet. But Vålerenga had chances of their own too. For Norwegian football, this was pulsating stuff.
Lillestrøm will feel they deserved their first win of the season, but it finished up 1-1. It's a point which lifts Vålerenga (at the time of writing) into fourth position, something I can't quite believe after having watched four moderate performances so far this season.
This is how Twitter saw it:
@aHellofaBeating Lillestrøm – Vålerenga, undoubtedly the most fierce rivalry in Norwegian football, is about to kick-off.
@mAu0103 #LSK #VIF @ tv2 right now. It's almost like being home
@BrendanHusebo "Oh, Luke Rodgers misses from five yards. Vaagan Moen then misses the ball from three yards. This game is crazy!"
@BrendanHusebo "Terrible offside traps, powerful strikers, creative midfielders, woeful finishing. This has been…frantic. But wonderful."
Tippeligaen 2012 is well and truly underway!