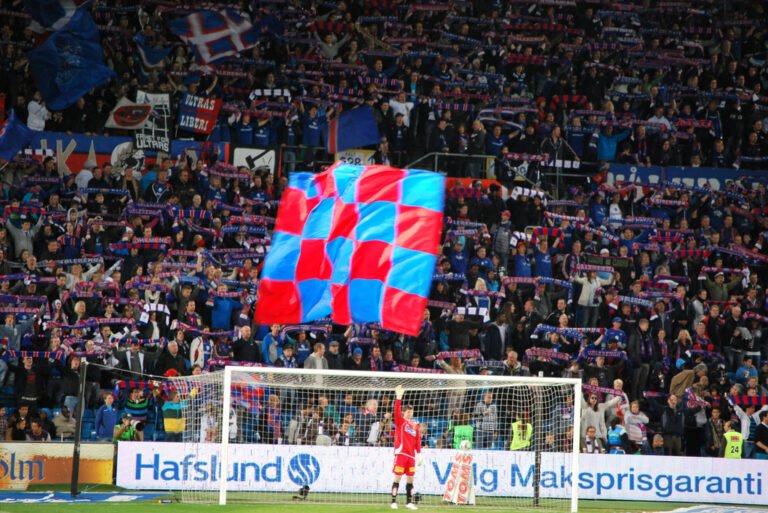 It's a momentous day for sports in Oslo as Vålerenga IF turns 100 years old.
Vålerenga is not just Oslo's biggest football club, it's a multi-sports club also featuring a significant youth football system, ice hockey, skiing, bandy, basketball, handball, and even American football.
But the Vålerenga name is closely linked with football, and it's at their adopted home of Oslo's Ullevaal Stadion where the day of celebrations will conclude tonight with (hopefully!) three points against Sarpsborg.
My Vålerenga story
I was introduced to Vålerenga by some friends of mine when I first moved to Oslo. My first match was a 3-0 win against Viking, lulling me into a false sense of security! I've since been to about ten games, and this March travelled to Bergen to attend my first away game, a 3-1 defeat against Brann in the season-opener.
What's struck me most is the passion of the supporters club – klanen. These folks travel up and down the country (often by ten-hour coach journeys!) to watch a standard of football that is average at best. It reminds me of my years spent following Northampton Town around the small towns of England. Kudos to klanen!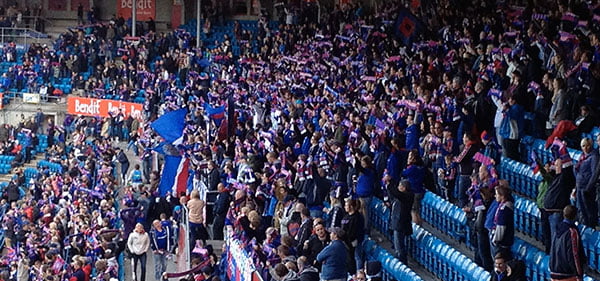 Due to the unwritten rule of football that you can't switch teams, I'm sticking with VIF even though I've moved to Trondheim, home of the most successful club in Norwegian football, Rosenborg. No glory hunting here – take note Norwegian Manchester United fans!
Where it all began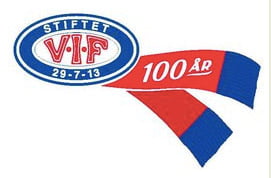 On Tuesday 29 July 1913, an existing football team created a new sports association for the Vålerenga area of Oslo. Originally named Spring, the club consisted of football, skiing, athletics and wrestling. One year later the club was renamed to its present title, Vålerengens Idrettsforening, which translates to Vålerenga Atheltic Association.
It wasn't until 1965 that VIF Fotball won anything of note, finally picking up their first national league title. But the golden age would not come until the 1980s, a decade which saw Vålerenga pick up three league titles and appear in three national Cup finals, winning one.
The last trophy won by the footballers was the national Cup back in 2008, with the last league title back in 2005.
Vålerenga Hockey
But as I said, VIF is about far more than just football. VIF Hockey team happens to be one of the best ice hockey teams in the country. Unfortunately they just missed out on glory in the centenary year, losing the play-off final to Stavanger Oilers despite topping the regular season table.
When I went to Jordal Amfi in 2012 for Vålerenga v Lørenskog, it wasn't just my first time at VIF Hockey, it was my first ice hockey match full-stop. It was a great experience and one I'll hopefully repeat, most likely when Vålerenga take on Rosenborg Elite! Click here to read more about ice hockey in Norway.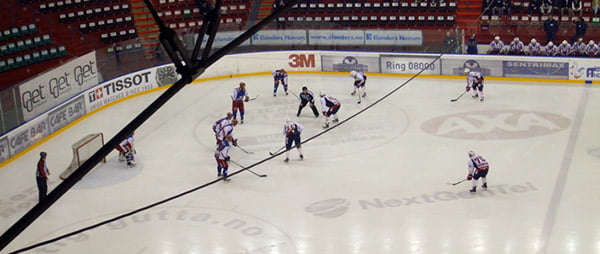 Looking forward to the next 100 years!
Who knows where VIF will be in 100 years time. Maybe we'll all be flying around in spaceships and watching VIF Speedball! But for now, I'll settle for three points against Sarpsborg tonight. If you're interested, kick-off is 1900 and it's live on TV2 Zebra. Update: At least they finally have a stadium to call their own!
ÆRE VÆRE!