It had to happen sooner or later. After all, I've been flirting with Norway for almost two years now. But this weekend, we took our relationship a step further.
I am a skiing virgin no more!
Some time ago I couldn't decide whether to ski or snowboard. In hindsight that was really an excuse not to get started with winter sports at all, especially as the decision was made when I was given a pair of cross-country skis for Christmas. Me and Gerry had planned to go for some time, but work and travels kept getting in the way. But this weekend, I finally grew a pair and gave THE Norwegian national pastime a try.
My outdoorsy friend Helen recommended Skullerud as an ideal place to start. We tentatively made our way there on Saturday morning, both of us feeling a little silly carrying skis and poles until we saw someone else with them on the T-Bane.
Skullerud was indeed a great place for beginners. Thanks, Helen! It's a gateway into the trails of Østmarka, the vast forest in the eastern hills of Oslo. It's easy to reach on the T-Bane and there's a ski school and handily placed cafe there. The ski school is for kids, but it does mean there's a wide open space with a ton of newbies practising and making tits of themselves – even a couple of other adults!
Gerry had a little experience with cross-country and downhill skiing, so offered to teach me the basics.
My first tentative steps as a skier
The first challenge – one I didn't expect – was getting the skis on. I took me ages to click my boots into the ski – not something that filled me with confidence!
Gerry taught me the basic technique of the "diagonal stride", the most common method of skiing across flat terrain. I got the hang of this quite quickly, but as soon as I hit anything resembling a slope…
Falling
I fell five times. Considering I'd never done any form of skiing before and we were out there for about two hours, I think that's pretty good! I struggled with the new (to me!) sensation of speed and lack of control when heading down even the smallest of slopes. That sudden moment of panic takes over and bang, before you know it you're on the floor.
Gerry was surprised I only fell five times and said I had a good falling technique. Of course, while he actually said "but you fall really well", what I heard was "you're shit, but you're really good at being shit"…
Anyway, by the end of our time at Skullerud I was really pleased with my progress. I managed to ski down a small slope keeping control of my speed and coming to a stop, without falling – I know all you Norwegians reading this are howling with laughter (YES YOU ARE!), but for me this was a really big achievement!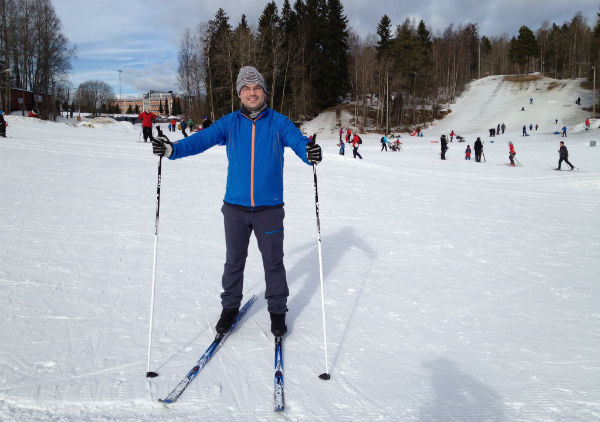 The complete cross-country experience
No Norwegian winter sports experience would be complete without a pause for something warm and sweet! The cafe at Skullerud was perfect for this – waffles and hot chocolate all round!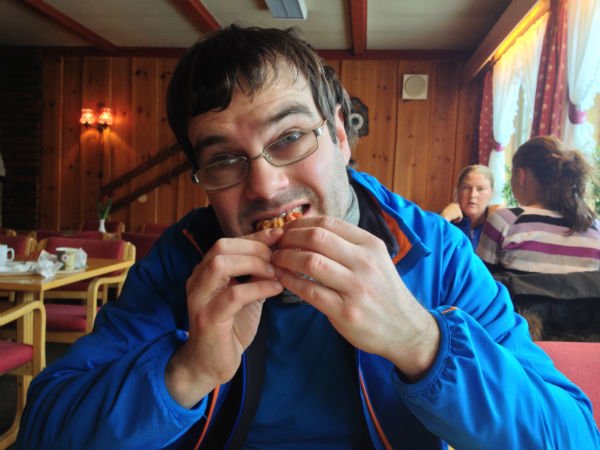 Day Two – Yes, really!
Haha, you weren't expecting that, I bet!
On Saturday morning I made the commitment to go on both days, no matter how bad the first day was. I'm glad I did, because it changed my approach on Saturday, knowing that I wouldn't have to get it all right on day one really took the pressure off.
We were full of optimism this morning – until we got there! The conditions were remarkably different from just 24 hours ago. It was much icier, therefore much faster and harder to keep control – I fell within seconds of getting my skis on. But we persisted and looped around the area several times, before heading into the woods. There we found more snow and more grip, a good job as there was a steep climb to navigate. An exhausting climb – but a worthwhile one. I chose not to ski back down – I'll save that for another time!
I did practise the downhill technique on gentler terrain though and I've definitely grasped it in my head, even if my legs aren't playing along just yet 😉 I can slow myself down quite well, but going from slowing to stopping is the problem. It'll come with time, I'm sure…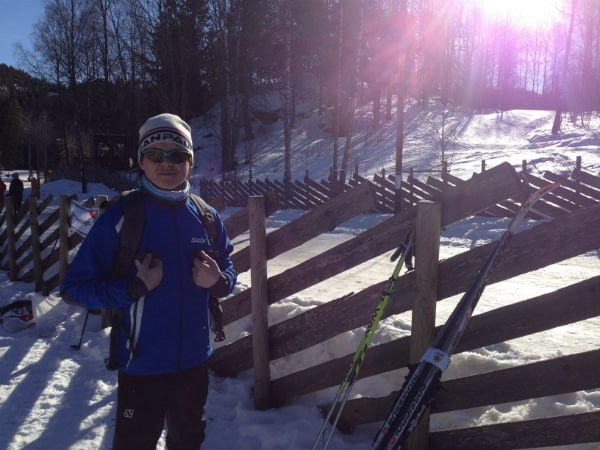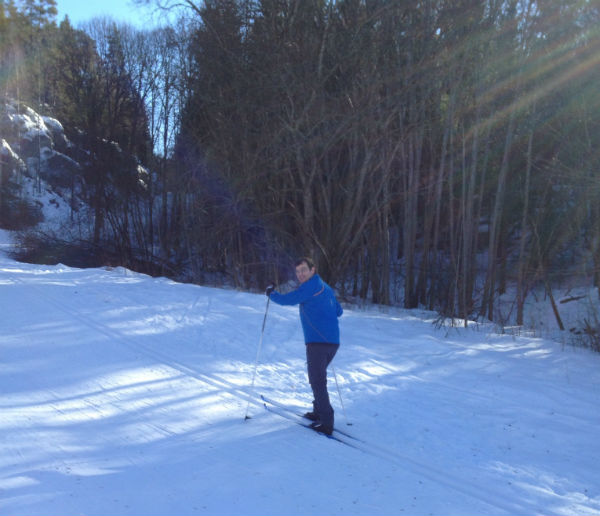 So cross-country skiing, I kinda get it
Cross-country skiing divides people. Some love it, some hate it. I just wasn't sure of the point, it just seemed to me like going for a walk in the snow. But after a couple of tries,  I'm beginning to "get" it. I'm not sure I'll ever love it, but it's a starting point.
Exercise. If nothing else, it's phenomenal exercise. Wikipedia says "As a sport, cross-country skiing is one of the most difficult endurance sports, as its motions use every major muscle group and it (along with running, rowing and swimming) is one of the sports that burn the most calories per hour in execution." As I write this, every major muscle group is hurting like hell, so yes, I would agree!
Social. Whole families were out for the day, adults, kids, grandparents and even dogs. I can't think of many other sports that cross generations like this.
Touring. Although we only made a short trip into the woods, I still felt "at one with nature" for at least a few seconds. I can for the first time understand the attraction of a "skitur" from cabin to cabin.
Will I still enjoy cross-country skiing this time next year? I have no idea. This weekend has given me renewed confidence to try downhill skiing and snowboarding, so maybe one of those will become my thing.
But at the end of this weekend – I'm definitely that little bit more Norwegian 😉