An introduction to Narvik, a Norwegian town with a beautiful Arctic location that hides a tragic war history.
After more than 10 years of living in Norway, I recently visited Narvik for the first time. One of the biggest towns in Northern Norway, Narvik has a fascinating story to tell.
From the historic iron-ore railway that propelled its growth to the echoes of a tragic World War II past, Narvik presents an intriguing history wrapped up in stunning Arctic landscape.
With a population of 21,500 as of 2023, Narvik is one of Norway's biggest Arctic towns. Only Tromsø, Bodø and Harstad are bigger, with Alta approximately the same size. Here are five facts about Narvik.
1. Narvik was built on Swedish iron ore
Emerging in the late 19th century as a small settlement, Narvik owes its growth to Swedish iron ore.
Mining iron ore in Kiruna, Sweden, faced a considerable challenge due to the lack of a suitable Swedish port. The closest Swedish port, Luleå, was not a viable option.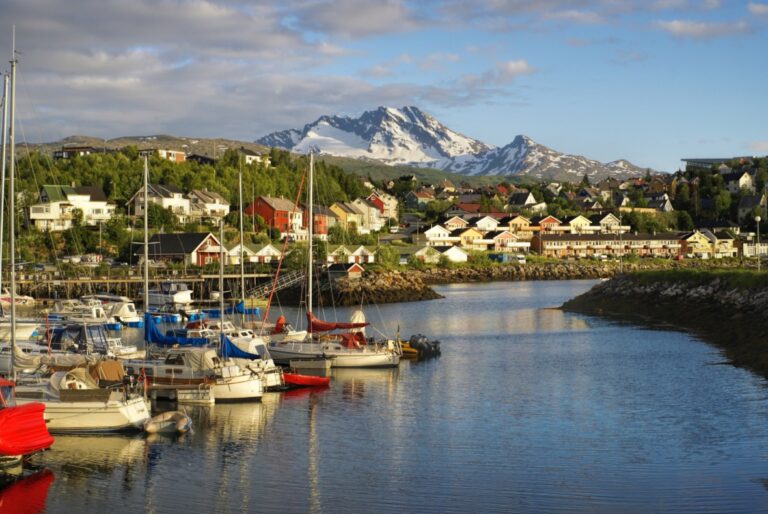 The port of Luleå was geographically distant from Kiruna, restricted to medium-sized bulk freight vessels, and was rendered inaccessible in winter due to heavy ice cover.
So, in the 1870s the ice-free port of Narvik became the export point for iron ore mined from Kiruna in Sweden, leading to the town's rapid expansion. Even today, the Narvik port bustles with the activity of iron ore shipments.
2. Narvik played an important role in World War II
On a recent cruise ship port call in Narvik, I took the opportunity to learn all about Narvik's war history.
The Battle of Narvik in 1940 was a significant event during World War II, marking the first defeat of Hitler's forces. Unfortunately, it did not prevent the occupation of Norway.
The town's War Museum presents an immersive exploration of these events, offering deep insight into the trials and tribulations Narvik endured during this tumultuous period.
A visit to the multinational war cemetery offers a chance to remember the victims of this tragic time.
3. Narvik is on the Swedish railway network
It seems odd but although Narvik is the northernmost railway station in Norway, you can't get to it from any other major Norwegian city.
The town is instead linked to the Swedish railway network, a consequence of its historical iron-ore transportation needs. A train journey from Narvik offers spectacular views of the Scandinavian wilderness, adding a distinctive charm to this anomaly.
4. An emerging cruise ship destination
With other northern ports such as Tromsø and the ports of Lofoten getting busy, Narvik is steadily carving its niche as a cruise ship destination.
With its rich history, alluring Arctic landscapes, and a variety of experiences ranging from fishing to hiking, Narvik has been catching the attention of cruise operators and travellers alike.
Its deep-water port makes it an accessible stopover, inviting visitors to delve into the wonders of the Arctic. Lines with smaller ships such as Fred Olsen Cruise Lines visit Narvik, typically on northern lights itineraries in the autumn and winter seasons.
5. Narvikfjellet is a top skiing destination
The Narvikfjellet ski resort on the local mountain that looms over the town is a special attraction for ski enthusiasts.
With slopes that seem to plunge into the fjord below, it offers a unique skiing experience. The region hosts several international skiing events, testifying to its reputation as a world-class skiing destination.
Even for non-skiers, the cable car ride up Narvikfjellet provides panoramic views of the Arctic landscape, making it a must-visit. You can even enjoy a meal at the top in the Narvikfjellet restaurant, although pre-booking is advised.
Have you ever been to Narvik? Let us know what you thought of this small town in Northern Norway in the comments below.