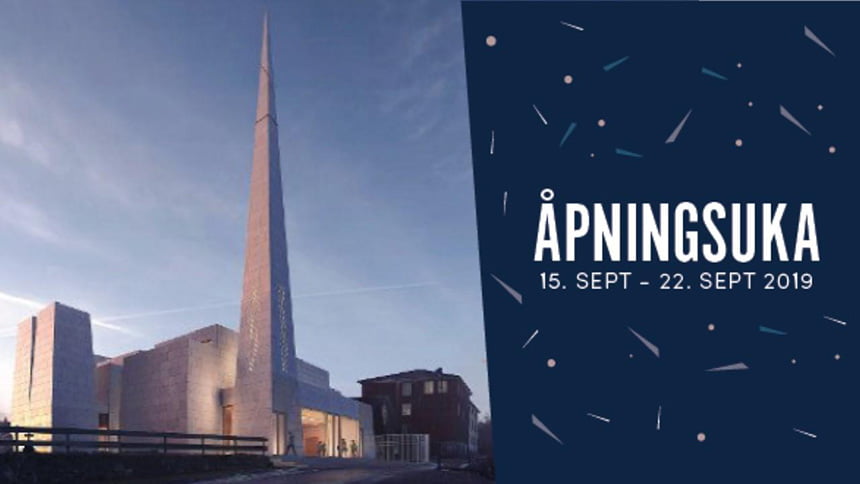 The new Porsgrunn East Church opens this weekend after the original was destroyed by fire. But its modern design has split opinion among locals of the Telemark town.
An increasing number of new churches in Norway are built with modern designs. Should churches always look the same? Locals in Porsgrunn are debating that question as their new church opens this weekend. A week of festivities is planned to mark the occasion.
"A lego building"
Long-serving local politician from the Liberal Party Siren Johnsen said that the church "looks like something my granddaughter could have built with Lego. I promised myself that I would never go in there."
Many had hoped the original design would be restored. But after fierce local debate, modern architecture was chosen above tradition. NRK compared the controversy surrounding the modern design to the debates in Oslo over the Opera House, new Munch Museum and the rebuilt Government Quarter.
Read more: Norway's most impressive churches
Not everyone is opposed to the new building, however. Parish priest Ivar Brobakken says the new church is beautiful: "This is a work of art. It is aesthetically pleasing and very holistic. I understand that the city's population needs time to get used to it. That's the case with all new buildings in our country."
Rebuilt after the 2011 fire
The 18th-century Porsgrunn Church burned to the ground in 2011. Here is how the church used to look before the fire:
"This was a very special church in Norway. Something like an architectural masterpiece," said Ove Mellingen in regional newspaper Telemarksavisa. The wooden church was older than the town itself. Built in 1760, the church stood in a settlement that did not become its own municipality until 1842.
"Many felt that family memories of baptism, confirmation, weddings and funerals also turned into ashes at the same time. It pains people to experience such. It ran deep into many in Porsgrunn," he added.
The winning architect
The design "Reis Opp" (Rise Up) from architect Espen Surnevik has now become a reality. The new church is based on the axis and size of the old church. However, that's where the similarity ends.
The website of Surnevik's architect firm says the church emphasises simple, primary geometries. "The church consists of various massifs of heavy, dense character. Between the massifs there are openings that bring light into the rooms."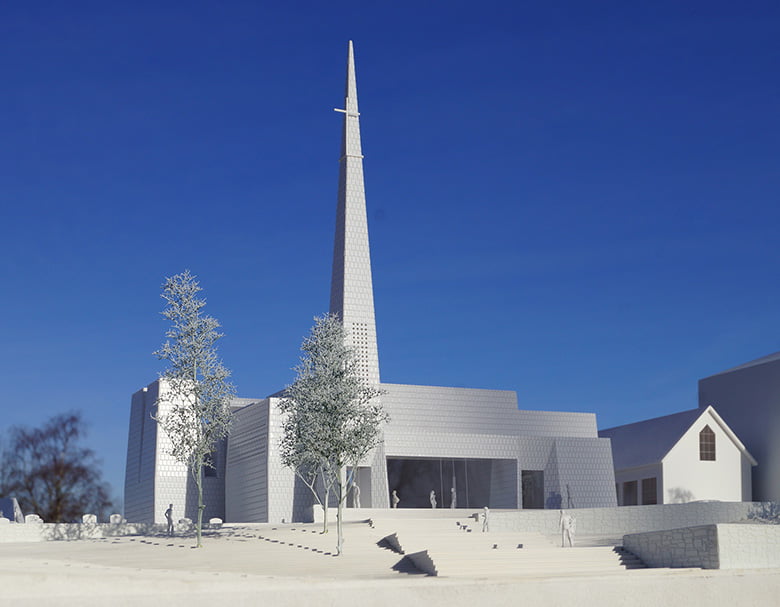 "As a reference to the chalky white church that stood on the site, the interior and facades are made of white porcelain. The choice of materials looks back on Porsgrunn's industrial history. The colour and materials symbolise the highest purity. Light, which fills the church, plays a central role in symbolising hope and return."
Strong emotions about the historic centre of a community
Surnevik told construction industry website Byggeindustrien that he understands the concerns of the local community, but says that says that more and more people have become believers as the new church rises.
He referred also to his experience from Våler church, another of his modern designs that won the Norwegian building of the year in 2015:
"In both cases, the local communities lost central and historic buildings in their communities through fatal fires. The two old churches had been the anchors of the local people for generations. The loss of such buildings naturally creates strong emotional reactions, something that must be respected and taken into the work of a new church building."