The semi-solid blue mould cheese 'Nidelven Blå' from Gangstad Gårdsysteri has taken the biggest title as the World Cheese Awards. Here's the full story.
When one thinks of the world's best cheese, the rolling hills of France or the green pastures of Switzerland might immediately come to mind.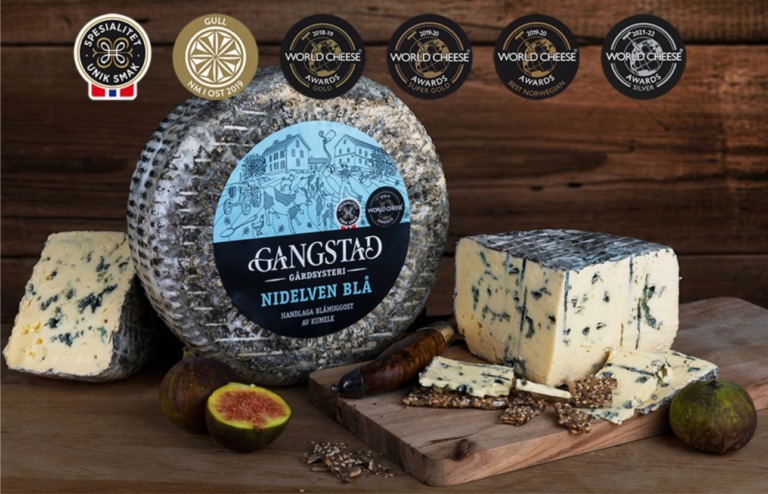 However, in a delightful twist, the title of the world's foremost cheese for 2023 doesn't hail from these usual suspects. Believe it or not, but a Norwegian cheese has taken the crown: Norway's very own Nidelven Blå.
In the bustling indoor arena of Trondheim Spektrum, an unprecedented number of cheeses were laid out for judgement. A record-breaking 4,502 cheeses, having traveled "by boat, truck, train and plane," were presented to an esteemed assembly of cheese aficionados.
This global cheese fiesta, organized by the Guild of Fine Food and known as the World Cheese Awards, reached its 35th edition this year.
The award-winning cheese
Coming out on top, besting cheeses from over 40 countries, was Nidelven Blå from Gangstad Gårdsysteri, a semi-solid blue mould cheese crafted from pasteurized cows' milk.
The cheese is produced by Gangstad Gårdsysteri, a modest dairy farm based merely two hours from Trondheim.
General manager Maren Gangstadt expressed her elation at the victory, emphasizing the significance of winning on their home turf and the added joy of having the entire dairy crew present for the monumental occasion.
Judges were lavish in their praise for Nidelven Blå. Described as possessing a "short creaminess" akin to "real dense fudginess" by one, another extolled it as "the perfect blue cheese."
A third connoisseur noted its balanced taste profile, highlighting "fruity overtones" and "wine-like characteristics" that made the cheese communicate in a "very unique language."
World Cheese Awards
The World Cheese Awards have evolved immensely from its modest beginnings in 1988, which primarily saw UK entries. This year, cheeses from 43 different countries participated.
Norway, the host nation, marked its highest ever participation with 293 types of Norwegian cheese entered. It's a testament to the growth and international nature of this competition.
Last year's title was claimed by a Swiss cheese, Le Gruyère AOP surchoix. However, 2023 saw Norway shine, marking its third victory at these awards.
With Nidelven Blå's triumph, it's evident that the world of cheese has many diverse landscapes, and this time, the fjords and mountains of Norway have provided the backdrop to the world's best cheese.