Opened last week, Norrøna's innovative new flagship store in Oslo reimagines the outdoor retail experience. A unique 'storm lab', event spaces, and a vivid design aesthetic help to create an adventurous shopping experience.
In a retail market that's increasingly moving online, it's refreshing to find a Scandianvian brand that's so invested in the physical retail experience. Come and take a look inside.
From a 'storm lab' extreme weather testing facility and cutting-edge events space to a repair lab and ski workshop, Norrøna has opened a flagship store in Oslo, Norway that it hopes will become a travel destination in itself.
Norrøna is a premium Norwegian clothing brand known for its high-quality outdoor gear. Founded in 1929, it combines distinctive design with durable materials, catering to adventurers who seek reliable protection against harsh Nordic conditions.
A New Flagship for the Brand
The previous flagship store in Oslo was termed as such simply because it was the biggest and carried the full range of Norrøna products.
The new store—built in the former 19th-century paper factory as part of the Norrøna headquarters in western Oslo—takes the retail experience to a whole new level.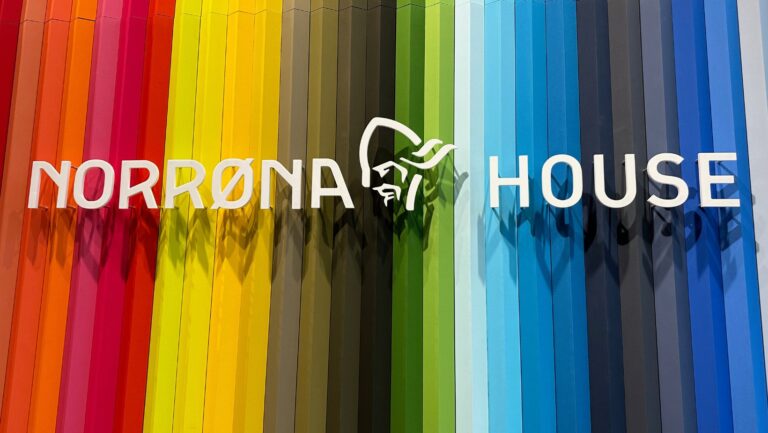 Norrøna is a brand known for its bright colors, and the Norrøna House flagship store chooses to embrace that look from the moment you enter.
The 17-foot-high Gore-Tex colour wall makes a striking impression, as does the video wall at the far end of the store that steers visitors through the vast space. The dark aesthetic really makes the colours of the gear pop throughout the store.
Norrøna Stories in the Spotlight
Storytelling is also embraced, with the brand choosing to weave stories from its almost 100-year history throughout the store.
For example, this colourful display tells the history of Norrøna's Trollveggen jacket, complete with archive photography from explorers using the jacket at Trollveggen itself.
The Lofoten range is also profiled through stories. Launched in 2004 as what Norrøna claims was the "world's first true freeride collection", the Lofoten range was designed for the people who tackle some of Norway's most challenging terrain.
Other stories told within the store include the brand's logo history and advertising history, along with destination photography from sister travel agency Norrøna Adventure.
Experiences and Events
A highlight of the new store is the Gore-Tex approved 'Storm Lab'. Customers will be able to test both new and old products against simulated wind and rain.
One of the advantages in locating the flagship store within the company headquarters is the ability to make this novel testing lab dual-purpose.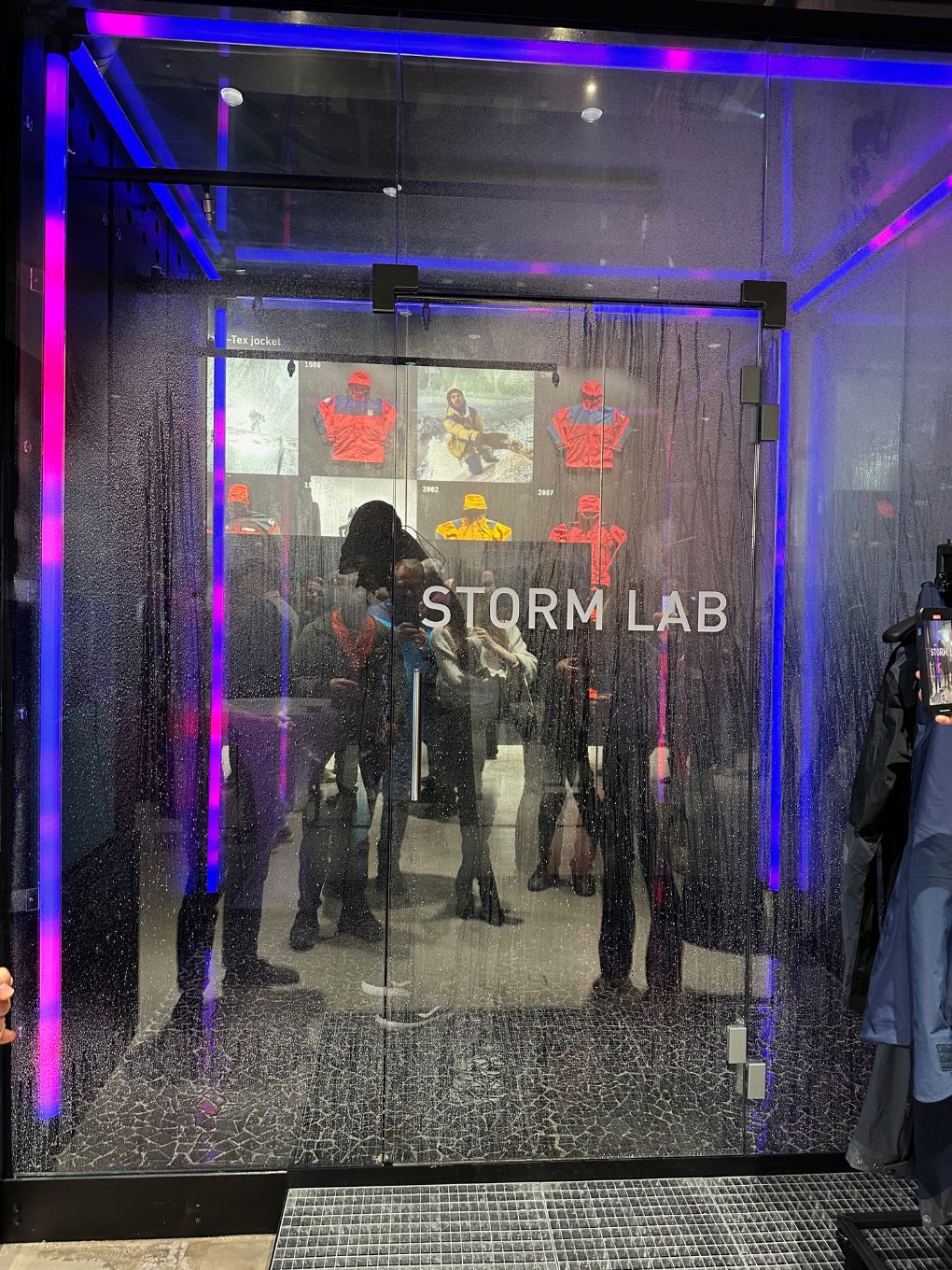 So, although it may sound like a novelty, the facility will be used by Norrøna's in-house designers as well as potential customers.
But the experience aspect of the flagship store doesn't stop there. The brand has constructed a flexible event space featuring an auditorium with around 90 seats.
It plans to host events there throughout the year such as talks with the brand's ambassadors, all well-known explorers such as world champion extreme skier Chris Davenport.
The flagship store also features a cafe-restaurant at the rear, which will serve customers during the day and be used for events in the evening.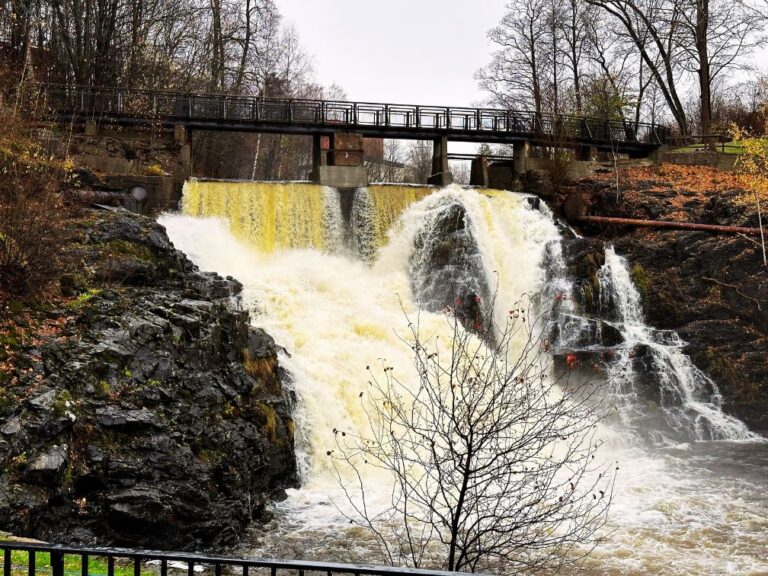 The outside terrace looks over this fabulous waterfall, which is sure to encourage some customers to stay for lunch.
Used Equipment Store
Because Norrøna gear is designed to be long-lasting, there is a substantial second-hand market for the products within Norway.
Norrøna's new flagship store will highlight this through its 'RE' concept, which is a full-scale initiative to create a more responsible, circular business.
There are several elements to the 'RE' concept, including 'REuse', which will sell second hand products. Many of the products are returns that have been fixed, and therefore come complete with a warranty.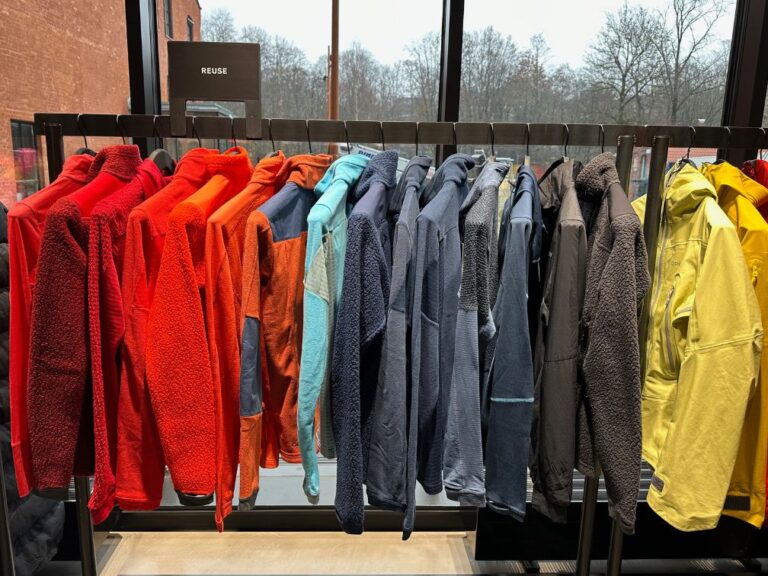 The store also features a repair workshop, for quick fixes (REpair) and alterations (REfit). Customers are also encouraged to return old worn-out gear (REcycle), which will be upcycled, recycled as textiles, or turned into insulation for other products.
Visiting Norrøna House
If you're keen on outdoor experiences in Norway, a visit to Norrøna House is well worth your time. It's less than 10 minutes walk from Lysaker train and bus station.
The store is open 10am to 9pm on weekdays, and 9am to 7pm on Saturdays. Norrøna House's cafe is open 8am-6pm weekdays, and 9am-6pm on Sundays. It serves a cafe menu, while a dinner service is planned to commence in 2024.