An active mud volcano has been discovered 400 meters below sea level in the Barents Sea. Here's what we know about the discovery.
It's not every day a new volcano gets discovered in Arctic Norway! Especially one that's active. But that's exactly what happened just a few days ago on an Arctic research vessel in Norwegian waters.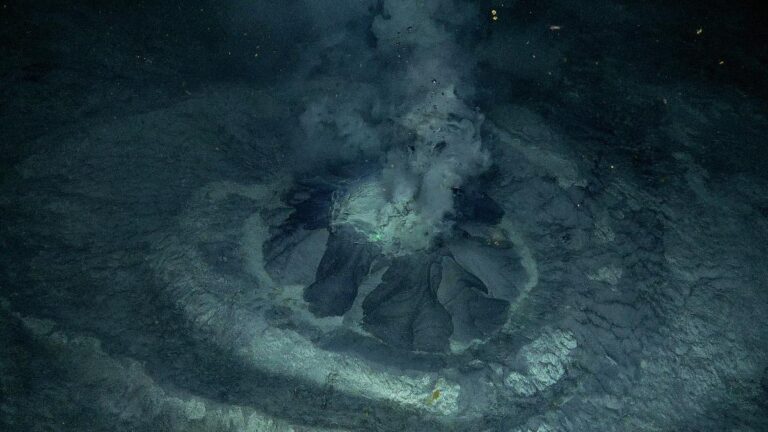 It has been named the Borealis Mud Volcano. Researchers have said the Borealis Mud Volcano releases mud, liquids and gas from deep within our planet, with emissions that are rich in methane.
Unlike a igneous volcano that most people will be more familair with, mud volcanoes do not produce lava and are not necessarily driven by magmatic activity. They are caused by several geological processes and created by the eruption of mud, water and gases.
Discovered by Arctic researchers
The discovery was made by research scientists from the Arctic University of Norway, based in Tromsø, in collaboration with REV Ocean. The team said the discovery is only the second mud volcano ever found in Norwegian waters.
This unusual geological phenomenon was discovered by scientists working aboard the research vessel Kronprins Haakon. If that name sounds familiar, it's because one of our writers described his experience on an Arctic research project last year.
The discovery was made with the help of a remote-controlled underwater vessel called the ROV Aurora. It's located in the Barents Sea, approximately 70 nautical miles south of Bjørnøya, also known as Bear Island.
The oceanographic AKMA3 expedition behind the discovery has a multidisciplinary team of researchers and students on board. It is part of Advancing Knowledge of Methane in the Arctic, a project funded by the Research Council of Norway.
About the Borealis Mud Volcano
Borealis lies inside a crater on the sea bed that is approximately 300 meters wide and 25 meters deep. The mud volcano is approximately seven metres in diameter and has a height of 2.5 metres.
This makes the Borealis Mud Volcano on the smaller size. Mud volcanoes can be as high as 700 meters and up to 10 kilometers wide.
Scientists believe the mud volcano was created after a natural blowout that suddenly released massive amounts of methane after the last ice age. If that's accurate, it would put the age of the mud volcano at approximately 18,000 years ago.
"We do not rule out the possibility of discovering other mud volcanoes in the Barents Sea. It is only thanks to good cooperation and advanced technology that we can make such discoveries. Seeing an underwater mud eruption in real time reminds me how 'alive' our planet is," said expedition leader Professor Giuliana Panieri.
Only one other mud volcano has ever been discovered in Norwegian waters. The Håkon Mosby volcano was discovered in 1995 at a depth of 1,250 metres south of Svalbard.