Visit Norway has presented an ambitious new tourism strategy aiming to position the country as a leader in green travel.
While Norway's travel restrictions remain in place, the country is nevertheless gearing up for the expected post-pandemic tourism industry rebound.
"A big impact, small footprint"
During the pandemic, the tourism authority and industry representatives have worked on a strategy to shape the future direction of the Norwegian tourism industry.
With a tag line of "a big impact, small footprint", the strategy sets out a sustainable framework for the next decade of tourism development.
Read more: A First-Time Visit to Norway
Battling the impact of mass tourism
Prior to the pandemic, overtourism was a growing problem in Norway. While the country didn't experience the crowds of Barcelona or Venice, it does have problems of its own.
The popularity of Norway's hiking trails has been enhanced by Instagrammers and YouTubers from all over the world. While this has undoubtedly boosted tourism, it has had a negative side too.
Many of these trails are located in rural, remote areas that do not have the infrastructure to cope with mass tourism.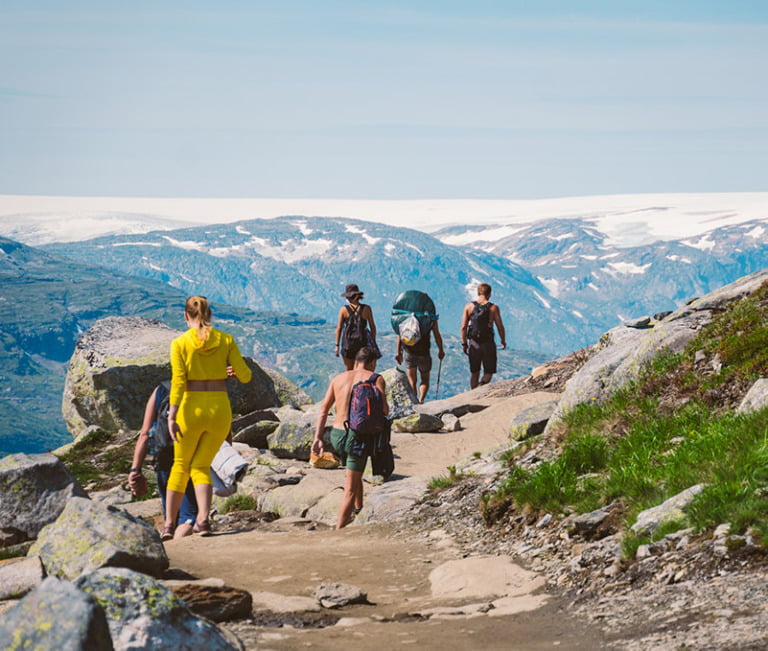 The Lofoten islands, and the hiking trails to Preikestolen and Trolltunga are among the areas to have suffered.
But there's also the ongoing debate about cruise ships. Prior to the pandemic, cruise ships dumped thousands of passengers into tiny fjord communities like Geiranger and Flåm.
The big ships were also a problem in Bergen, so much so that local tourist officials decided to ban tourist buses from the historic centre.
So, how does Visit Norway want to grow the tourist industry while maintaining Norway's natural attractions? They say the answer is green.
A focus on sustainable growth
Bente Bratland Holm, tourism director at Visit Norway, said that sustainable tourism growth must be combined with a lower climate footprint across the industry: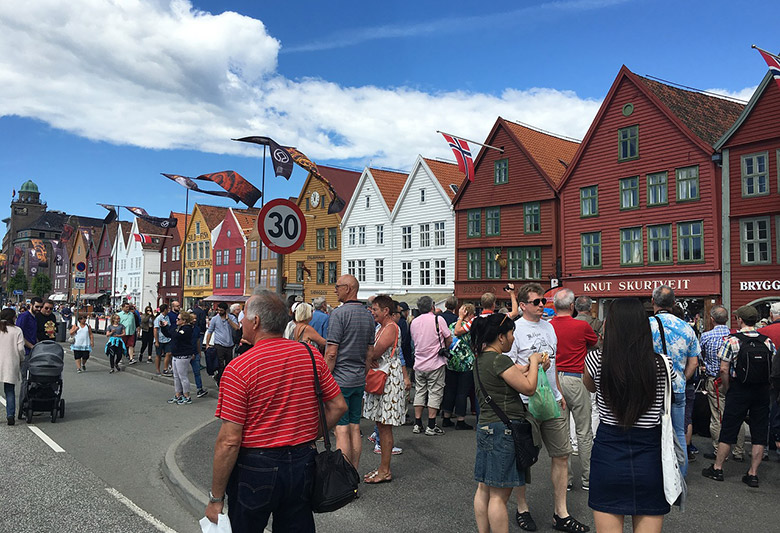 "The travel industry cannot be ringside whilst the fight against climate change continues. We must act responsibly and join forces to do our bit to save the very foundation of our industry. This is the reason the strategy states that sustainability in non-negotiable."
A key pillar of the plan is an industry commitment to halve CO2 emissions by 2030 and reduce annual transport emissions by 10%. This will support Norway's national decarbonisation plan.
Holm claimed this will not affect the country's growth ambitions for tourism. In fact, the strategy document suggests that up to 43,000 new tourism jobs could be created in Norway by 2030.
A national carbon calculator
Another recommendation in the strategy is to develop a carbon calculator. Named Klimasmart (Climate smart), it will calculate CO2 emissions for the various parts of a trip.
According to the strategy, such a tool "will make it easier for all elements of the tourist industry to make better assessments of the relationship between consumer impact and climate costs in their own strategic initiatives."
Green travel a hot new trend?
The new strategy comes at the right time for Norway, if predicted trends are to be believed.
Author Elizabeth Becker told National Geographic she believes consumers are "doubling down on sustainability" and that post-pandemic travelers will demand companies implement "responsible travel policies."
Others believe change is happening on the supply side too. Pól Ó Conghaile from the Irish Independent said the pandemic has given tourism businesses time "to run the rule over their operations, and to see sustainability not just as a philosophy, but as economic sense."
Sustainability in Norwegian tourism
Norway's new strategy builds on Sustainable Destination, a national accreditation scheme for destinations.
According to Visit Norway, destinations awarded the title are not 100% sustainable but "committed to a long-term process for sustainable development" including a reevaluation every three years.
Some of Norway's top sustainable destinations include the UNESCO World Heritage site Røros. The former copper mining town in central Norway began focusing on heritage and sustainable tourism more than 10 years ago.
The award-winning strategy aims to limit the impact of tourism on the environment and local culture. Local food is a key element. The town of little more than 2,000 people boasts its own butter, ice-cream, reindeer meat products and beer.
Read more: Røros: The History of a Mining Town
There's also been a lot of sustainability work in and around the fjords, another heritage site. To improve the environment, the Norwegian government has introduced a zero-emission requirement for ships sailing in the World Heritage fjords from 2026, although this may be extended to 2030.
Post-pandemic recovery
Although it was ordered by the Ministry of Trade, Industry and Fisheries in late 2019, the strategy takes post-pandemic recovery and possible future travel trends into account.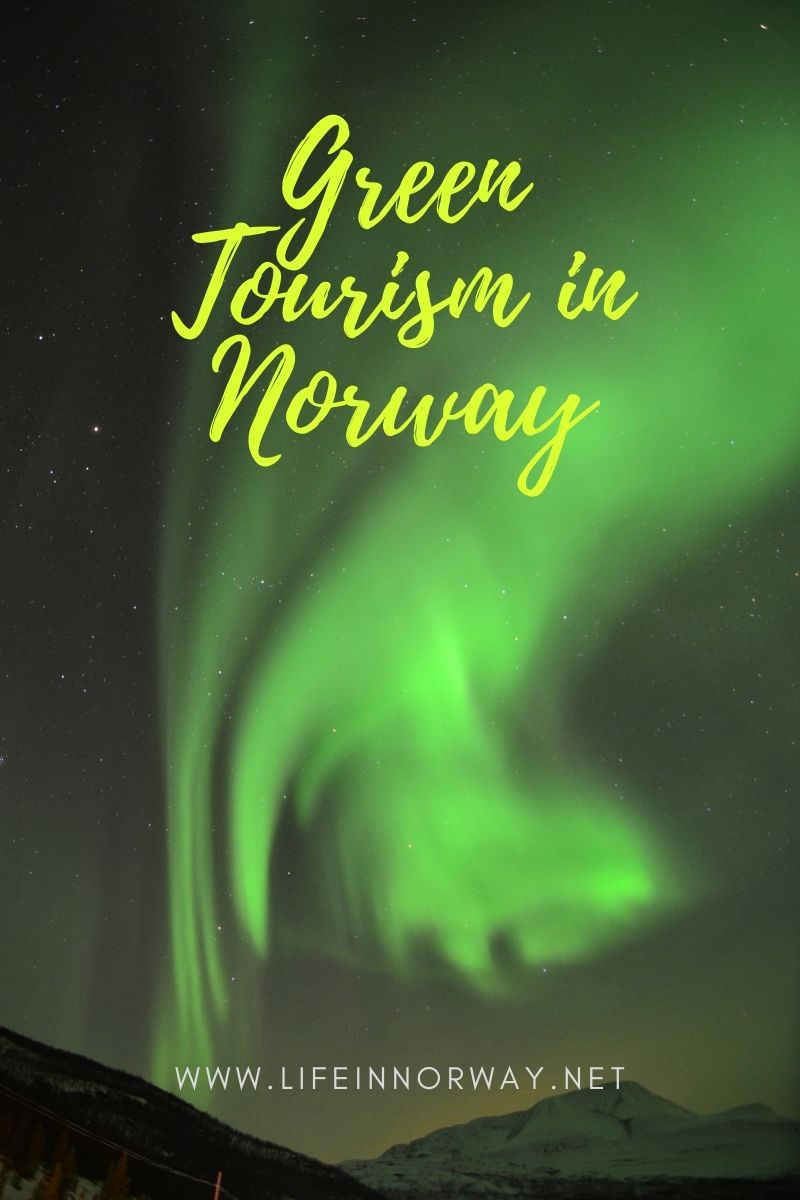 "The longer the pandemic lasts, the more likely it is that we will see permanent changes. Sales of holiday homes and sports and hiking equipment are now on the increase, for example," states the report.
The strategy also recognises that business travel habits may be permanently changed:
"Professional travel may be reduced permanently by around 20 per cent on account of digital meetings. It is possible that major congresses will be permanently split into multiple sub-congresses and digital arenas, as we have seen during the pandemic."
But this could provide opportunity for smaller destinations, which is why a sustainable strategy is needed.
"International analyses indicate a shift towards holidays closer to nature and small destinations, at the expense of densely populated cities," states the report.
You can read the full national tourism strategy in English here.