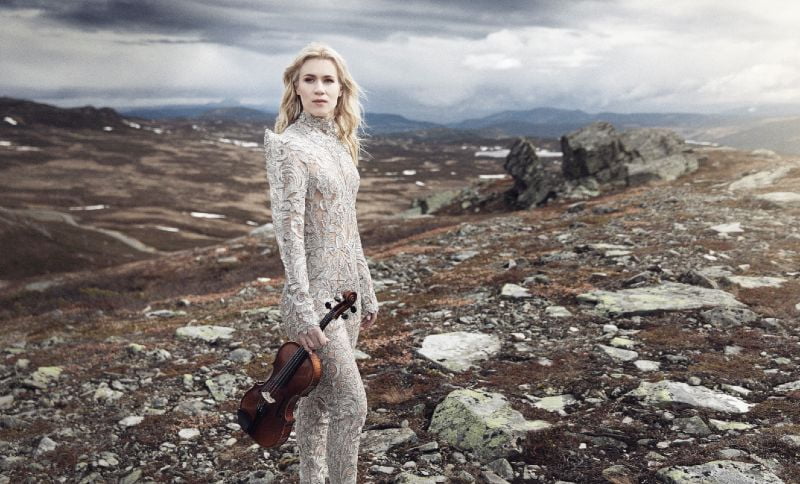 Life in Norway Show Episode 49: Norwegian violinist Eldbjørg Hemsing joins the podcast to discuss folk music in Norway.
Today I'm joined by Eldbjørg Hemsing, a Norwegian violinist who has lived in Austria and Germany and played all over the world.
We talk about the fascinating world of music in Norway, specifically traditional folk music, and the role Norway's nature, mythology and languages play in it.
Eldbjørg also introduces her own podcast, Nordics Unveiled, an English language look at what makes Nordic music, Nordic!
Listen to the show
You can listen to the show using the web player below, or on your podcast player of choice. This includes: Apple Podcasts, Stitcher, YouTube (audio only), and now Spotify. Simply search for 'life in Norway' on your platform of choice to get started.
Wherever you listen, don't forget to hit 'subscribe' to ensure you don't miss an episode!
Here are some highlights from Eldbjørg's interview:
An early musical influence
Eldberg grew up surrounded by musical influences.
"My mother is really passionate about music and my father used to work with environment and nature. Sometimes he had to leave in the evenings, because there was some sort of emergency and my mum might have a concert. It's not always that easy to get babysitters in a small village, so I would actually just go with her to the concert. So I kind of just grew up thinking this is super normal!"
"This area is also very rich in folk music, there is a very strong tradition for it. Actually, so strong, in fact that a lot of the tunes that come from Valdres have their own specific rhythm. So you can say that there's also a part of identity expressed in the in the rhythm."
Eldbjørg also tells a story of the Norwegian legend Edvard Grieg and how he is linked to the history of her family.
Defining Norwegian music
It's actually really hard to define Norwegian music, but I think the one word that keeps coming up is nature. I think everyone has been referencing nature to some extent as an inspiration or reason for why the they make the sounds that they do."
"I think nature has had such an enormous impact. For many it's been a way of feeling rooted and grounded. And Norway in general does not have the longest music history. So in certain ways that has also given a lot of freedom, that there hasn't been so many set boxes that you have to fit in because that's how it's always been done."
I also asked Eldbjørg what instruments we are most likely to see in Norwegian folk music. She spoke of the Hardanger fiddle, known in Norwegian as hardingfele. It has more strings than a standard violin and dates back to the 17th-century.
Artists to watch out for
Eldbjerg recommended checking out the work of musician and violin-maker Ottar Kåsa: "To have someone who knows and understands that craft is incredibly valuable, as it is starting to die out."
She also recommends the Valkyrien Allstars: "They are really fun. They use folk music and the Hardanger fiddle in particular with a bit of a tougher expression. It showcases how much fun you can have playing around with expressions."
The Nordics Unveiled
Eldbjørg explains why she chose to start a podcast this year. "It's a journey into the north, trying to explore and find out what is typically Nordic, not just music, but architecture and even art history.
It's something I've been quite curious about for a long time, particularly when I travel and play abroad. I often get the question of what is the typical Nordic sound. There's a lot of curiosity, particularly from Germany and China, and also the US where many people have Norwegian ancestors."
Links from the show
If you enjoyed Eldbjørg's interview, why not share it on Pinterest so others can find it too? Here's a pin for you: