A look at how Norwegians consume news today, from national daily papers to online publications aimed at specific audiences.
The earliest newspapers in America and Britain grew out of conversations in coffee houses and pubs. They contained a mixture of factual information such as the shipping news, political argument and gossip. The way we consume news has of course changed. Rather than a single daily or weekly publication, most of us are now drip-fed news throughout the day.
Of course, the internet was a game-changer. No longer do people need to wait for a daily newspaper to land on their doormat or take the short walk to the local convenience store each morning, tie the dog up outside, and venture inside to buy it along with a carton of milk. Now, news from our local area and the other side of the world is available at our fingertips.
Has this change also come to Norway? In short, yes.
News and journalism in Norway
There is an undoubted shift to digital underway among Norwegian news consumers. However, readership of physical newspapers remains relatively strong compared to many other countries.
Online subscriptions are on the rise. Paywalled content has fast become the norm across Norwegian online news. Some outlets such as VG offer their news for free but paywall their 'extra' content. In contrast, local newspapers typically paywall something like 80-90% of articles.
Norway's NRK
The largest media organisation in Norway in NRK. While also known for its TV and radio stations, the government-owned public broadcasting company runs a substantial news operation. The online news service at nrk.no is comprehensive and frequently breaks major news stories.
Most of NRK's funding comes from the Norwegian public. For years this was done via a license fee, but now the funding is included in Norway's income tax.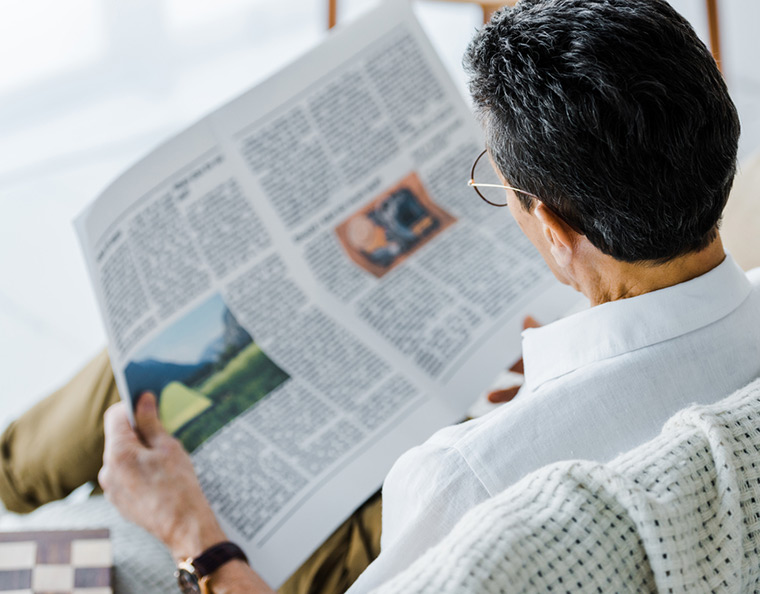 The most popular Norwegian newspapers
Here are the most widely read Norwegian newspapers in paper format:
Aftenposten (336,800)
VG (205,800)
Dagens Næringsliv (143,500)
Dagbladet (128,300)
Klassekampen (112,700)
Adresseavisen (103,700)
Bergens Tidende (96,400)
Stavanger Aftenblad (82,600)
Morgenbladet (72,900)
Finansavisen (62,800)
The data comes from Mediebedriftenes Landsforening and is correct as of February 2020.
The major dailies
Aftenposten ("The Evening Post" in English) is Norway's most popular daily newspaper. Founded in 1860 as Christiania Adresseblad, the paper's original name reflected its Oslo focus which remains in place today. The newspaper became Aftenposten in 1885.
Previously the newspaper came in two editions: a national daily, and an evening edition just in Oslo. Ultimately owned by the Schibsted media group, the newspaper has traditionally taken a centre-right political stance.
VG. Founded in the aftermath of World War II, Verdens Gang (VG) is Norway's best-known tabloid. Although trailing behind Aftenposten in paper sales, the VG website is the most widely read newspaper website by a significant margin, outperforming NRK.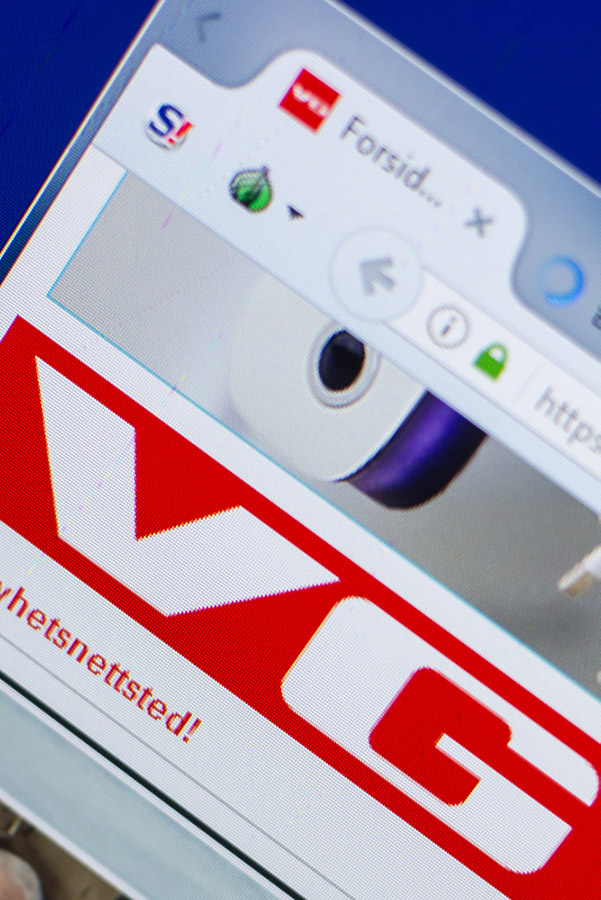 Almost two million people visit the VG website every day. That's quite some achievement in a country with a population of a little more than five million. A big reason for this is that compared with the competition, a bigger proportion of VG's content is available for free.
Dagens Næringsliv is Norway's leading dedicated daily business and finance publication. Founded in 1889, DN is now the third most popular print newspaper in Norway. While based in Oslo, the paper has correspondents based around the world including in New York and Brussels.
Despite its business focus, the paper is also well-known for its inserts. DN Magasinet comes with the Saturday edition, while the award-winning lifestyle magazine D2 comes with the Friday edition. It covers diverse subjects including food, travel, art and design, with a strong focus on photography.
Dagbladet is the fourth most popular national paper, although it had held third place before a decline in readership. Taking a social liberal stance, the newspaper remains a firm fixture on kiosk newsstands nationwide.
Klassekampen is the fifth most popular daily newspaper. With a title translated as The Class Struggle, it's perhaps obvious to see the paper has a strong alignment with left-wing politics. Although it takes a radical stance on many issues, they cover more issues than politics such as environmental issues.
The paper stands apart from the majority of print newspapers in that readership has grown in the recent decades. It's also unique among the major papers in having a very limited online presence.
Regional news
Regional and local newspapers remain popular in large parts of Norway. Many small towns manage to sustain a local publication in print.
Although sold nationally and covering national news, Aftenposten does cover a lot of Oslo news. This means it serves a dual purpose as Oslo's local newspaper. There are far too many local and regional newspapers to list them all here, but here are the biggest in circulation terms:
Adresseavisen (Trondheim)
Bergens Tidende (Bergen)
Stavanger Aftenblad (Stavanger)
Fædrelandsvennen (Kristiansand & southern Norway)
Sunnmørsposten (Ålesund & Sunnmøre)
Romerikes Blad (Lillestrøm & Romerike)
Drammens Tidende (Drammen)
Hamar Arbeiderblad (Hamar)
Gudbrandsdølen Dagningen (Lillehammer & Gudbrandsdalen)
Trønder-Avisa (Trøndelag)
Nordlys (Tromsø)
Also noteworthy is Svalbardposten, which covers the Svalbard archipelago. Edited from Longyearbyen, the newspaper is produced in a weekly magazine format and also has an online subscription service.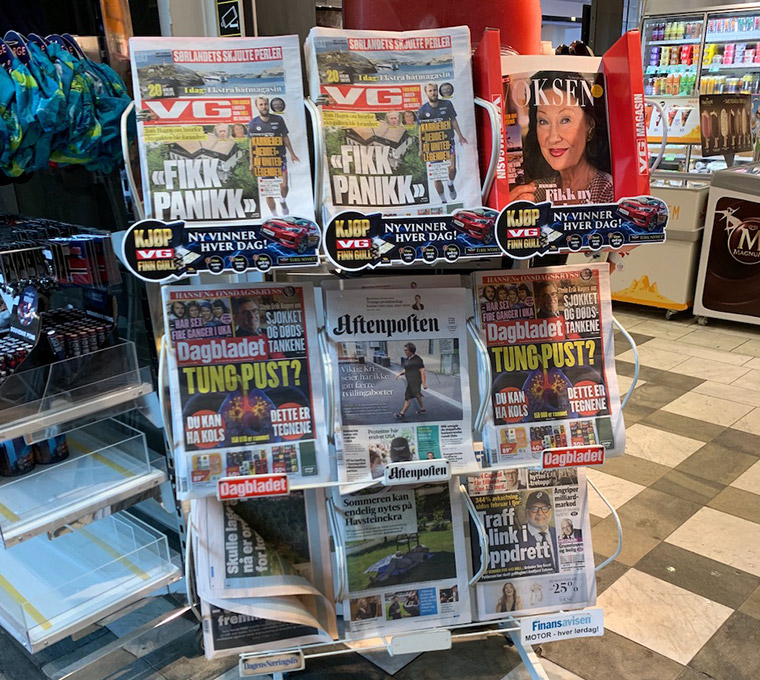 I have spoken with two of the editors in recent years. It's interesting to note that although the islands are home to just a few thousand people, the online subscription numbers are significant. This is mainly due to people who used to live in Svalbard wanting to stay in touch with events on the archipelago.
Online news
I've touched on online news several times now, so let's take a deep dive into the topic. The VG website is by far the most popular online news source for Norwegians. Almost two million people use the website or app every day, with around 75% using their mobile phone.
As a completely free service, NRK understandably takes second place. Ranked third among online news services is Dagblet, but fourth place is taken by another non-newspaper, TV2.
Norway's TV2 has a substantial news operation for its television channels and website. Almost one million Norwegians access TV2 news online every day. Other online-only news services ranking well include business site e24 and ABC Nyheter.
News in English
If you don't yet speak Norwegian, there are some options for getting news in Norway. Unlike some countries, Norway does not have a regular print newspaper available in English, so the options are online.
First things first, we regularly cover news of importance, relevance or interest to Norway's international community here on Life in Norway. You can follow the latest news blog, or subscribe for free to Norway Weekly to get the latest news headlines in your inbox.
Elsewhere on the web, popular English language news sites include The Local and News in English. The Norway edition of The Local's Europe-wide service has recently added a paywall, although some articles remain free to read. News in English is paywalled, although offers a handful of free articles per month before you have to pay.
For an insider view of what's really going on in Norway's high north, check out the Barents Observer and Ice People. The former publishes in English and Russian and provides a truly unique account of Norway-Russia relations, among other things. Ice People covers English language news from Svalbard.
There are many foreign correspondents based in Norway who write for publications all around the world. I regularly feature some of these articles in Life in Norway's weekly newsletter, Norway Weekly.
Other notable and niche titles
Klar Tale is a great news option for learning Norwegian. The print and online versions provide news in simple Norwegian. Those learning the language should also check out the free weekly podcast that reads the paper out loud. Listening while reading along is a fantastic way to make progress.
Other popular niche titles include Dag og Tid, which uses the nynorsk form of Norwegian, and the agriculture news and advertising publication Bondebladet.
The non-profit organisation Faktisk.no is an independent fact-checking service of the public debate in Norway. "We want to contribute to an open, inclusive and fact-based public conversation. By reviewing the basis of current claims that affect our perception of reality, we work for a fact-based exchange of words and a constructive social debate," explains the site.
Although editorially independent, the service is actually owned by Norway's biggest media organisations. This includes the original financiers VG and Dagbladet, along with NRK, TV2, amedia and Polaris Media.