A review of a balcony room on the Norwegian Prima, the spectacular new cruise ship from NCL coming soon to ports in Norway.
The long-awaited debut of Norwegian Cruise Line's new Prima class of cruise ship has arrived with a christening sailing from Reykjavik to Amsterdam. The Life in Norway team tagged along for the ride.
It was the first chance for passengers to get a glimpse of the interior of the spectacular new ship including the staterooms—aside from the publicity photographs of course.
There are several classes of stateroom on the new Norwegian Prima, ranging from inside rooms and studios specifically designed for solo passengers through to suites and even more luxurious accommodation in the private Haven decks featuring 24-hour butler service.
Balcony stateroom tour
To get the best impression of what a balcony stateroom onboard the Prima is like, check out this quick video tour, then read on for the details:
Onboard the Prima, balcony staterooms are available between decks 9 and 16. We were given room 15178, which was a typical balcony room albeit one on a higher deck (deck 15), definitely a preferred spot.
Below balcony rooms in price are interior rooms (no windows) and rooms with a porthole. There are also more expensive rooms including larger family rooms and the Haven suites.
All balcony cabins are at least 225 square feet. That's equivalent to most European hotel rooms, although some balcony staterooms are slightly bigger depending on their location on the ship.
All balcony staterooms sleep two people in two beds that convert to a queen. All rooms feature a sofa and in a limited number of rooms a sofa bed takes the total capacity up to 4. However, it would be a tight squeeze with four adults in the room.
In-room facilities
The balcony staterooms are virtually identical to the cheaper 'oceanview' staterooms with two exceptions. Oceanview rooms are located much lower down on the ship on deck 5, the lowest public level. The other difference is, of course, a balcony in place of a porthole.
The balcony is small, but there is plenty of space for two people to enjoy a morning coffee, a sunset or just some fresh air.
There's also a good amount of privacy. You have to lean right over the balcony in order to see other balconies, and even then you can only see people if they too are standing at the barrier.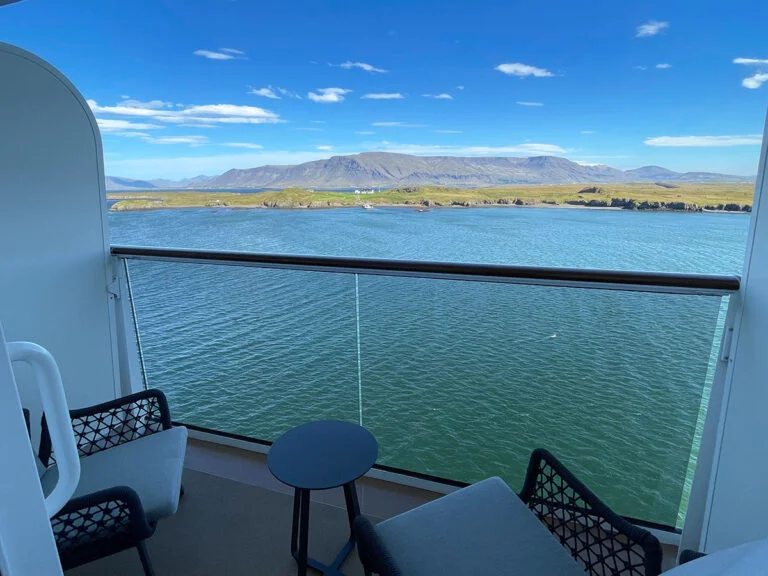 Looking down, you can see all the way down onto the outdoor deck 8 but not into any of the balconies below.
As you would expect from a brand new cruise ship, the interior is plush and immaculate. Personally I found the bed extremely comfortable although the duvet was perhaps a touch too thick.
I slept well aside from two nights, but that had more to do with the amount of food and drink consumed than the bed itself!
Unlike some similar-sized hotel rooms, storage was not a problem. The best feature was being able to slide even large suitcases under the bed, out of the way.
There was enough cupboard and drawer space to unpack two suitcases with room to spare. This is best seen by watching the video above.
There were numerous power outlets, although there were a few more US outlets than EU ones. A few extra USB-A and USB-C outlets around the room including on the bedside lamps meant this wasn't an issue at all.
Housekeeping service
Our room was cleaned every day and also tidied up during the evening. Shortly after arrival our housekeeping staff member introduced herself and asked if we needed anything.
She was super friendly throughout the voyage and paid attention if we had pressed the 'do not disturb' button.
A few issues to iron out
What's not included is a kettle or coffee maker. There was a note explaining you could request a coffee maker from housekeeping, which we did immediately. However, the machine and coffee provided was not the best. Hopefully this can be improved in future.
Coffee can be obtained from the buffet restaurants of course, but it's a frustration in the morning if you are used to a fresh cup as soon as you wake up. There's also two onboard Starbucks (additional cost).
Another issue was the room temperature. It was typically colder than a hotel room. Even though we set the air conditioning unit to the maximum 'warmer' setting, it was only ever cooling the room. This wasn't a massive issue for me, but it will certainly annoy some people on Northern Europe tours.
Again, this could be a case of teething problems as it was the first time this vessel was carrying passengers in the staterooms. Summing up, I wouldn't hesitate to book a balcony room on the Norwegian Prima again in the future. Coffee maker aside, it had everything we needed and I don't feel the cost of the more expensive rooms would be justified.
Disclaimer: Life in Norway were invited guests on the inaugural voyage of the Norwegian Prima. This review is independently produced.