Take a peek inside Norwegian Cruise Line's brand new vessel Norwegian Prima, which will be heading for Norway during the summer months.
The long-awaited debut of the new Norwegian Prima cruise ship from Norwegian Cruise Line (NCL) finally arrived with the christening sailing from Reykjavik (Iceland) to Amsterdam (Netherlands). The Life in Norway team tagged along for the ride.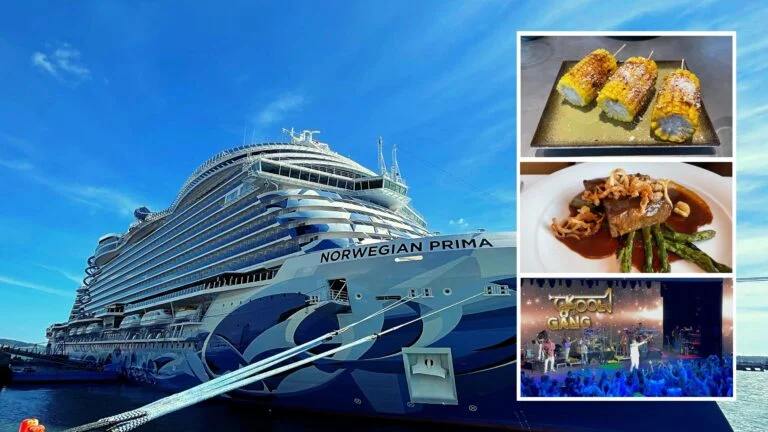 The Norwegian Prima will be heading for Norway later this year and in 2023. As such, I know many of our readers will be interested in seeing what the vessel has to offer. So if you're interested in Norway cruises, settle down and enjoy this tour!
Norwegian Prima in Norway
Despite the company's name, NCL operates cruises all over the world. Typically the line runs cruises to Alaska and Northern Europe (including Norway) during the summer, switching to the Caribbean and other warmer destinations during the winter.
Other destinations such as the Mediterranean and Canary Islands are popular year-round.
A typical 10-day Northern Europe itinerary on the Norwegian Prima leaves Copenhagen and calls at popular Norwegian cruise ports including Oslo, Kristiansand, Bergen, Geiranger and Ålesund. It then calls at ports including Zeebrugge, Le Havre and Southampton.
Other popular itineraries include Iceland. For example, a 14-day cruise on the Norwegian Prima leaves Southampton and calls at Le Havre, Belfast, and three ports in Iceland before heading for Norway.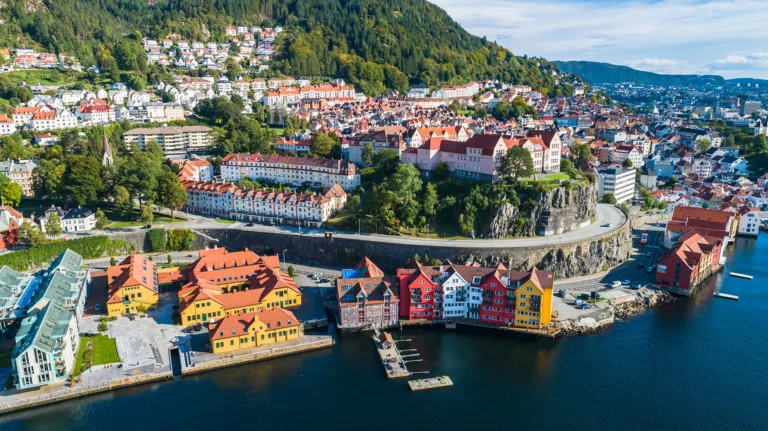 In Norway, the ship calls at the Geirangerfjord, Olden and Stavanger before returning to Southampton.
Introducing the Norwegian Prima
It's hard to know where to begin when discussing this new ship. For context, this was the first time I had been on a cruise line, having only taken the Hurtigruten coastal voyage before on the relatively small MS Vesterålen.
The Norwegian Prima is the first in a en entirely new class of ship from NCL. The second in the prima line of cruise ships, the Norwegian Viva, is under construction right now in Italy, with several more to follow in future years.
If you prefer to watch rather than read, check out this 12-minute tour of the ship I published on YouTube. If that video gets you curious about what you saw, read on for the details!
First impressions
Check-in at Reykjavik was impressively efficient and took place in an enormous marquee. We were required to show a vaccination certificate together with photo ID.
Everything else to do with setting up the onboard account happened online beforehand. We were handed our room key / ship ID and after a quick security check, we boarded the ship.
The first impression is absolutely fantastic, thanks to the incredible three-storey atrium.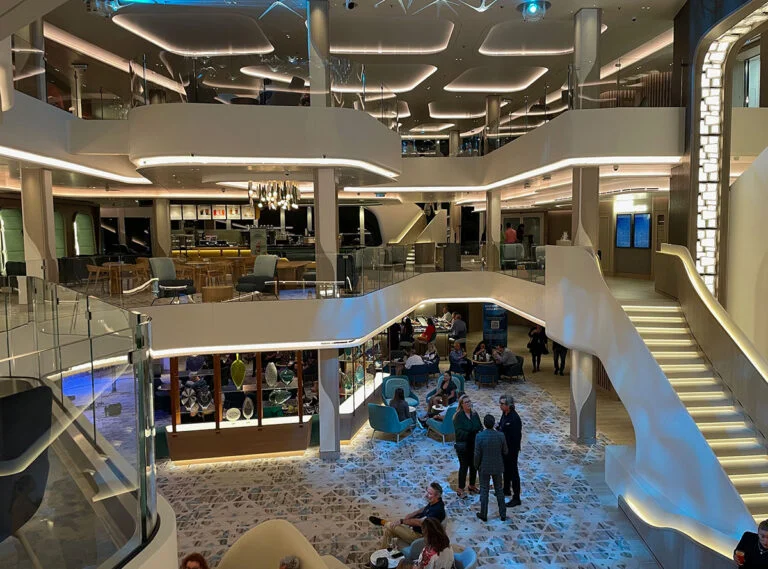 Despite it being a very busy time, the atrium gave a spacious feel and the first hint at the luxurious interior that we would find throughout the ship. Around the atrium are numerous shops, bars and cafes including a Starbucks and the guest services desk.
We found our room on deck 15 and we soon met someone from housekeeping who introduced herself. You can read more about our impressions of the room in this article all about the Balcony Staterooms on the Norwegian Prima.
Best facilities onboard the Prima
It's hard to know where to start on the Prima. There is simply so much stuff to do that I won't be able to list everything even if I tried. But what I'll focus on here is what you don't necessarily expect to find on a cruise ship.
Prima Theater: There's nothing unusual about a theatre or nightclub venue on a cruise ship, but the scale and flexibility of this venue has to be seen to be believed.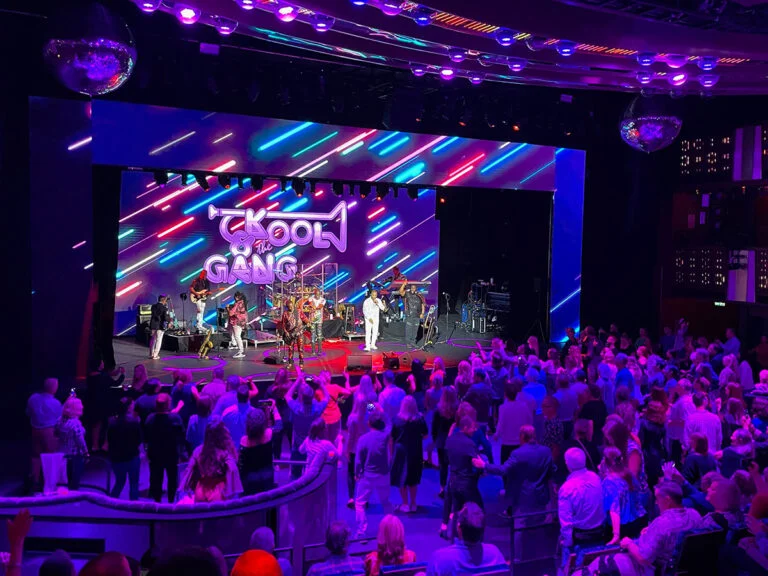 I saw the three-storey facility in three different configurations: a lecture hall, a musical/concert theatre, and a nightclub.
During our voyage, the theatre hosted an adaptation of the Donna Summer musical, Summer. It also hosted performances by Kool and the Gang and Chaka Khan, and two lectures on World War II history in France, featuring two actors from Band of Brothers.
I'm not sure if that's "something for everyone", but it certainly was a diverse line-up!
Prima Speedway: Simply put, this is go-karts on a ship. While the carts don't go very fast, the ability to race carts on a three-level track at sea is simply astounding.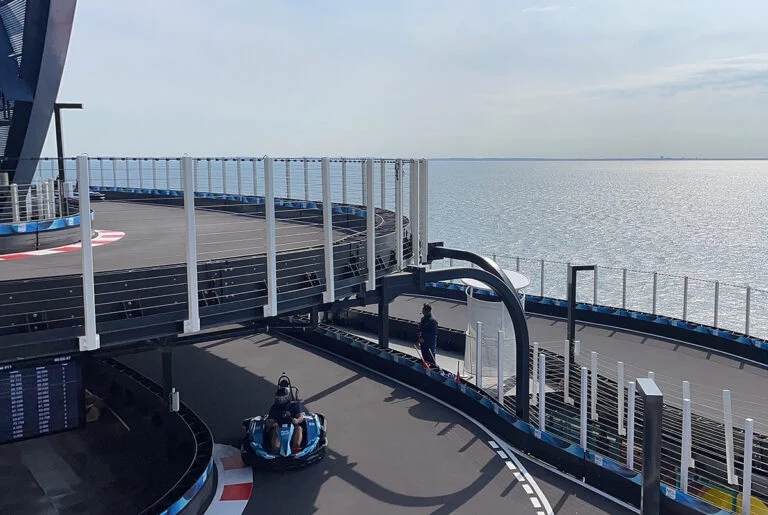 There are leaderboard screens around the venue and even a podium to celebrate the winner of each race. Spectators are given access to a viewing platform at the centre of it all, and can even fire at the cars as they go past in a 'laser tag' style.
Galaxy Pavilion: An arcade reinvented for the modern era! This was packed with simulators, immersive games and even an escape room.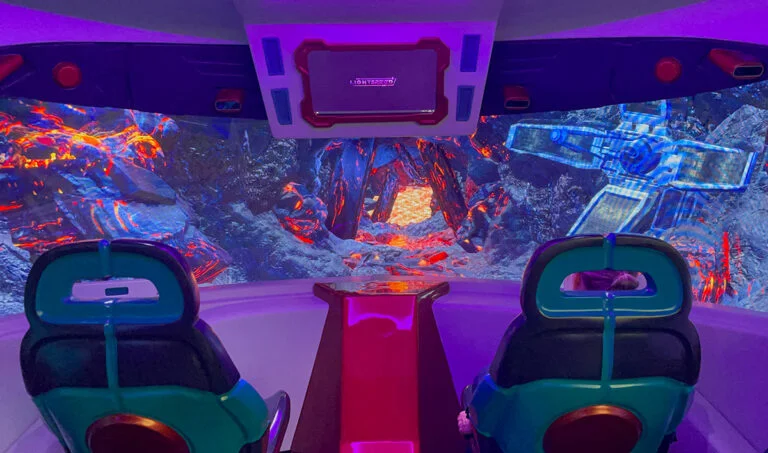 Perhaps more than anywhere else on the ship, you don't feel like you're on the ocean at all. During regular sailings, guests can buy hourly passes or passes for the entire voyage.
Tee Time & Darts: The games continued on the outer section of Deck 18. Crazy golf and darts are two activities I hadn't expected to find on a ship. I enjoyed them both, although playing crazy golf while at sea adds a certain challenge!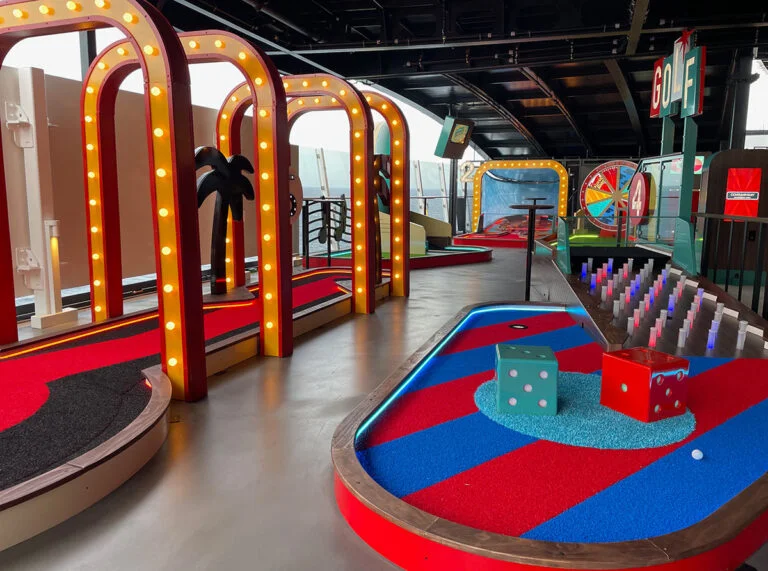 Given our itinerary, we didn't always have the best weather so some of these outdoor activities were limited. However, when we were in port and the weather was nice, both the golf and darts were fun ways to spend some time.
Both have some interactive elements. The darts are set up with an interactive screen that automatically counts the score and sets challenges.
The darts lounges are also more sheltered than the crazy golf, which helps to keep your arrows straight! On the same outdoor deck you'll find The Stadium, which includes shuffleboard tables, table football and other games.
Outdoor Deck 8: We spent a lot of time on Deck 8, as it is the only deck on which you can walk around the entire exterior of the ship. In good weather, this area is a good alternative to the main pool (Deck 17).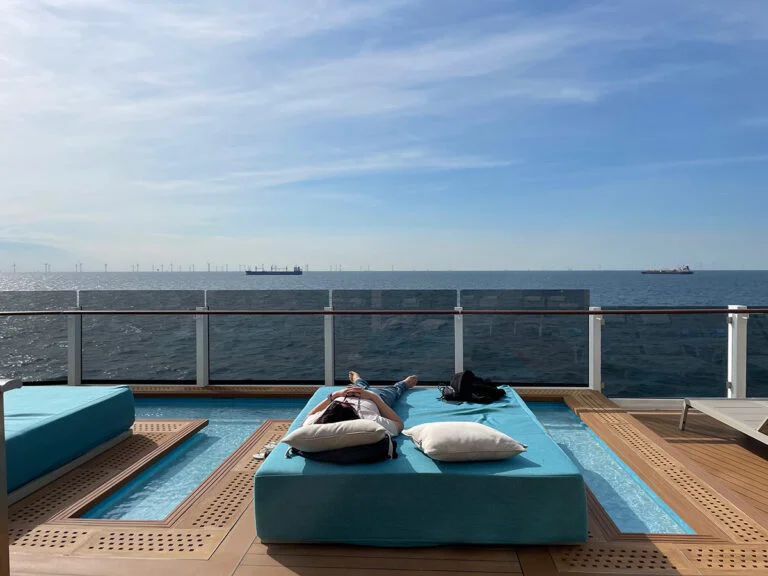 There are infinity pools with a variety of comfy furniture for sun-seekers, a couple of outdoor bars, sculptures, and even an "ocean walk" section where you can see the ocean below you.
There's also easy access to The Local bar and grill, including some outdoor seating. At the rear of Deck 8, guests can access the Food Hall or grab a drink from the Soleil Bar.
It's worth spending plenty of time exploring the outdoor parts of deck 8 and there is such a variety of places to sit and relax.
Dining aboard the Norwegian Prima
Because of the cost of eating out in Norway, food and drink is something we look forward to on any vacation. With an astonishing 14 restaurants on board, the dining experience did not disappoint, with one technological exception.
Main restaurants
Five of the restaurants are classed as main dining rooms, which means they are open and inclusive to all. Of these, two are traditional a la carte dining rooms. There's also a buffet restaurant, sports bar and grill concept, and a fantastic food hall.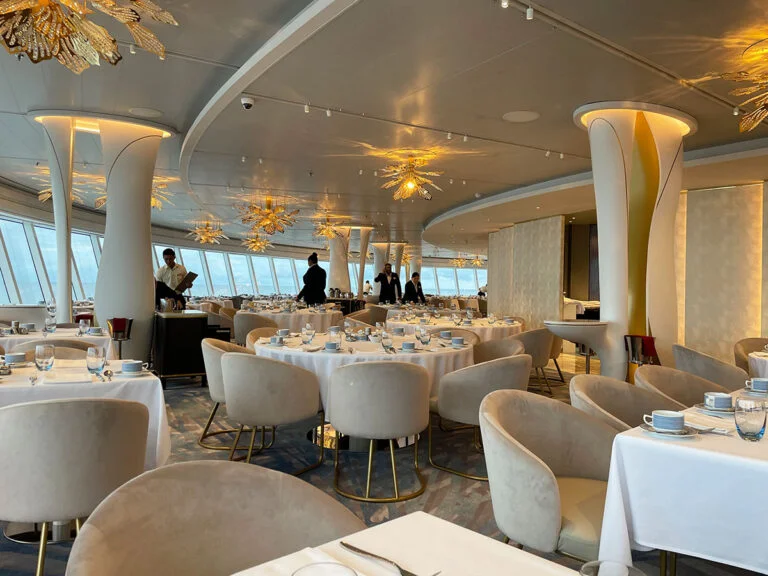 Most of the restaurants are open for breakfast, lunch and dinner. We split our time equally between most.
Having expected to be limited to a buffet on a cruise, it was great to be able to enjoy a leisurely breakfast or a more indulgent dinner in the a la carte restaurant whenever we wanted.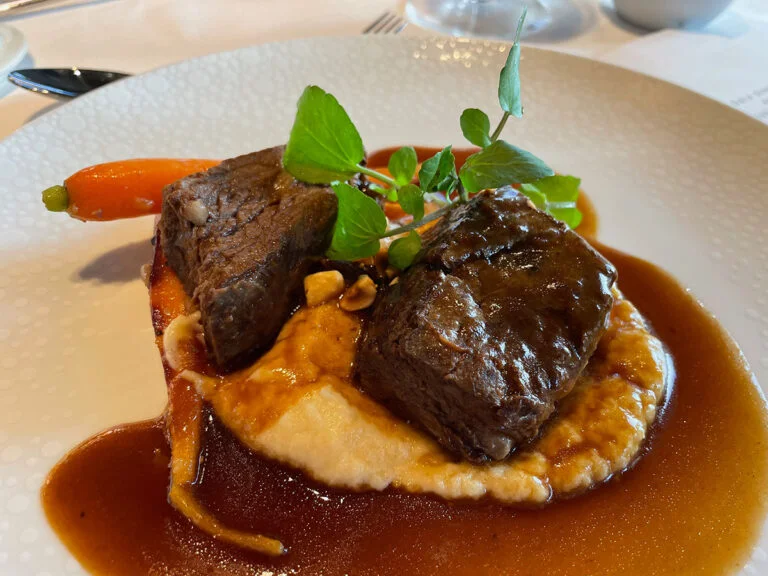 Bookings were not necessary in the a la carte restaurants and there was always enough space, especially at breakfast time. In contrast, the buffet was often busy and neighbouring restaurants were opened up to provide additional seating.
While there is so much that is modern about the Prima, one cruise tradition that was fully embraced was seafood day at the buffet!
The food was outstanding but it was crazy popular and took a while to find a seat. On seafood day, bring a healthy dose of patience!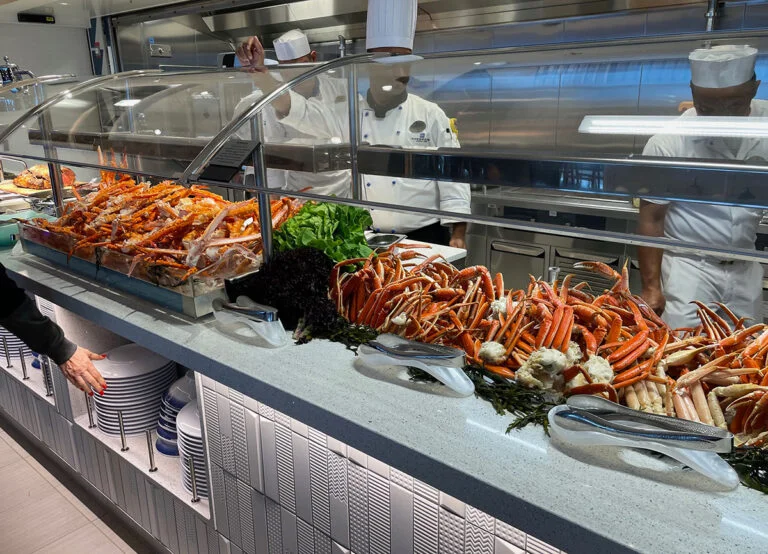 Food hall
Another unexpected feature of a cruise vacation was a full-blown food hall. The concept is simple. You can order however many small dishes you want from a variety of outlets, including Indian, salads, pasta, seafood and a smokehouse.
You order as and when you like using the tablets at every table, or you can sit at the bar of an individual outlet and order directly from there. The concept is great, as it allows you to quickly grab a light bite, or compose your own multi-course meal.
Everything we ate at the food hall was excellent, although I especially enjoyed the Indian food.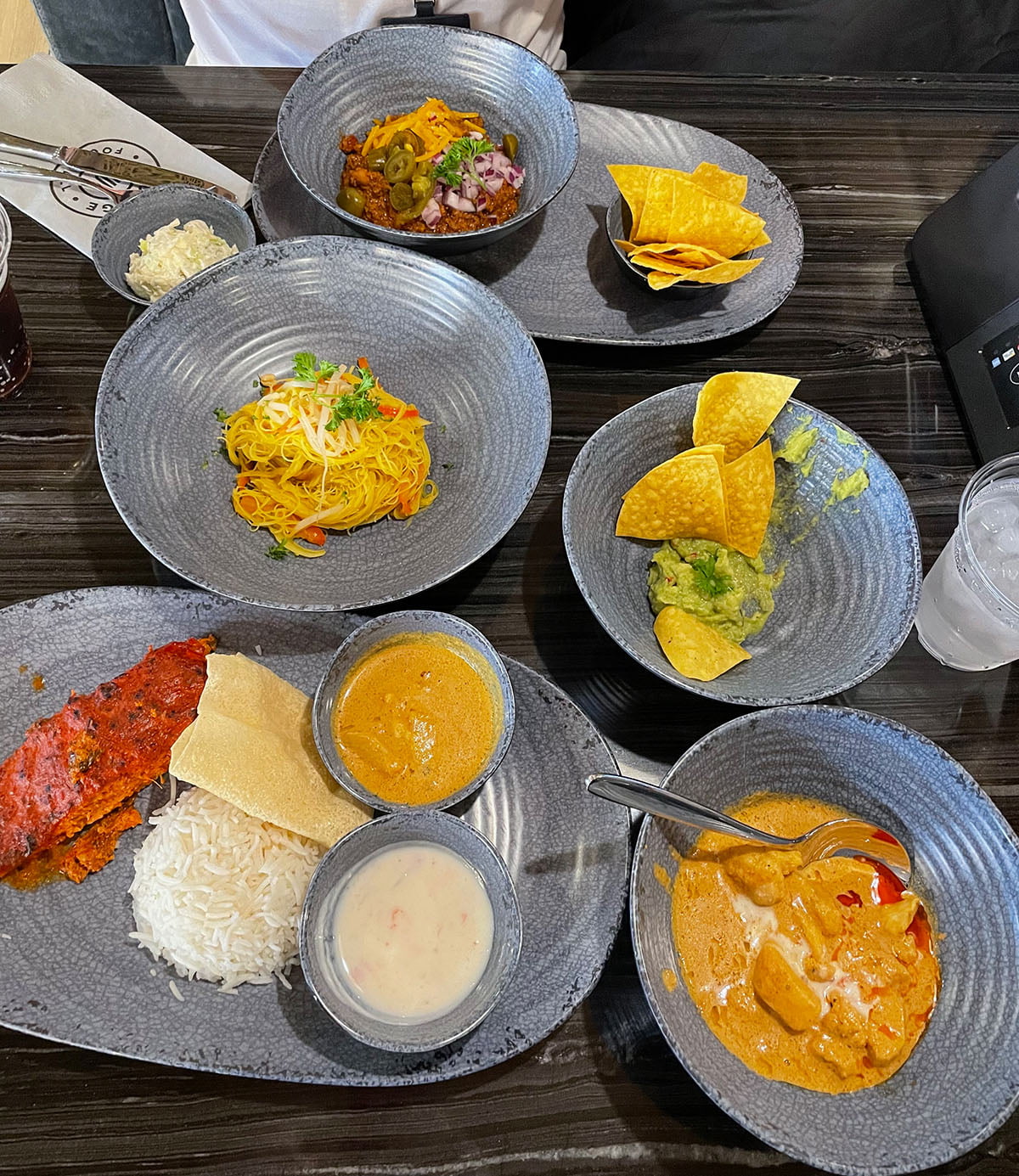 The downside was a few technical difficulties with the ordering system. We had a lot of problems on the first day, and it took four different staff members to resolve the issue and finally place an order for us.
However, we successfully used the tablet ordering system on two more visits to the Food Hall. The only other issue is the availability of tables, because the food hall is a complimentary restaurant for all passengers.
Staff did their best to find tables for new arrivals, but the concept was incredibly popular at all times so you'll need patience here.
Speciality restaurants
In addition to the Haven private restaurant (more on that later), there are eight 'speciality' restaurants. These include French, a steakhouse, Mediterranean seafood and a Japanese grill.
During a regular voyage, guests can upgrade their dining experience to include two dinners at speciality restaurants. Due to the limitations of the christening voyage, we were only able to eat in one of the speciality restaurants, Food Republic.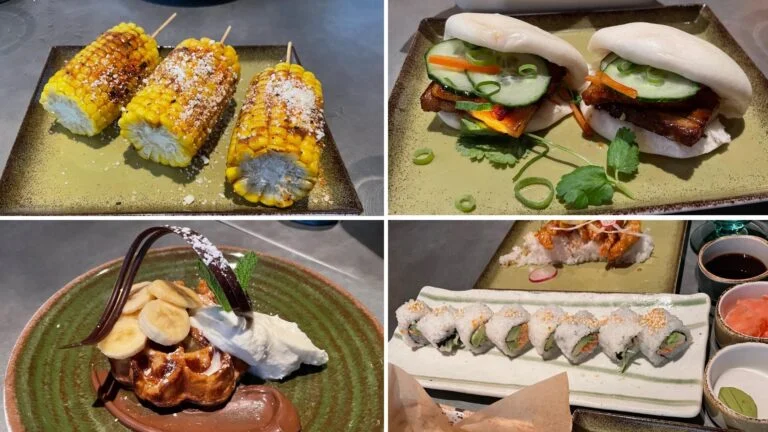 Unfortunately, the same tech problems we experienced in the Food Hall occurred here too. This meant we had to constantly call the staff and had to wait a long time for the food to arrive, while the six other people at our table experienced no problems.
With new facilities and new staff, some teething problems are inevitable, but it was frustrating that it happened on the one night we had expected a premium experience. On the plus side, when the food did eventually arrive, it was outstanding.
I am confident that these teething problems will be ironed out. Assuming they are, both the food hall and Food Republic will be fantastic dining experiences.
Bars and entertainment
With an all-inclusive drinks package, exploring the ship's many bars was an enjoyable way to spend the evenings!
Each of the many bars onboard has its own theme or speciality, from cocktails to whiskey. There are several bars located beside the main restaurants, perfect for a pre- or post-dinner drink, and several outdoor bars too.
The friendly bartenders at the Vibe Beach Club (pictured above) and the unique cocktails and relaxed atmosphere at the Belvedere Bar (below) made these two my favourite bars.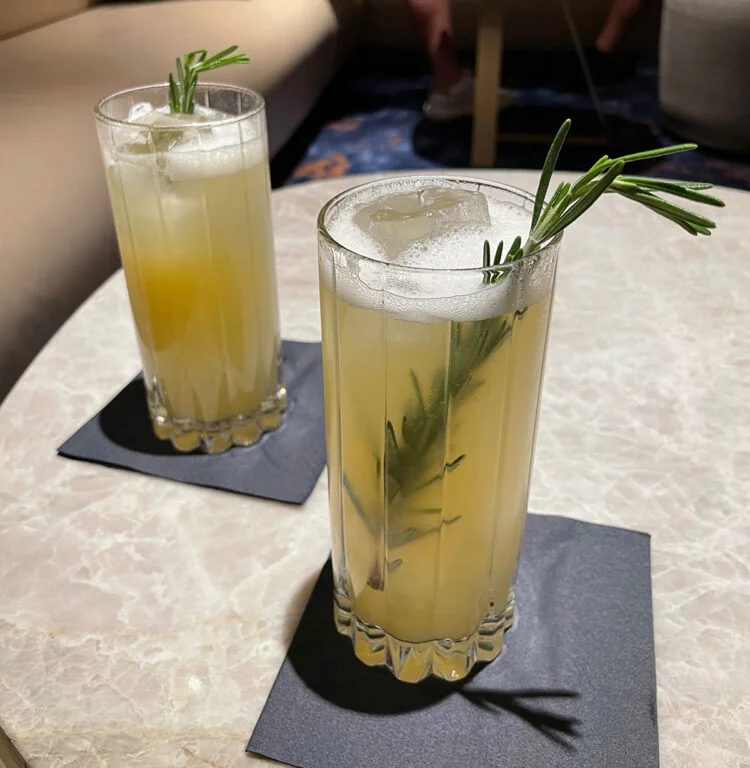 Another bar we spent some time in was the Observation Lounge at the front of Deck 17. The comfy lounge furniture and views made this a pleasant place to spend an hour or so, especially during sunsets.
Other facilities
There's a ton more to do on the Prima, some of which we didn't get a chance to do, even on an eight day voyage!
We didn't spend much time on the Pool Deck, mostly because this was a Northern Europe cruise in September. But we did make use of the Waves pool bar and one of the hot tubs. Oddly enough, the Infinity Pools down on Deck 8 were hotter than the hot tubs.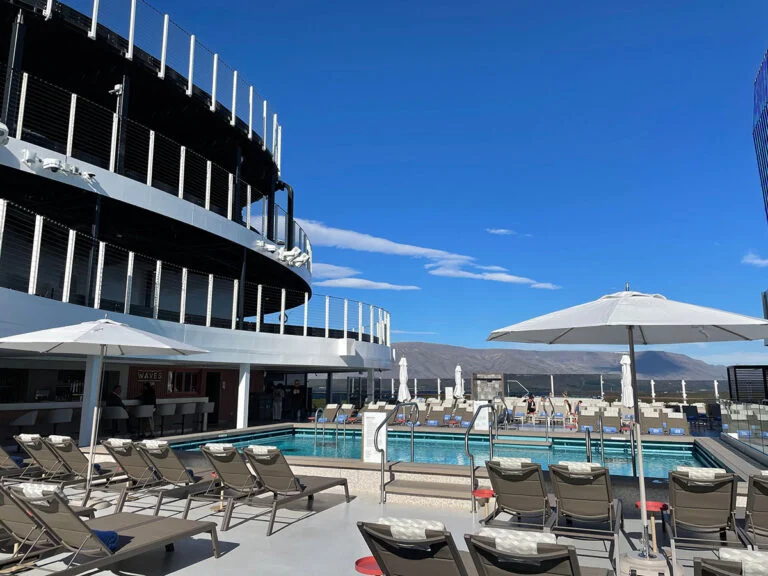 I actually preferred the Vibe Beach Club on Deck 17 to the main pool. It was generally quieter and although there wasn't a pool, there were two hot tubs. As I already mentioned, the bar there was one of my favourites, too.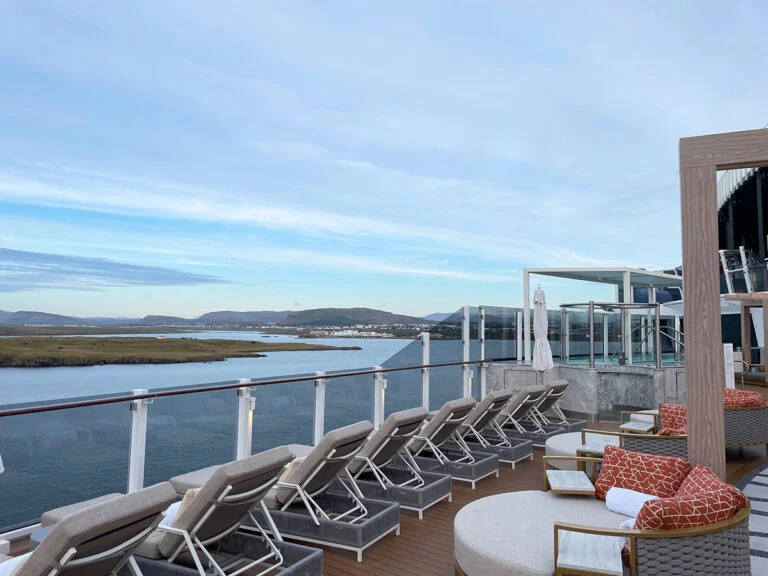 Perhaps the most notable of the 'other' facilities were the slides and the spa. The Prima features two different dry slides and a water slide.
While an eye-catching feature on the exterior of the ship, the slides weren't as fast as many people hoped, according to gossip I heard at the buffet!
While I had intended on at least taking a look at the spa, once again there were just so many other things to do.
According to the promotional material, "from multiple detoxifying saunas to state-of-the-art pools to a two-story waterfall, the experience on Norwegian Prima will awaken every sense."
Introducing The Haven
The Haven is NCL's premium 'ship-within-a-ship' concept. It's located over several of the higher decks at the aft of the ship. Keycard access keeps the whole area private.
Designed as a self-contained VIP area with suites including butler service, bar and restaurant, outdoor pool and sun decks, the Haven is a solution for those wanting more peace and quiet, and an even more premium experience.
While we didn't stay in The Haven, we were invited to eat in the restaurant and I was given a quick tour of the facilities. The only thing I didn't get to see is any of The Haven suites, some of which have private hot tubs on the balconies.
Speaking honestly, I wouldn't feel the need to spend 3-4x a regular fare to stay within The Haven, despite its perks. Having a 24-hour butler available would stress me out. I prefer to fetch my own coffee!
That being said, I can of course see how The Haven appeals to a certain kind of traveller. If you have the money, the option is there.
In summary
Having never been on any cruise ship before other than the Hurtigruten, I went into the experience with certain expectations I hadn't expected to enjoy the experience, but I couldn't have been more surprised.
Something I haven't mentioned so far is how helpful many of the staff were, especially housekeeping and the bartenders. Most staff we spoke to obviously loved their jobs, and many had been with the company for more than 10 years.
While I haven't become a fan boy overnight, cruising is now definitely a possibility for us in the years to come.
Of course, cruising is not for everyone. There are issues that remain in the industry not least the environmental impact and relations with local communities, especially in small Norwegian ports.
But if you are comfortable with the idea of cruising, it's well worth your time taking a look at the Norwegian Prima. Its sister ship, the Norwegian Viva, will be debuting next year.
Disclaimer: We were guests of NCL on the inaugural voyage of the Norwegian Prima. However, NCL had no editorial input into our articles or videos while on board or afterwards.