Those new to Norway will notice some bizarre sights between now and 17th May:
Teenagers lounging around the place wearing coloured (usually red) overalls

Party buses cruising the roads playing bass-heavy music
Fountains full of washing-up liquid
It's all part of Norway's annual celebration for high school graduates – Russefeiring.
Rather than me as an outsider try to explain russ, I've asked the real thing! This is Alex, an 18-year old graphic designer from Konsvinger:
"We have our graduation party the second last friday of april, to May 17 (The Norwegian Independence Day). High school graduates get "baptised" where we all round up at some predetermined location, and the city fire department dispatch a truck to hose us down with water. Then we put on the graduation costume. The graduation costume differs by your education."
"The entire period between the graduation party and May 17 usually consists of mostly continuous partying, playing pranks on our old teachers, junior students, and parents, as well as driving around in vans in our designated colours with obscene markings written on them with spray cans and playing really loud music. It is also customary to take junior students hostage and dip them in water :D"
Russ are easily identified by the distinctive coloured overalls, usually red, but sometimes black, blue, white or green depending on the graduate's area of study. For me one of the nicer traditions is the russekort (russ cards), collected by kids brave enough to ask for them. Last year I was enjoying a beer outside the Ullevaal Stadion when two kids came rushing up to me, eyes lit up, shouting "er du russ??" only to be disappointed when I had no cards to offer them.
It's all organised out in the open on Facebook and sites like Russ.no and Russen.no. As time ticks on, the parties get more raucous, the dares more daring, and the parents, well, they turn a blind eye and even fund the majority of it! (it takes a lot of kroner to pimp a russ buss, even by Norwegian standards…)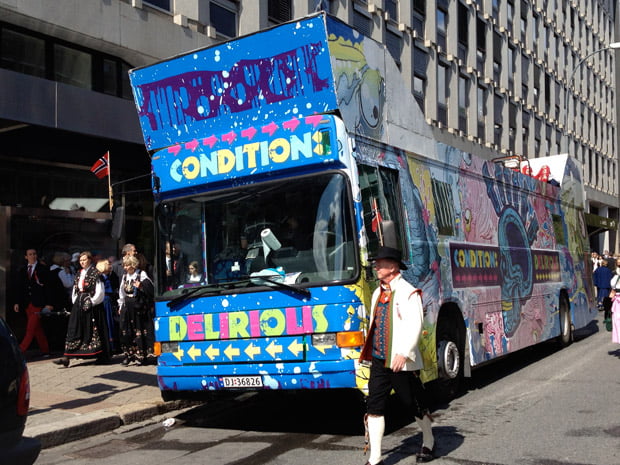 I guess parents do this because russ is seen as an essential rite of passage for any young Norwegian – a chance to let off some steam after years of compulsory schooling before entering the "real world". The celebrations culminate with the russ parade on the National Day, 17th May. That's if they can cope with their huge hangovers after the big final party on the night of the 16th!
Last but not least, the most irritating hallmark of russ… REALLY CRAP MUSIC: