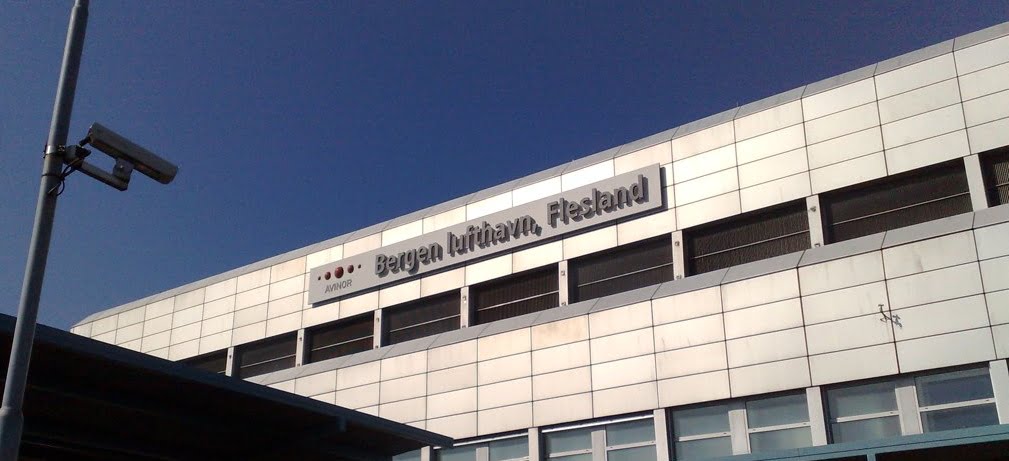 BOOM! If you're anywhere near Bergen Airport Flesland in the evenings these days, you'll feel at least one "rumble". It's the vibrations from ground being blasted away to make room for a brand new airport terminal, hotel, and city train line.
The new airport terminal is desperately needed, because Bergen Airport sucks.
UPDATE: Bergen finally has an airport to be proud of! Read all about the new-look Bergen airport.
I'm a frequent traveller and am in Bergen a lot for work lately. Much of Bergen's industry is based close to the airport, so I know this area better than I know the city centre.
Bergen Airport (specifically the domestic terminal) sucks because it's too small and outdated. Here are just some examples:
Gates in the domestic terminal are situated around a central seating area. This area is far too small, so frequently full with no room to sit down.
The same area gets even more congested at busy times because there is no separate arrivals entry, so all arriving passengers have to squeeze through the same space and get to the arrivals gate, which is located immediately next to the security control, causing a further bottleneck between arriving and departing passengers.
Most modern airports are "quiet", i.e. announcements are only made to alert late passengers, or are at least restricted to certain areas / gates. Not in Bergen. Most announcements are heard by everyone – there's no quiet time. Just tonight I was treated to four separate calls for just one missing passenger on a Norwegian flight, even though the gate was on the other side of the domestic terminal.
The corridors and walkways are all narrow, especially through security, adding even further to the uncomfortable feeling of being trapped. This airport must be a claustrophobic's worst nightmare.
The selection of shops and restaurants is severely limited due to space. If you're delayed, it's a Narvesen pølse or a pizza slice for you! But don't expect to be able to sit down to eat, there's no room remember? I frequently see passengers resting their dinner on top of the bins as it's the only place to stand.
A lack of power outlets, unacceptable in 2014 especially considering almost two-thirds of the traffic is business. There are outlets around, but they're hard to find and not convenient (i.e. most are not in the seating area!)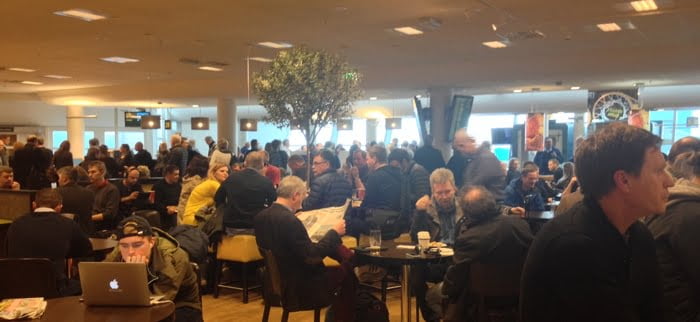 If this sounds like a rant, well it is, but it's a rant backed up by facts. According to Avinor, the owner of most of Norway's airports, the capacity of Bergen Airport is 3.4 million passengers per year, whereas traffic in 2012 was 5.8 million passengers per year. See the problem?
The one saving grace at Bergen Airport is the Clarion Hotel. I've stayed there three times now and it's easily the best airport hotel I've stayed in, anywhere. Most airport hotels rely on being the "only choice" and don't offer anything by way of service. The Clarion is modern, has a quick and efficient reception, serves good food, and understands the concept of customer service – something lacking across much of Scandinavia.
So what's changing?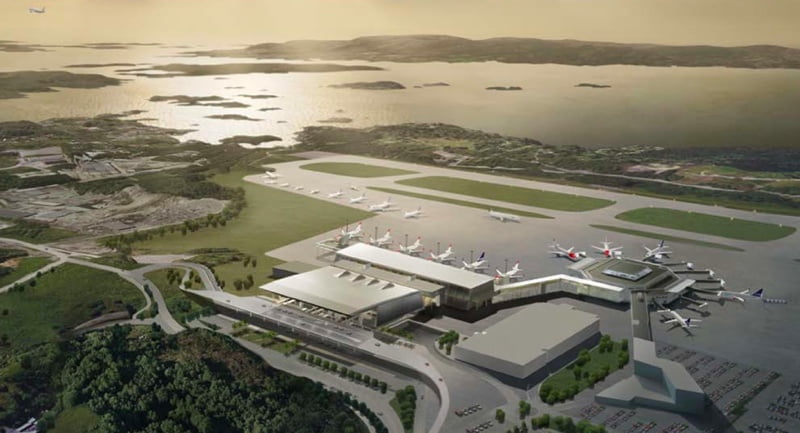 Construction of a brand new terminal, somewhat pointlessly named Terminal 3, is underway. It will be almost three times the size of the current terminal (63,000m² v 22,000m²) and offer an increased capacity of 7.5 million passengers per year, with the ability to further extend that if and when the time comes. Total cost is in the region of 4 billion kroner. All domestic flights will move to the new terminal, leaving the international flights to operate from the current domestic/international setup.
But that's not all.
A new city train line is being built connecting Flesland to the city centre. However, as one local taxi driver told me, it will take more than double the time of the bus, stop at many places, only benefit those living along the line, and cost a ridiculous amount of "his" money.
I have no idea if his arguments are valid, but he seemed pretty narked. My view is increasing the number of transport options to Norway's second biggest airport is surely a good thing in "bigger picture" terms.
Unfortunately all of this work isn't scheduled to be completed until 2017. In the meantime, the area around Flesland is one massive building site, but it'll be worth it.
UPDATE: Well it's now 2017, and Bergen finally has an airport to be proud of! Read all about the new-look Bergen airport.