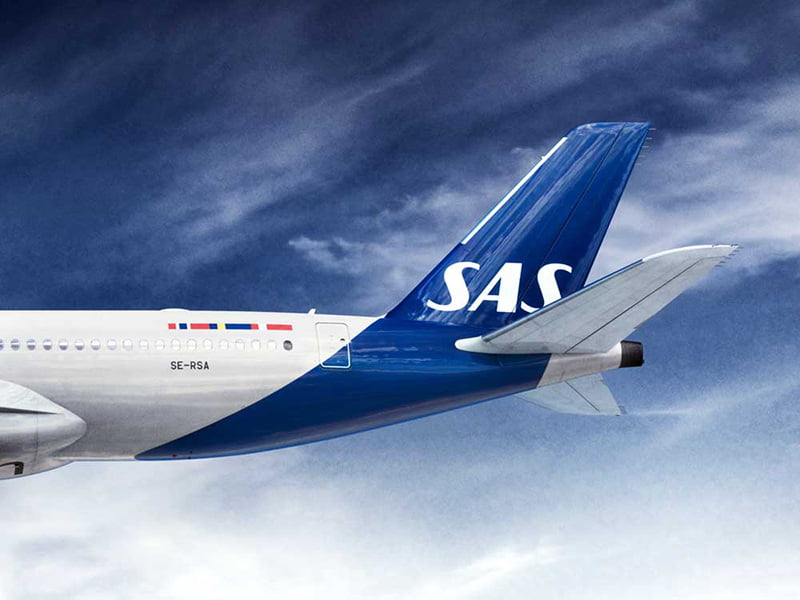 Scandinavian Airlines reveals a new-look for their aircraft that will be rolled out over the coming six years.
For the first time in 21 years, SAS has refreshed its visual identity and unveiled a new look livery for its fleet of planes. The airline calls the refreshed design a "modern interpretation of classic Scandinavian design."
"The new SAS outfit is all about the small details," according to the SAS website. "Each colour and line drawn has been chosen to make it feel like home to us, and like Scandinavia to the world. It reflects the iconic history of the airline, while pointing to a more sustainable future."
Subtle changes to highlight strong brand elements
The changes are subtle rather than substantial. The blue colour of the tail will be brought further down the aircraft body, while a new giant silver SAS logo will be positioned towards the front of the aircraft. The engines also lose their red colour in favour of a light silver and receive a smart blue stripe.
Read more: SAS Launch Stavanger to Manchester Route
These decisions were based on customer surveys that showed many frequent travellers are proud to be part of the SAS family. The surveys reveal that the signature blue colour and the logo are among the strongest elements when travellers highlight their feelings for the SAS brand.
The word "Scandinavian" is placed on the belly underneath the aircraft to aid identification from the ground, while the three Scandinavian flags have been updated in a "modern and elegant" way.
SAS CEO Rickard Gustafson says the new design is a visual expression of the SAS of the future: "But it is also a continuation and confirmation of a long and proud history of developing and promoting Scandinavian design and culture. Travellers from Scandinavia want to recognize where they come from, while global travelers see and get the Nordic feeling."
Read more: SAS & Airbus Collaborate on Hybrid Research
The paint from supplier AkzoNobel require fewer layers, which in turn reduces the aircraft weight, an important factor in the battle to reduce emissions.  The advanced paint also contains fewer toxins than conventional paint systems.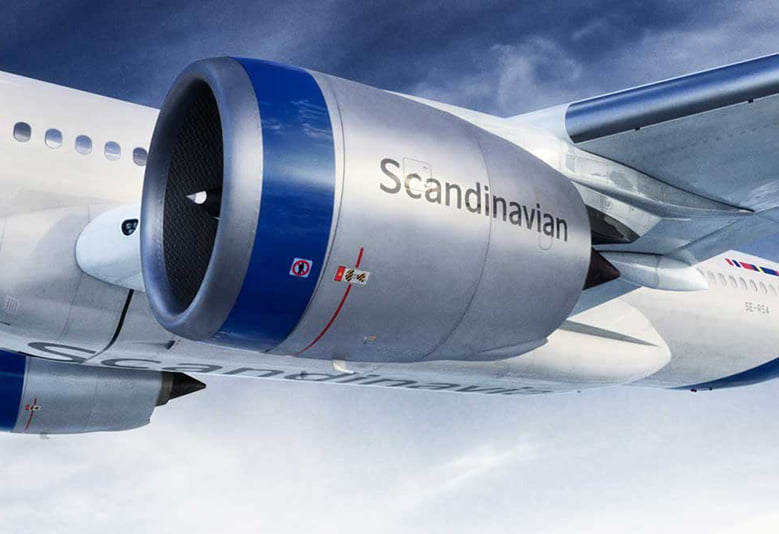 A new look for a new fleet
The launch follows a recent upgrade to the cabin interior and is timed to coincide with the airline's move to the much more fuel-efficient Airbus 350 and Airbus 320neo. By the end of 2023, SAS will have taken delivery of 80 Airbus 320neo's for the short-haul European network.
The rollout of the new SAS design won't happen immediately, however. It will follow the regular aircraft maintenance program, in which planes are repainted every 5-6 years. While the work will start now, the entire fleet won't carry the new look until 2024.