Hotel review: A short trip on the metro to the eastern part of Oslo and you'll find Norway's biggest Scandic hotel. Here's what it's like to stay there.
On my trips to Oslo I typically stay with friends or book myself into one of a handful of hotels I've become familiar with. Recently, I chose to try a different place to stay.
I often stay at one of the Oslo airport hotels or at the Radisson Blu Plaza, somewhere I've stayed many times before. It's steps away from Oslo S, the bus terminal and Oslo Spektrum area, and the views across Oslo are spectacular from the higher floors.
However, I had a poor experience there last time, and vowed to try somewhere new on my next trip. As I planned to attend a Vålerenga football match at the Intility Arena during my trip, I chose the hotel next to the stadium.
Life in Norway's hotel reviews are designed to help you decide what accommodation is best for you. We use affiliate links so we may receive a small commission if you decide to book, which helps keep the lights on here at Life in Norway HQ. This costs you nothing extra.
Introducing the Scandic Helsfyr hotel
I'd seen the hotel before and always thought it looked big. Even so, I was surprised to find out during the booking process that the Scandic Helsfyr is the biggest Scandic hotel in all of Norway.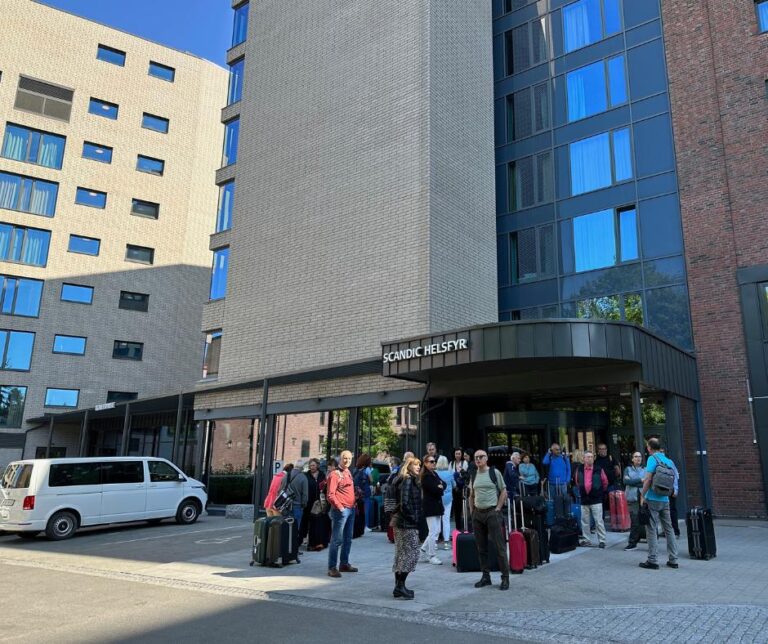 Helsfyr is a growing business area a few kilometres to the east of central Oslo. It's easy to reach on the T-Bane metro system. Even so, I didn't expect such a big hotel to be sustainable out here given the high number of downtown hotels.
But it quickly became clear that Scandic Helsfyr is first and foremost a conference hotel. There are two large buildings connected on the ground floor, with one seemingly dedicated to conferences.
Ready to book? Check availability and rates at the Scandic Helsfyr with our friends at Booking.com.
As I stayed on a weekend, there was no conference taking place. However, there were large international tour groups staying at the hotel instead. This had its upsides and downsides, but more on those later.
Check-in
I arrived at the hotel quite late on Saturday night and the foyer area was very quiet. Check-in was quick and efficient. The only disappointment was that my late check-out request for the Monday was declined, as the hotel would be full.
While in the foyer I could see the small shop typical of Scandic hotels, as well as the bar and restaurant areas.
My room was located in the other building, but it was simple to get there. It was just a case of walking through the smart conference reception area to a different set of lifts.
Guest room
My room was on the 8th floor and was decorated in a typical Scandinavian style. The large windows facing the street and stadium let in a lot of light.
As you can see from the pictures, there was a desk and chair, with a small-fridge underneath. As with all Scandic hotels, the fridge isn't stocked. Instead, you can buy drinks and snacks from the small reception shop–or one of the two nearby supermarkets.
There was also a small chair by the window. Although there was no wardrobe, there was a free-standing clothes rail with a few hangers.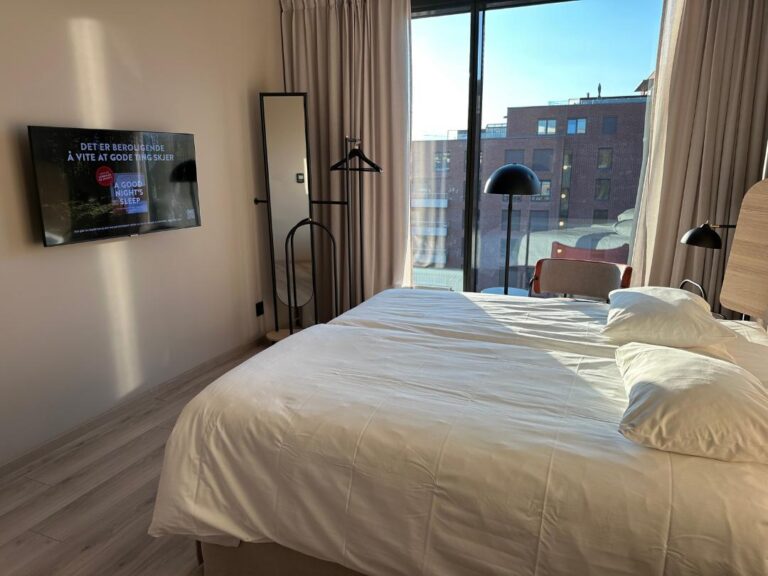 One huge plus point of the room was the number of power outlets. I'm actually writing this now in a different hotel with five outlets, three of which are occupied by lamps etc.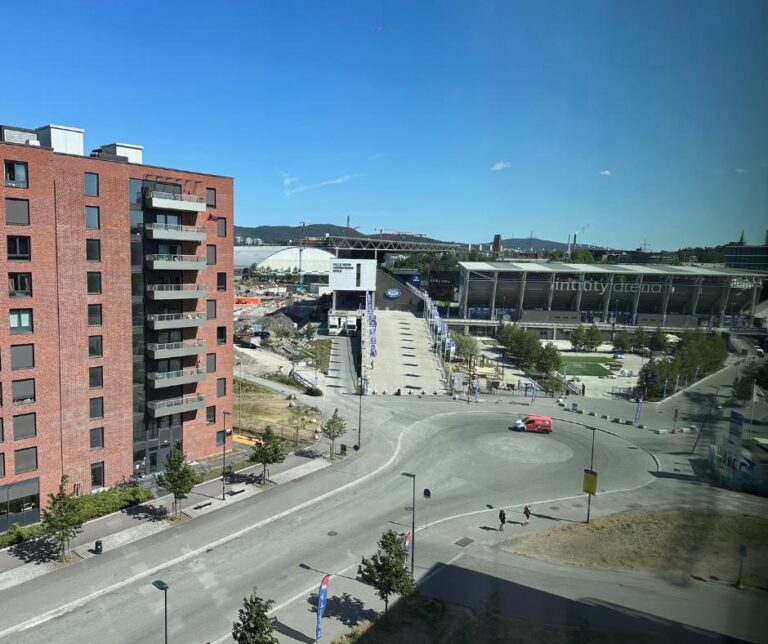 In the Scandic Helsfyr, my guest room had eight power outlets, so there was always one in a convenient spot. One of the outlets between the bed and the working desk also had USB-A and USB-C sockets. This is often a positive aspect of staying in a modern hotel.
Finally, the bathroom with shower was modern, clean and supplied with hand soap, shower gel and shampoo. So far, so good. But then came breakfast.
Breakfast
It wouldn't be until the next morning that I saw the downside of such a large tour group all staying at the hotel. I am someone who tends to eat breakfast as early as possible when I'm staying in a hotel.
In this case, the Sunday morning breakfast began at 7.30am. But when I arrived in the foyer, it was chaos. There were people and luggage everywhere, with a queue of at least 50 people to get into the breakfast room.
It soon transpired the tour group had an early start that day. When I got into the breakfast room, it was rammed full with no spare seats. I grabbed a coffee and fled back to try room, returning for breakfast an hour and a half later.
The issue isn't with the tour group, but the way the hotel ignored the rest of us. Why couldn't the receptionist simply explain when I checked in that breakfast would be busy early on? It's little things like this that make the difference when it comes to whether I would stay in a hotel again.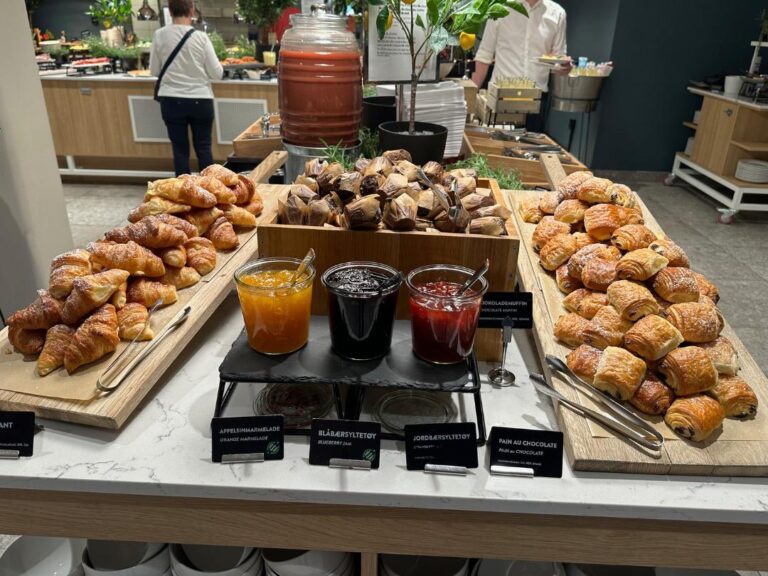 For what it's worth, the breakfast–when I could get to it–was good quality, with a good range of pastries as well as the usual hot food and Scandinavian-style cold buffet.
Another potential point of improvement would be to simply extend the opening hours of breakfast. When the hotel is full at double occupancy, there are potentially 800 people wanting to eat breakfast within a short three-hour window. Extending this by 30 or 60 minutes would ease the pressure.
Or, use one of the conference rooms to deal with the tour group breakfast. I've seen this done very effectively at other hotels in Norway. There are so many possibilities for improvement here.
Bar, bistro and restaurant
I rarely eat dinner or drink at the hotel bars and restaurants when I'm staying in Oslo, as there's so much choice elsewhere in the city.
However, many people staying at the Scandic Helsfyr would not be familiar with Oslo. For them, there is a restaurant together with a bar and bistro open every day. I didn't eat here, so cannot comment on the food or prices.
In the nearby area there are a handful of places to eat. My recommendation would be the Øst sports pub, which is located at the nearby football stadium just a few minutes walk away. It opens for lunch and dinner. Just be aware that if it's a match day, Øst is a very different place indeed!
Ready to book? Check availability and rates at the Scandic Helsfyr with our friends at Booking.com.
I paid approximately NOK 1,400 per night for a two-night stay at Scandic Helsfyr. In the summer, that's a relatively low price for Oslo. Most city centre hotels of a similar standard were about NOK 2,000 per night.
Will I return? I'm not sure. It's very convenient for the stadium, but Helsfyr is only 10-15 minutes by T-Bane from central Oslo so it's not necessary to stay here at all. If I stay here again, it will be because of the price rather than the experience.