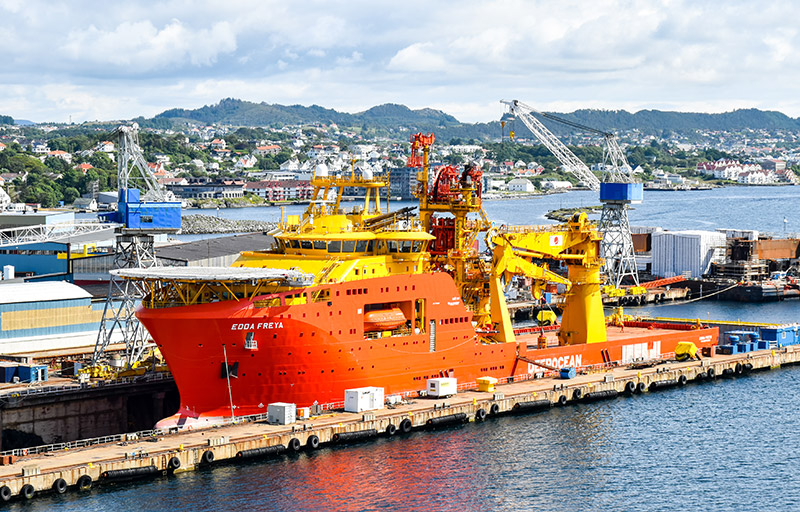 Norway's shipping and maritime industries have a proud history and an exciting future.
From prehistory, through the Vikings, to the current era of global deep sea shipping, Norway has a long and proud history at the forefront of seafaring. Fishing boats help satisfy the nation's need for food, while shipping vessels bring electric vehicles to satisfy demand for cleaner transport.
A proud history, an exciting future
In fact, if you remove North Sea Oil from the equation, fishing and shipping have always been Norway's two biggest industries. With the decline of oil production, it's clear that will continue.
The major challenge for the shipping industry in countries all around the world, for the late-oil/post-oil era, is how to adapt. With climate change looming large on the horizon, the industry is doing all it can to get towards the ultimate goal: zero-emissions shipping.
Norway – both the public and private sector – is also investing big bucks in new technologies such as automation that have the potential to be exported all around the world and keep the country at forefront of the maritime world for decades to come.
Read more: Autonomous Boat Tests in Trondheim
Zero-emission fjords
The first goal is that the fjords will become zero-emission zones by 2026. This means any vessel wishing to enter into any port or harbour, or enter any of the fjords, will need to be fully electric.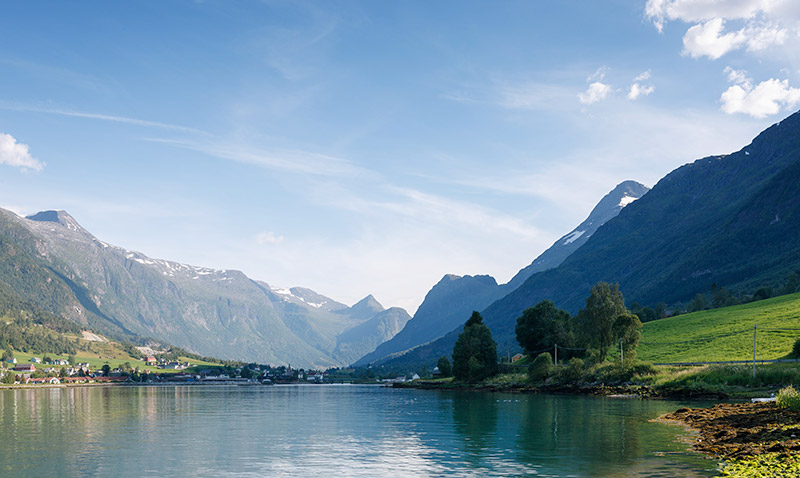 In 2015 the world's first fully electric car and passenger ferry – the Ampere – launched in Norway. Data from its first couple of years of operation has been nothing short of incredible.
Not only is the boat itself zero-emission but overall the emissions generated by the vessel overall are down by 95% and, more importantly for other operators looking on, running costs are down by 80%.
Carrying passengers and cars on its 6km route from Larvik to Ytre Oppedal, this ferry, and its diesel forebears, allows people to travel a route that overland would be hundreds of kilometres round fjords and through national forests. It's easy to see why ferries in Norway are so important.
Meanwhile over on the UNESCO World Heritage listed Nærøyfjord, the all-electric Future of the Fjords has just enjoyed its first season ferrying sightseers between Flåm and Gudvangen.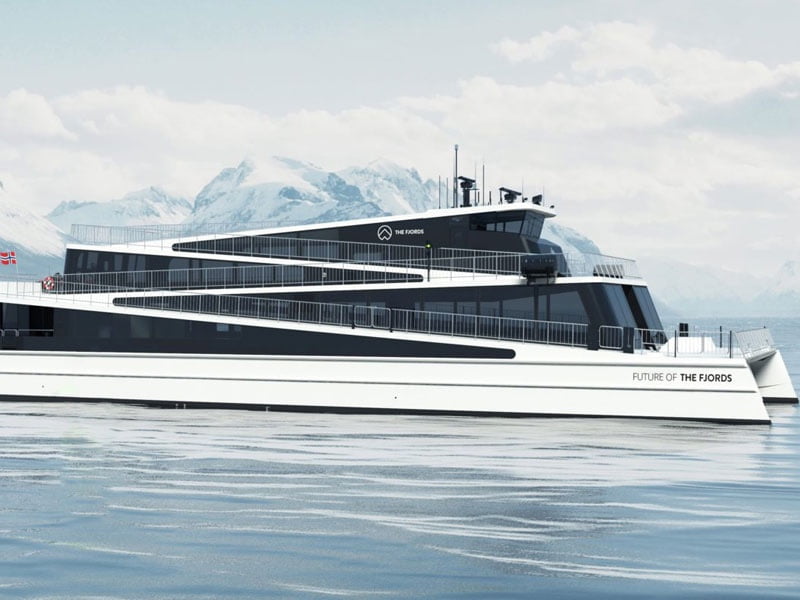 The emissions are obviously helped by the fact that 98% of Norway's electricity comes from renewable sources. This is why any move from fossil fuels to electricity leads to an instant reduction in emissions.
A country united
Norway's national commitment to ecology and fighting climate change is not accidental. Norway will be one of the first, and worst, hit if sea levels rise substantially. The country therefore leads the world in efforts to reduce emissions that either pollute the planet and harm biodiversity or contribute to the change in climate.
Norway has played a key goal in getting the International Maritime Organisation to adopt an ambitious goal of cutting carbon emissions from the global shipping industry by a minimum of 50% by 2050. The country itself, however, is aiming much higher.
Greenhouse gas emissions from local shipping will be cut by 40% in 2030 (compared with 1990 levels) whilst, on top of the zero-emissions fjords, Norway wants to see its entire maritime industry being zero-emission by 2050.
Unlike many countries, however, Norway's government puts its money where its mouth is. Rather than saying 'YOU need to do this' to the shipping companies, the government says 'WE need to do this'.
And just as government investment in infrastructure, and tax incentives, has led to one in two new cars purchased in Norway being electric, so there are incentives so that the country as a whole can lead the charge for zero-emissions shipping.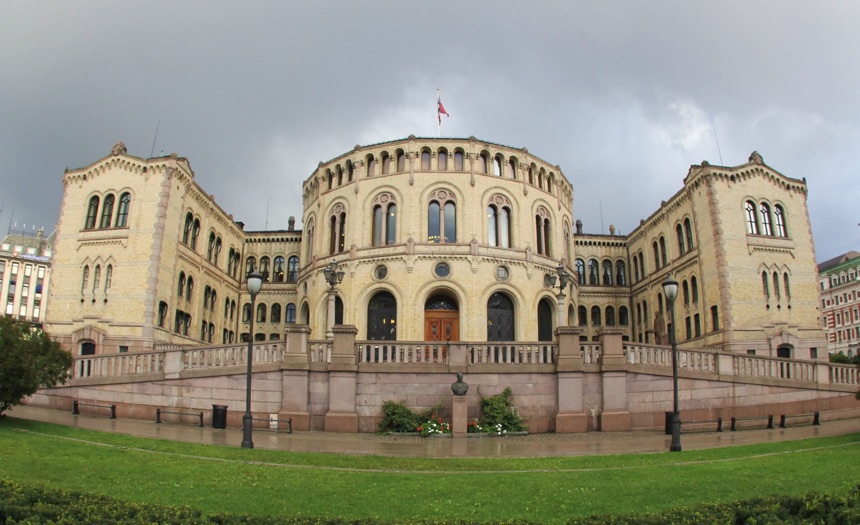 With NOK 65 million pledged towards the building of new green vessels and ferries, and NOK 70 million earmarked for Pilot-E – a fund to aid the development of green shipping technologies, Norway's investment will not only lead to a greener Norway but to a prosperous Norway that can help shipping companies around the world to meet their targets too.
The IMO, meanwhile, has mandated that marine fuel oil must have a sulphur level of 0.5% or less, down from the current 3.5%, by 2020. This in itself represents many challenges, not least the availability of compliant fuel, but it's a goal that shipping companies, such as Norway's Wallenius Wilhelmsen are happy to play a part in reaching.
It's likely, therefore, that Norway's shipping companies – the third largest fleet in the world – will be instrumental in helping both the country and the world to meet its emissions goals. As pressure and incentives from the government make investment in cleaner ships more viable, so the global fleet as a whole becomes cleaner.
How did Norway get so good at shipping?
You might think that a small nation on the edge of the world would struggle to be at the forefront of the global logistics industry. With a population that neither manufactures nor consumes vast quantities of manufactured goods, it's perhaps not the most obvious contender.
The answer is no doubt complex but part of it lies, as always, with the Vikings. During the last couple of centuries in the first Millennium CE, the Vikings ruled the waves. When you live in an area where there's almost more coast than country, seafaring is a given. And when you're a hardy Norseman used to difficult conditions then you're ideally suited to life on the seas.
The conditions the Vikings had to sail in were treacherous. The North Sea, Baltic Sea and North Atlantic are still some of the harshest areas to navigate in the Northern Hemisphere and these were the Vikings' backyard. There's no mill-pond flat conditions like the Mediterraneans would have been used to, it's all huge, relentless waves, tossing massive boats around as if they're nothing.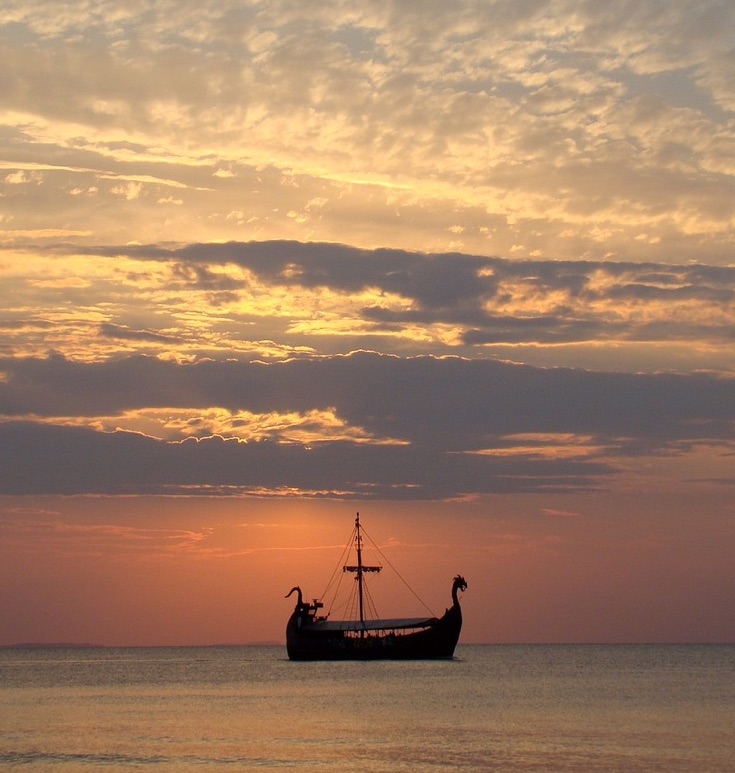 So, in conditions like these, it's easy to see how the Vikings rose to prominence on the seas. They developed sophisticated navigation systems that would endure for centuries, until the Sextant was invented and they were, more than any other people, willing to go further and further from land in the spirit of exploration.
The main reason, of course, was natural resources. Norway's beautiful landscape is not all that rich in exploitable resources beyond stone, timber and a few metals. The climate, too, limits the vegetation that can be cultivated. So early trade ships would take stockfish to the Mediterranean and return with wine.
It's these roots that established the Norsemen as the most fearless seafaring people, and Norway as a maritime nation, and this is still true today.
Today's Norwegian Maritime Cluster
A cluster, put simply, is a combination of everything required for a particular industry.
A maritime cluster, then, means that you have the knowledge, skills and labour to build and service all of your shipping needs. Norway is one of the few countries in the world with a complete maritime cluster, and while shipbuilding is in decline in Europe in the face of competition from Asia, the cluster is thriving.
Some of the world's biggest ship financing banks are based in Norway, as is a large chunk of the worldwide market for ship insurance. A lot of cutting-edge research takes place in Norway, while there are also substantial related industries including fishing and aquaculture, and the offshore industry.
Back in 2008, Tom Cantero, Chairman of the Association of Norwegian Maritime Exporters (NME) said of the cluster, "it is no exaggeration to say that the Norwegian industry is the most complete maritime supply chain in the world."
The Norwegian fleet
The Norwegian fleet can be split into two sectors. The first, which itself has two sectors, is vessels flying under the Norwegian flag. These are either Norwegian Ordinary Ships or Norwegian International Ships. The other sector is Norwegian-controlled ships sailing under a foreign flag.
Choice of flag is dictated by several factors but mostly where the vessel is sailing and who owns the vessel. For example, a Norwegian company might own a deep-sea cargo ship that sails between the Americas to Australia. The vessel itself travels nowhere near Norway and so the company will likely choose to fly under the flag of one of its ports of call.
The flag a vessel chooses dictates rules and regulations that govern the operation of the ship. Countries can also offer tax incentives to owners of vessels that choose their flag.
The Norwegian-controlled fleet consists of around 1,700 vessels. This includes everything from fishing boats, pleasure yachts and ferries to deep-sea cargo transport, fuel transport and ocean exploration. The fleet is one of the youngest in the world, with an average age of just over 10 years, a figure that has been falling steadily in recent years.
With environmental targets to meet, the average age is likely to come down even further as more vessels switch to electric propulsion systems as many may be unsuitable, or uneconomical, for the technology to be retrofitted.
Top maritime companies in Norway
In terms of size, Norway is the third largest shipping country for total carrying capacity and is top-ten in terms of annual value shipped.
As well as standard container shipping, where anything can be shipped if it fits into a certain sized box, Norway leads the world in highly specialised roll-on roll-off (RoRo) vessels. Companies such as Wallenius Wilhelmsen can ship heavy breakbulk by simply rolling it on to the vessel with no dismantling required.
The hi-tech solutions offered by Kongsberg Maritime cover on- and offshore, merchant marine, subsea, navy, coastal marine, aquaculture, training services and more.
The company delivers modern systems for functions as diverse as dynamic positioning and navigation, marine automation, handling systems, safety management, cargo handling, subsea survey and construction, maritime training, satellite positioning, and autonomous solutions.
But the Norwegian shipping industry is about much more than just big traditional companies. Since their foundation in 2012, Oslo-based startup Xeneta have made a splash by bringing SaaS technology to the ocean shipping market.
They employ a data-driven strategy to monitor, analyse and benchmark ocean freight rates, and have attracted such global companies as Unilever, Nestle, Continental and Electrolux to its platform and services. The Xeneta Shipping Index has quickly become a popular measure of global ocean freight rates.
Headquartered in Trondheim, Maritime Robotics is a leading provider of innovative unmanned solutions for maritime operations in harsh environments.
Their leading products include the moored balloon system that gives 24/7 aerial surveillance in any weather conditions, maritime data acquisition surface vehicles, and long-range fixed-wing unmanned aircraft system for data acquisition over larger areas.
Many companies provide services to the subsea industry, such as Deep Ocean, who take on installation and survey contracts with their fleet of 14 vessels.
Safer shipping
Accidents in shipping cause major problems for everyone. Ships running into bridges, for example can damage both the bridge and the ship, potentially injuring passengers and crew, damaging cargo, and putting vital bridges out of action. A knock-on effect is that timetables are not met and customers are unhappy.
In the face of an increase in registered shipping accidents, the Norwegian Maritime Authority has recently led a substantial effort to reduce these incidents.
By working with shipowners, the number of accidents has been dramatically reduced. Introducing safety frameworks and helping operators apply them means that working aboard Norwegian ships has never been safer.
The industry still has a long way to go, and given the challenging nature of deep-sea shipping especially, reducing injuries and accidents to zero may be an unachievable goal. But it's the goal everyone is working towards in order to make shipping both in Norway and around the world safer for everyone.
Managing vessel end-of-life
One of the most important environmental aspects of shipping is what to do with the ships once they have reached the end of their life.
The Norwegian Maritime Industry recently signed up to the EU Ship Recycling Regulation. These comprehensive rules dictate that ships must be recycled in an EU approved ship recycling yard, and includes harsh punishments for practices such as beaching – running a ship aground and leaving it to rot – and sinking of vessels.
Further, the Norwegian Sovereign Wealth Fund specifically monitors the recycling practices of any shipping companies in which it invests and has a history of blacklisting and companies – usually those in the developing world – that indulge in such unsustainable practices.
Norway is a highly-regarded maritime nation and is proud to lead the world in innovation and sustainability. What's around the corner? With production and prices of oil and gas falling, the Norwegian shipping industry could be the country's key to a successful post-oil future.