Norway's best ski resorts: Where they are, how much it costs, and why you should consider a skiing break in Norway.
When considering Europe's best ski resorts, it's France, Switzerland and Italy that typically come up in conversations. Norway less so, although the Scandinavian country has a lot to offer.
Norway has a well-earned reputation as an expensive country to visit. But a skiing holiday is relatively expense in much of Europe. Norway's slopes offer relative value and best of all–they are notably quieter than their continental counterparts.
Where are Norway's ski resorts?
If you've never been to Norway before, you may assume the ski resorts are in the northern part of the country. In reality, there are slopes all over the country, but the best are clustered in the centre of the southern part of the country, the most mountainous part of Norway.
There are many, many more ski slopes in Norway than we can possibly cover in this article. Picking the right resort can make or break your skiing holiday.
So whether you're looking for cozy cabins or the best après-ski experiences, it's always best to do some research.
Don't look at just the price. Consider the number of slopes and lifts, off-piste opportunities, terrain parks, availability of accommodation, and the quality and range of dining options.
If you're travelling as a family, take special care to look into the children's facilities as these can vary wildly.
In this article, we've picked out the most popular of Norway's ski resorts to give you a starting point to plan your trip. Also, they are in alphabetical order to prevent squabbles over which one should be first! Enjoy…
Beitostølen
Despite its small size, Beitostølen has hosted FIS Cross-Country World Cup and Biathlon World Cup eveents. The mountain village is in a popular tourist location in the north of Valdres close to Jotunheimen National Park.
The ski lifts start in the village centre, one just steps from the Radisson Blue Mountain Resort. 12 slopes of varying difficulty are available. On the other side of the valley, Raudalen Alpine Centre offers red and black runs for advanced skiers.
"Other more sedate ideas include horse-drawn sleigh rides, dog-sled excursions and evening trips into the countryside for a traditional meal in a traditional Norwegian tent." – Snow Magazine
Info: Day pass 2021/22: NOK 460. Resort website. Recommended accommodation: Radisson Blu Mountain Resort.
Geilo
Handily placed on the railway midway between Oslo and Bergen, Geilo is one of Norway's most diverse ski resorts. There's 22 lifts, 45 slopes, three terrain parks, quality children's areas and a toboggan run.
The resort is split on both sides of the valley, so there's always an opportunity to ski in the sun. Shuttle buses are available. The town itself offers a variety of bars, restaurants and stores.
Info: Day pass 2021/22: NOK 555. Resort website. Recommended accommodation: Dr Holms Hotel.
Hafjell
The 19 lifts and more than 50km of slopes at Hafjell played host to many events at the 1994 Winter Olympics. Hafjell's snow-sure season usually lasts well into April. The terrain park is known as one of the world's best.
Just a 15-minute drive north of Lillehammer, the Hafjell area has a wide variety of cabins and apartments for rent. Also close by, Hunderfossen Winter Park is full of trolls and adventure for the whole family.
"Hafjell is one of the most popular ski destinations in Scandinavia but, remarkably, it can feel empty on the slopes." – Planet Ski
Info: Day pass 2021/22: NOK 565. Resort website. Recommended accommodation: Scandic Hafjell.
Hemsedal
A giant of the Norwegian skiing scene for decades, Hemsedal offers 21 lifts and 53 slopes with a renowned après-ski scene. It's also one of the best choices for guaranteed snow as the season usually lasts until early May.
Hemsedal's ski area extends from 620 to 1,450 metres above sea level, with adventurous skiing available from three different peaks. Several terrain parks, a children's area, a skicross track and a slalom course with timekeeping are also available.
Info: Day pass 2021/22: NOK 504. Resort website. Recommended accommodation: Fyri Resort.
Hovden
With 8 lifts and 33 slopes across three areas, Hovden is the largest resort in southern Norway. Located to the south of Hardangervidda National Park, Hovden is about 25 minutes from Haukeli on the E134 road between Oslo and Haugesund.
Info: Day pass 2021/22: NOK 650. Resort website. Recommended accommodation: Hovdestøylen.
Kvitfjell
Built for the 1994 Winter Olympics, Hafjell's close sibling Kvitfjell is best known for having Norway's longest black trail. Just 30-minutes away from Hafjell, Kvitfjell offers a total of 14 lifts and 33 slopes.
Kvitjell's latest addition is the powder forest, or pudderskogen in Norwegian. The new free ski area offers about 2km of free riding between 200 and 400 meters wide.
Are you a foodie as well as a skier? Norwegian newspaper Dagens Næringsliv rated Kvitfjell's food as Norway's best alpine food.
Info: Day pass 2021/22: NOK 565. Resort website. Recommended accommodation: Kvitfjell Hotel.
Myrkdalen
For a more out-of-the-way experience yet one that's still family-friendly, consider Myrkdalen, near Voss. Known as the resort with (typically) the most snow, Myrkdalen is popular with the off-piste crowd.
The alpine resort itself has 9 lifts and 22 slopes covering all difficulty levels and several terrain parks. There's even a special avalanche transceiver training area.
Info: Day pass 2021/22: NOK 485. Resort website. Recommended accommodation: Myrkdalen Resort Hotel.
Narvik
Now we head to the far north of Norway! Alpine resorts are much less common north of the Arctic circle, but those who make the journey to Narvik will be rewarded with some of Scandinavia's largest drops for both lift-based and off-piste skiing.
The Narvikfjellet mountain that towers over the town offers a long ski season from the the time of the polar night and northern lights of November until the midnight sun and summer skiing in early June.
Info: Day pass 2021/22: NOK 485. Resort website. Recommended accommodation: Scandic Narvik.
Norefjell
Less than two hours from Oslo, Norefjell is a popular destination for keen skiers living or visiting the Oslo region. For those planning a longer trip, Norefjell Ski & Spa was voted Norway's leading resort at the World Travel Awards in 2020.
The ski resort hosts 13 lifts serving 30 slopes and two terrain parks. You can ski from 1,188 metres above sea level pretty much all the way down to lake Krøderen, more than 1,000 metres below.
Info: Day pass 2021/22: NOK 520. Resort website. Recommended accommodation: Norefjell Ski & Spa.
Oppdal
Central Norway's largest alpine resort draws many skiers from the Trondheim area, around two hours away. However, many keen Trondheim skiers prefer the slopes and more modern facilities at Are, just across the border in Sweden.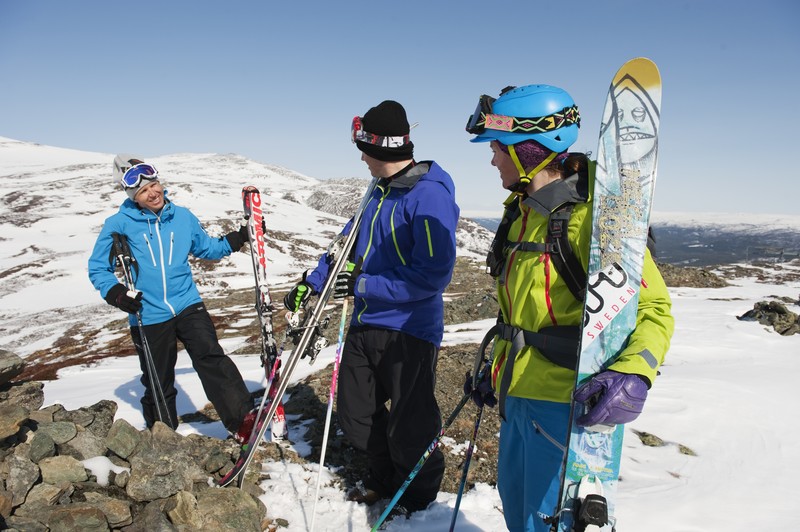 Despite this, Oppdal remains a popular choice for alpine skiing in this part of the country, with short queues its best feature. It's also a popular choice for cross-country skiers with a trail network of approximately 100km.
Info: Day pass 2021/22: NOK 480. Resort website. Recommended accommodation: Quality Hotel Skifer.
Oslo: Skimore Oslo (Tryvann)
If other factors are important to you besides the skiing, you may want to consider Skimore Oslo, formerly known as Oslo Winter Park, formerly known as Tryvann! The small resort is easy to access on public transit from downtown Oslo.
With 11 lifts and 18 slopes, Tryvann is the Oslo's areas largest ski resort. There's also a terrain park and slopes suitable for both children and beginners.
Info: Day pass 2021/22: NOK 450. Resort website. Recommended accommodation: Lysebu Hotel.
Trysil
This fantastic family-friendly resort was recently ranked #1 in Dagens Næringsliv's annual rankings. With 32 lifts and 69 slopes in three directions, Trysil is Norway's largest resort so even at busy times, queues are kept to a minimum.
At Trysil, you can ski in the mountains, in the woods, at snow parks for both beginners and experienced or in the vast family area. Cross-country skiers are also well catered for with 100km of groomed trails in the immediate area, and hundreds more farther afield.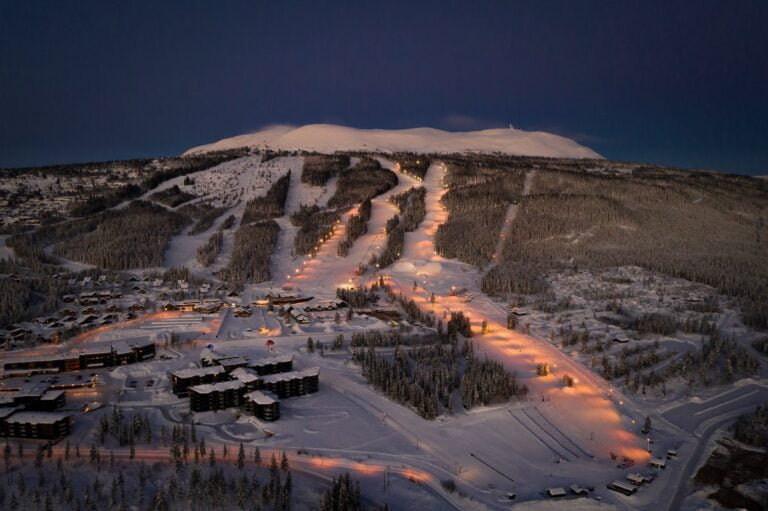 The resort is 2.5 hours from Oslo and just 45 minutes from the new Scandinavian Mountains airport that opened in 2019.
"Despite not being that well-known internationally, Trysil has a long ski heritage – they were holding ski races here over 150 years ago." – The Telegraph
Info: Day pass 2021/22: NOK 504. Resort website. Recommended accommodation: Radisson Blu Mountain Resort Trysil.
Voss
The two alpine centres at Voss are a great choice for those staying in Bergen or taking a trip on the Oslo to Bergen railway. Known as Norway's extreme sports capital, there's plenty of other things to do in Voss.
The resorts offer 11 lifts and 24 slopes including an international giant slalom run and a super-G run. Evening skiing is offered three times per week, while cross-country skiing and freeskiing are popular in the surrounding mountains.
Info: Day pass 2021/22: NOK 555. Resort website. Recommended accommodation: Fleischer's Hotel.
What is your favourite ski resort in Norway?