Life in Norway Show Episode 34: What's it like living on a small island in northern Norway? We find out as the Life in Norway Show chats to some of the people who call Skrova their home.
I'm just back from a working trip to Skrova, a tiny island in the north of Norway. Less than 200 people live here, and it takes a 30-minute ferry ride from Svolvær to reach it. I was there to cover a story on a bike sharing scheme, but I quickly discovered an island with outgoing locals and a love for photography.
While I think the locals' nickname for the island, Lofoten's Hawaii, is a little far-fetched, it is an absolutely beautiful place. The beaches, trails and ocean views are perfect spots to unwind and relax. But what's it like to live there? That's the question I really wanted to answer, so I spoke to a few people who call the island their home.
Listen to the show
You can listen to the show using the web player below, or on your podcast player of choice. This includes: Apple Podcasts, Stitcher, YouTube (audio only), and now Spotify. Simply search for 'life in Norway' on your platform of choice to get started.
Wherever you listen, don't forget to hit 'subscribe' to ensure you don't miss an episode!
A Skrova resident for 20+ years
First of all I speak to Monica Ellingsen. She was kind enough to take me on a tour of the island on one of the new bikes. We then had a chance for a chat at Galleri Skrova. Monica is part of SOPS, Skrova Outdoor Photography Spot. More on SOPS later!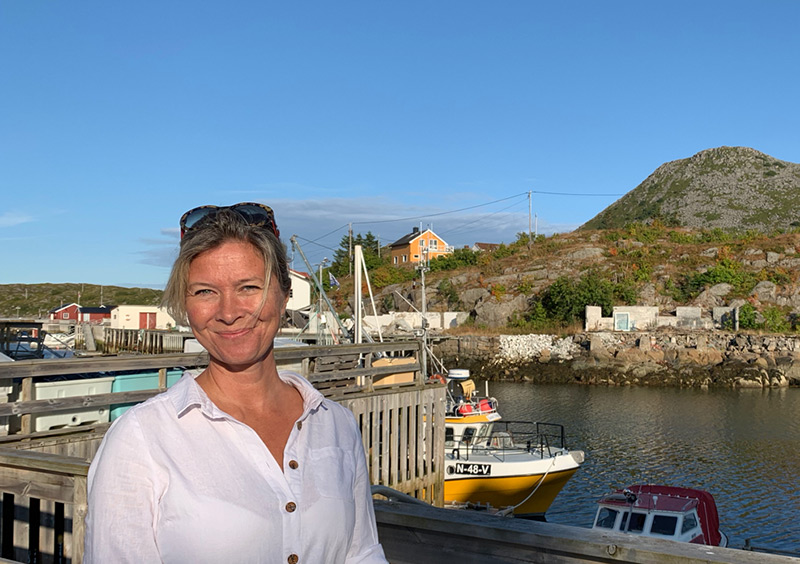 Monica talks in general about life on Skrova. Most people work at the one main fish processing plant. There used to be more on the island but just one remains. In the evenings and weekends, there's plenty of activities going on, especially for the island's 25 children.
Benefits and challenges of living on an island
Monica says the best thing about living on Skrova is the freedom and the low stress level. She explains that the cost of living can appear high when you look at prices in the restaurants or grocery store. But given they rely on the ferry, it's important to support the local businesses.
"Then again, we don't have many coffee shops or cinemas so people are spending less when they live here. The properties are getting more expensive in Skrova now as people want to buy a second home. The prices have gone up but it is still cheaper than the mainland to buy an old house on the island," says Monica.
Listen to more: Living in Lofoten
When asked about the challenging aspects of living on Skrova, she points to the weather. It was a little funny given we were chatting in the blazing sunshine! But of course, the winter here is a different matter. Winter storms can sometimes prevent the ferry from sailing, effectively cutting off the island for a short time.
Services on the island
First things first, here's the halibut I spoke about on the show: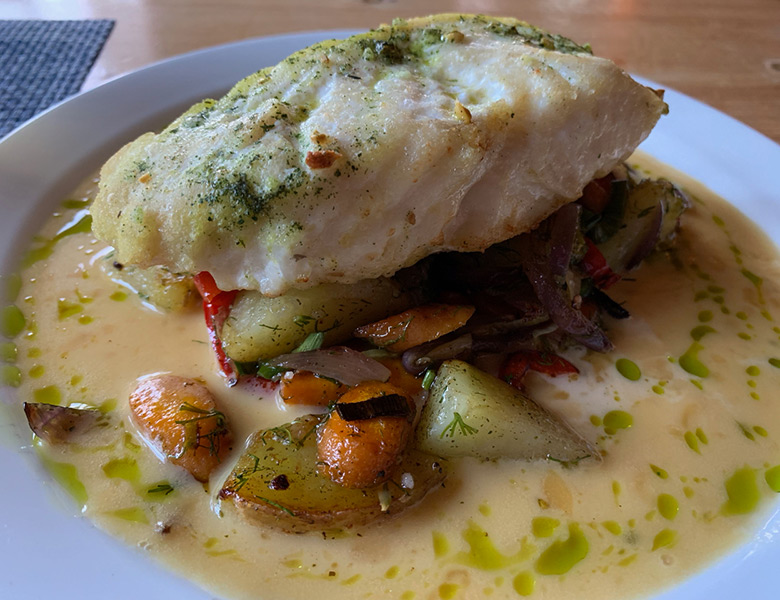 It was served up at Whalers' pub and restaurant. It was the only eatery open during my time on Skrova, although there is at least one other place open later in the week. There's also one shop that functions as a grocery store and post office. You can even buy Norwegian lottery tickets there.
I also had a chance to speak with the headteacher of the local school. I was a little surprised to find out there was a school on an island of less than 200 people, but such small rural schools are the norm in many parts of Norway. On Skrova there's currently 25 children of school age, but there have been as few as 12 in the not too distant past.
Once a child reaches high school age, they have to travel to Svolvær to continue their education. Many of them who leave the island don't come back – and that's a challenge in sustaining the community in the years to come.
Of course, there's also a few places for visitors to stay. While there's no full service hotels, there are a handful of cabins and rooms to rent. Virtually all the residents live in the small fishing village but the island is actually much bigger.
Most of the island is steep and rocky, offering hiking trails to those who want to get an elevated view. At the other end of the island are a series of beaches that on a sunny day resemble the Caribbean more than northern Europe.
Seeing the island by bike
I was there to cover the story of the world's smallest and northernmost bike sharing scheme launched earlier this year. It's based on the successful city bike programs in Edinburgh, Oslo, Bergen and Trondheim from Urban Sharing.
The app-based rental system on Skrova works in exactly the same way as the big cities. The one key difference? There's just 12 bikes, rather than hundreds! In addition to meeting two of the team from Urban Sharing, I met another local, Sverre, who has a part-time job maintaining and fixing the fleet of bikes.
A bicycle is the perfect mode of transport to see the island's highlights, which include many photography projects. In fact, the bikes themselves are part of an art project.
Each of the 12 bikes features a photo of one of Skrova's schoolchildren along with a quote describing what they like best about life on the island. The children were involved in choosing the quotes and taking the photos.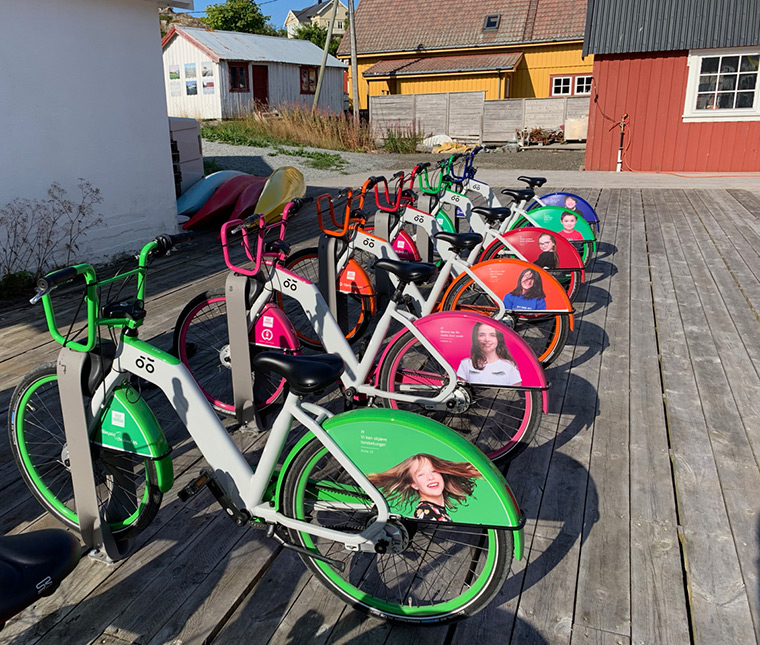 If you're visiting the island and want to check out the bikes, you can buy a day pass for NOK 99. This allows you unlimited two-hour rentals for a 24-hour period. Instructions for downloading the app (iPhone and Android available) are at the rental site, signposted from the main road.
Photography on Skrova
Another big surprise to me was the island's focus on art, especially photography. SOPS is headed up by award-winning photographer Martin Otterbeck, who splits his time between Oslo and the island.
You're never far from stunning photography on Skrova, much of it in black and white. There's two outdoor exhibitions within steps of the ferry terminal, and several others dotted around the island. My favourite was this one in the island's only road tunnel. There are so few cars on the island that this is a great use of the space!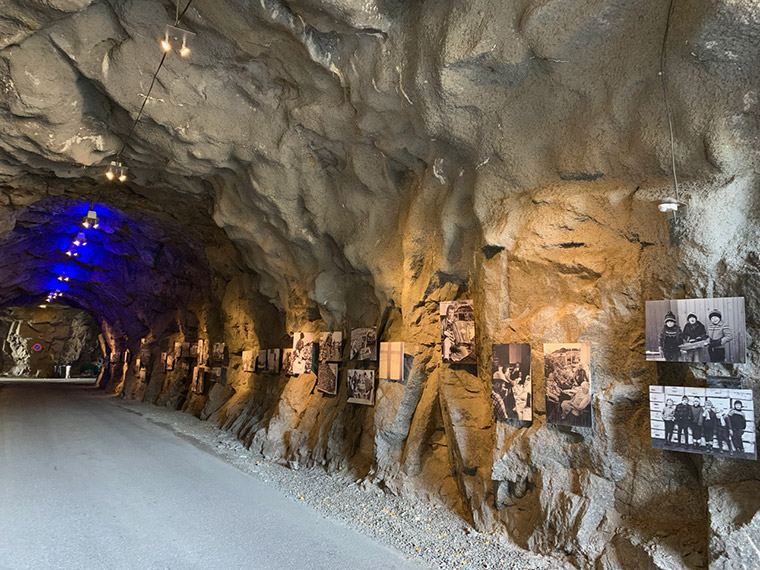 The collection was a gift to a local youth organisation from the family of the deceased photographer Sven-Ivar Carlsson. He came to the island for the first time in 1959, and taught a local fisherman who went on to pursue the passion himself.
I thoroughly enjoyed my time on Skrova. I'll definitely be back, and I'll probably try to bring my parents as I know they're just going to love the views and the opportunity to relax. As for whether I could live there myself, I guess the grass is always greener on the other side!
If you have young children it could be perfect, but I am not sure I would like the intensity of living in such a small community. But I totally see why some people do. What do you think of Skrova?
If you enjoyed this episode, why not share it on Pinterest so more people can find out about this remarkable little island? We've got the perfect pin for you: