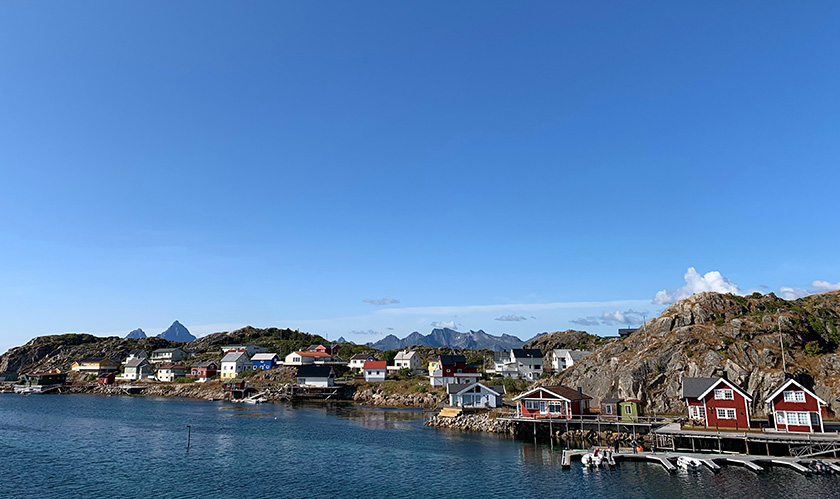 Exploring Lofoten? The small island community Skrova is a hidden gem. Best of all is the short yet stunning ferry ride to get there. Come take a closer look!
Even if you've been to Lofoten before, chances are you won't have heard of Skrova. This tiny island is home to a couple hundred residents who live in relative peace. That's because most tourists drive up and down Lofoten's E10 highway and don't consider taking a trip out here.
That's a crying shame, because Skrova has a lot going for it. There's a vibrant art community and a bicycle hire scheme to enable everyone to see the best of the island in a very short time. I've termed it the "secret Lofoten island" while local schoolchildren dub it the "Hawaii of Lofoten."
Why visit Skrova?
In many ways, Skrova is what many would expect from the Lofoten islands. The reality of life on the main islands involves dealing with lost tourists and congested roads, especially during the summer months. However, life on Skrova is much more relaxed.
There's plenty of places to walk on the island including the roads (there's so few cars!) and a trail that leads to the island's spectacular beaches. But this isn't really a hiking destination. While the island does rise a few hundred metres above sea level, the total area is just 3.3 square kilometres.
Read more: The Lofoten Islands of Norway
That means the main reason to visit the island is to kick back and relax. As long as you know the time of your ferry departure, there's no need to rush on Skrova. Take your time to wander the trails, chat with the locals, enjoy a bite to eat in the pub and admire the outdoor photography exhibitions dotted around the island.
I was a little hesitant to write this article given the relationship Lofoten has with tourism these days. Yet from spending time with several locals, an increase in tourism to Skrova will help to boost the tiny island's fragile economy, which currently relies heavily on the one remaining fish processing plant.
How to get to Skrova
The island is too small and too far from another island to justify a bridge, while I daresay a tunnel is practically impossible. So this means Skrova has always been, and always will be, entirely reliant on the ferry. The ferry is far from a tourist service. It carries vehicles and Skrova locals back from regular shopping trips in Svolvær!
The ferry service links Skrova with Svolvær on the Lofoten islands up to five times a day, depending on the day and season. It also provides a link to the mainland during the summer season. The terminal at Skutvik is a 35km drive along route 81 to the north-south E6 highway at Ulvsvåg.
Most people take the ferry from Svolvær. That's the journey I took, so let's take a look at that in more detail.
Catching the ferry at Svolvær
The ferry terminal at Svolvær is slightly outside the town centre, but it's a pleasant walk if the weather is fine. Simply take the pedestrian path through the E10 road tunnel behind the Rema 1000. The ferry terminal is then to your left. A handy bus stop named Svolvær E10 Vest is located right by the terminal for those travelling from farther afield.
There is a car park and service building on site. The building looked as if it was home to a restaurant and/or shop at some point, but sadly it was boarded up and available for rent last time I passed by. Hopefully some enterprising person will revive this at some point!
This does mean there's very little shade to rest in while you wait. As you can see from the photos, the weather was simply stunning when I was there. If it's the same when you're there, you may want to come to the terminal later rather than sooner!
It's easy to spot the ferry coming in, so you needn't worry about missing it.
The Skrova ferry
At the time of writing, ferries are operated by Torghatten Nord, one of the larger ferry providers in Norway. Timetables can be found on their website. In my case, I was on the 1991-built MF Røst, which has a capacity of 42 cars and 235 passengers. The specific ferry used can of course vary.
The exact process for boarding most likely varies depending on season. Although it was high season, the ferry was a long way from full on my visit. Cars and other vehicles are first to board. Foot passengers then queue to buy a ticket from the staff member before boarding.
Prices do change, but for the summer 2020 season they are 72 kroner for an adult foot passenger and 36kr for children. If you are driving, you'll pay 227kr for the car and driver. Cash and cards are accepted. Note that the fares to and from Skutvik are higher!
Read more: Lofoten Travel Guide
On board the ferry there is a comfortable lounge and plenty of bathrooms. However, you're surely going to want to enjoy the outdoor deck space instead. Trust me, it's worth it! As long as the weather is behaving, of course. If you're wondering why, I'll let pictures do the talking: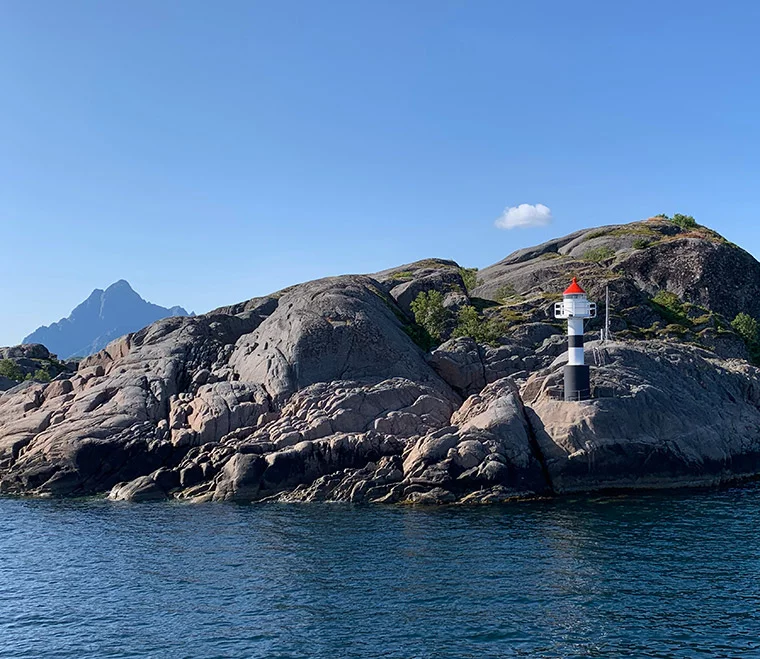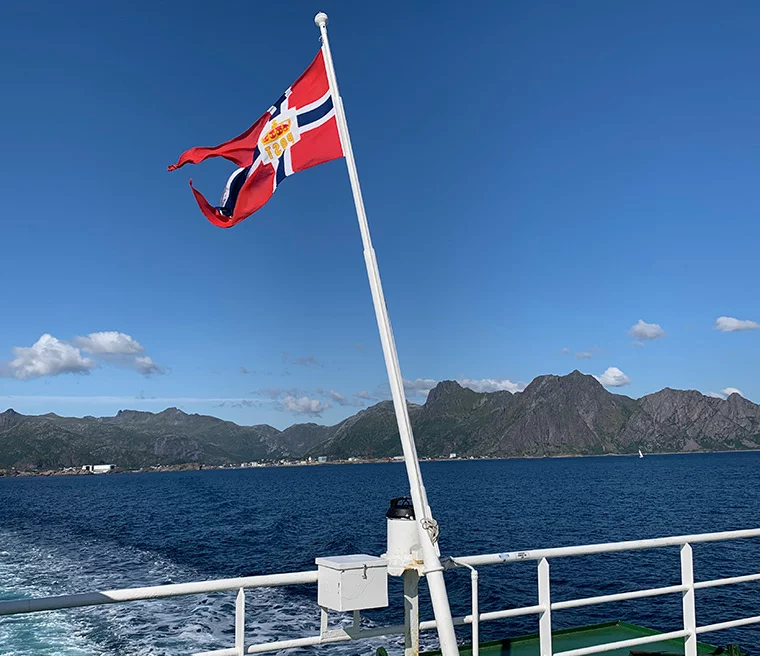 The crossing takes approximately 30 minutes, so there's no need to rush around. Take your time, relax and enjoy the scenery.
Arriving on Skrova island
There is an announcement when the ship is a few minutes away from Skrova. But you can't miss the island approach! And you shouldn't either. It's stunning, so make sure you've got your bags and are watching as the ferry approaches the terminal on Skrova.
Listen: Living an Island Life on Skrova
The ferry terminal is located in what is essentially the village centre. Here you'll see the fish processing plant, with the shop, pub, and other amenities a few steps away. If you've rented accommodation privately, your host will likely wander down to meet you!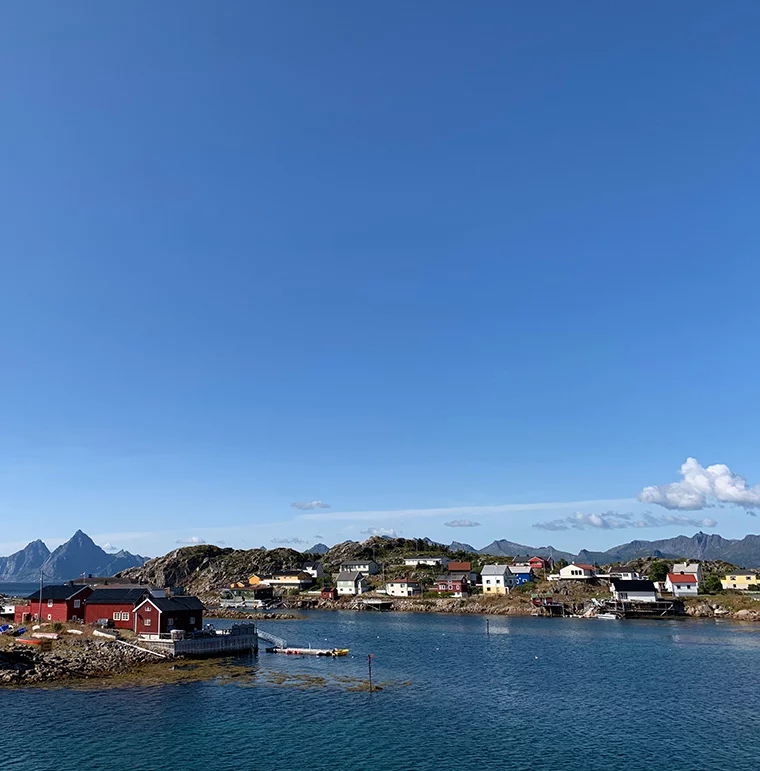 I hope this article has encouraged you to do something a little different on your next trip to Lofoten. Not only can you enjoy everything the island of Skrova has to offer, you can also enjoy a view of Lofoten that's difficult to get in any other way.
Have you ever been to Skrova? Let me know what you thought of the ferry crossing in the comments!