The pleasant coastal town Kristiansund can be reached by express ferry from Trondheim in a little over three hours. Here's how to expect on the passenger ferry.
Ferries are a common way to get around in Norway, especially in the fjord region where water often means a frustrating, long, slow albeit scenic drive to get from A to B via Z.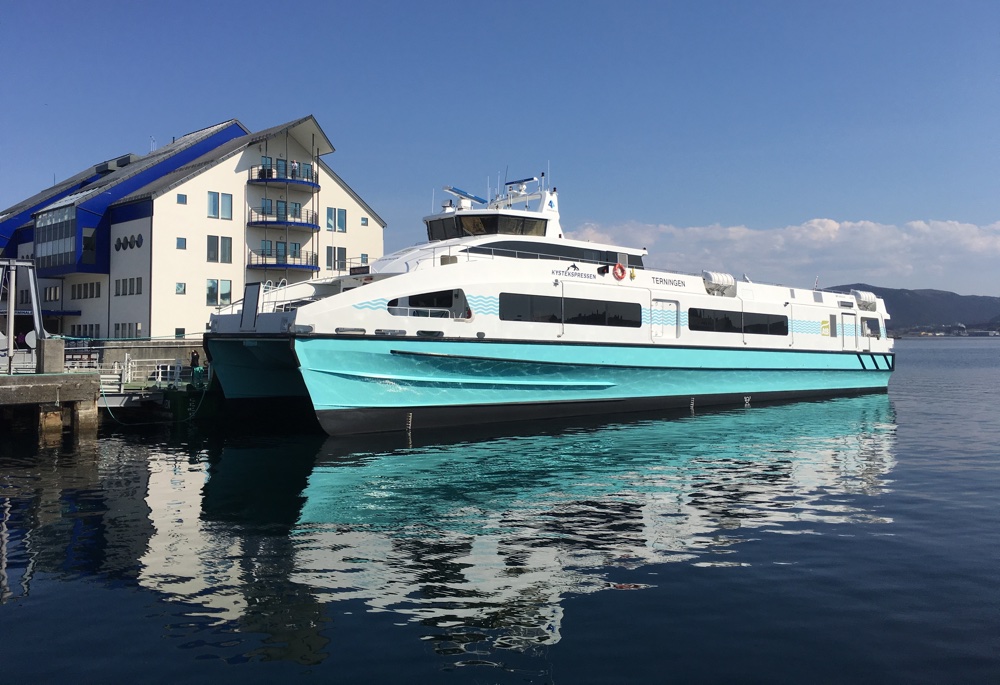 Many bridges and tunnels have been built over the past few decades with many more under construction.
A lifeline for many communities
However, ferries are still a lifeline for many rural communities. Most of these ferries take care and passengers and take from between 15-45 minutes for a crossing.
The cities of Kristiansund and Trondheim are connected with a fast ferry designed that functions as a train- or bus-equivalent rather than a road replacement.
To drive between the cities takes around 3-3.5 hours. Even with a number of stops, Kystekspressen (the Coastal Express) takes 3.5 hours. I took the ferry leaving Trondheim's Hurtigbåtterminalen at 8.10am.
The terminal is a relatively building with this intriguing piece of interactive modern art outside, named 'What does the fjord say?'
I had no idea how many people would be on the ferry although my guess was wavering towards the low side. So I was slightly taken aback when I arrived to see an enormous queue snaking outside the terminal building.
However, boarding began almost immediately and I was on the boat in no time.
On board the fast ferry
It isn't possible to buy tickets in advance, so shortly after departure a conductor comes around the lounge. As of April 2018 a full-price ticket from Trondheim to Kristiansund costs 648kr, and you can of course pay with cash or debit/credit cards.
On board the ferry there is a large lounge area with airline style seating, albeit with much more comfort and legroom.
It's possible to walk onto the small decks outside although it's not the most comfortable experience given the high speed of the craft. Wi-Fi is technically available but the speed is very poor to the point where it's basically unusable.
There's a small cafe with an offering similar to that of the smaller 'road replacement' passenger ferries: Light sandwiches, lefse, hot dogs, and a variety of snacks and drinks. At 30kr the price of coffee was steep, but you can get free refills so it's worth it if you're a coffee fan.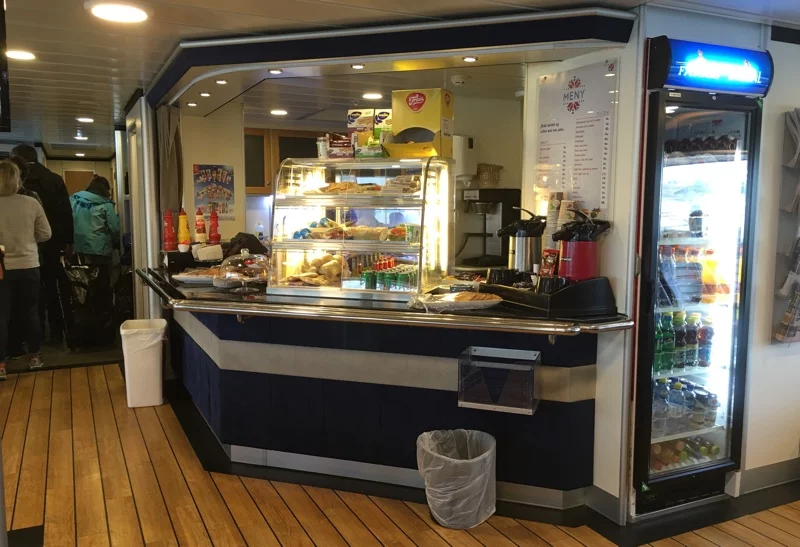 As it turned out, about one-third of the passengers were schoolchildren on their way to the first stop, Brekstad, with another one-third going to the same place. Things soon quietened down after that. I'd estimate that of the 200-odd people who boarded at Trondheim, only 25 made the full journey to Kristiansund.
This is primarily a commuter service for locals and I didn't spot a single other tourist on board.
Of course, you could also take the much more tourist-oriented Hurtigruten. In fact the ticket price for the Trondheim to Kristiansund stretch is actually quite a bit cheaper than the fast ferry I travelled on, but it does take twice as long and so rules out the option of a day trip.
Introducing Kristiansund
On arrival in Kristiansund it's just a short walk to the city centre and you can be on the Sundbåten (the small passenger ferry linking the islands of Kristiansund) in around five minutes.
My trip was just for the day so after arriving in Kristiansund at 11.40am, I had time for a good look around the town (in glorious weather!) before heading back to the terminal at 4.30pm ready for the return trip to Trondheim. You can read more about Kristiansund here.
I'll be taking the Kystekspressen again for sure. It was a very comfortable way to travel and Kristiansund makes for a great day trip from Trondheim, and a nice option for a weekend trip too.