At last weekend's Trondheim Calling festival of new music, I had the pleasure of catching up with Thomas Bratlie Haugland, vocalist of Rumble in Rhodos, stalwarts of the Norwegian live music scene. The band has been together for 10 years, released four albums and toured extensively, although never made it across to the UK… yet.
They began life with a hardcore sound resembling At the Drive-In, but have slowly evolved and matured their sound. Latest album Grace and Nuance contains clear synth-pop influences and a sound that I feel is very "British".
Thomas is typically Norwegian – polite, modest, and softly-spoken – yet on stage he comes alive with a vocal range most lead singers would kill for. My thanks to him for putting up with my questions!
This interview is best read to the soundtrack of their recent song Mannequins of Memory, so click play below and read on 🙂
Where does the name come from?
We've been going for ten years and back then we didn't even think about a serious name, we just wanted something funny and unique. Our drummer's uncle lived on the greek island Rhodos, and he had, lets say in a nice way, pornographic story called Rumble in Rhodos, and that was it!
You sing in English, your website is in English, why?
I never considered writing or singing in Norwegian.
For me, I started listening to music as a kid and the most interesting styles I came across were from groups singing in English, so it always felt natural to me to write in English. When you write in English you don't exclude anyone, even in other European countries as English is still a universal language of music.
The Norwegian language has a small vocabulary and is really limiting. I have written in Norwegian for other projects, but it's definitely easier to express the things I want to in English, especially as it comes from the music i was listening to as a kid.
So as a native Norwegian, how do you find the songwriting process in a different language?
It's a lot more difficult in English. I actually have help from an English-speaking friend. I go to him with some ideas and he tells me which way to go. Even though Norwegians speak so much English and England is so close by, Norwegians do still make a lot of mistakes. I admit I'm not the most fluent English speaker so I do need some help to properly express myself.
Do you conceive a song in Norwegian?
Yes, sort of. I dream in Norwegian, not English! So I do often have to put my "Norwegian" ideas down in English, but the general idea and the energy in the lyrics still comes from my point of view.
Rumble in Rhodos always seem to be on the road, so why have you never played in the UK?
We've played something like 500 gigs including 10 European tours, including Central Europe, Eastern Europe, Japan and Canada. It's weird that we've never been to the UK, although most bands we meet have advised us to wait as it's so hard to breakthrough there. We do hope to play in the UK this year. but only if we find a good touring partner and team up with good promoters.
How does life on the road affect you as a band?
It's the most important thing a band can do! We're not a young band anymore but we found our expression and way of playing on the road. When you tour Europe you play every day and something happens to the band, you get into a groove that is really great. A lot of influence in songwriting comes from that, you meet other bands, new people, and see other countries.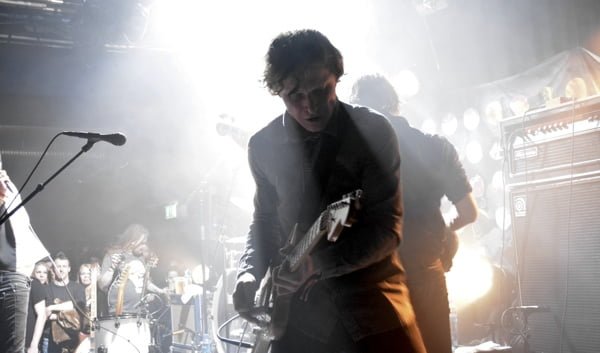 Where was your favourite place to play?
Tokyo was crazy, the audience there is so different, because it's hard to know whether they are into it. in Europe you finish a song, people clap and you start a new song, but over there it's like that. You play a song, finish and then it's totally quiet. After a couple of seconds, they clap politely to show their enthusiasm and that they're looking forward to the next song. They have very unique norms and ways of behaving, but during the songs they are watching you like 120%, almost like they're making notes. They keep all the souvenirs they can like set lists. And… our sound engineer was really popular with the girls over there!
Norwegian music doesn't have the best of reputations in the UK. Why do you think that is and what do you think about the state of the current Norwegian music scene?
There's a big discussion now about the export of Norwegian music. We take a DIY approach of exporting music – touring by ourselves and building up slowly – but that's what you do with our genre of music. Local promoters attract passionate people interested in that genre, they bring they friends etc. There's not a lot of money involved at the start, but more money is being put into the export industry like part-funding tours.
Norwegian music industry managers are travelling more for the experience to try and build something back in norway. but to answer your question i don't really know. I would say there are some: Röyksopp, Kings of Convenience, Team Me, and others. And of course, Norway's biggest music export is black metal which is always popular in England, right now Kvelertak are popular over there.
Oasis or Blur?
Blur.
Pavement or Smashing Pumpkins?
Pavement.
Britain or America?
Britain! haha! But i have to say American music has probably been more influential on me.
For more from Rumble in Rhodos, check out their website and YouTube channel.