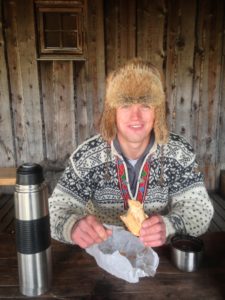 Three years ago, while studying at the University of California at Berkeley, I met a girl who has absolutely changed my life. She is beautiful, amazing, and a pleasure to be around. She is also 100% Norwegian… which means that I have been fully ingrained with Norwegian culture since the day we met.
On one of our first dates, we went for a camping trip in the Sierra mountains. She said she liked to hike so I figured she would be good company and could probably keep up. Not only did she hike as fast as I did, but she also woke up in the morning to swim in frozen lakes. I knew at that moment that I was in for one heck of an experience.
In August 2013, I came to visit her family in Norway for the first time. When I first arrived, she pulled up a YouTube video and told me "Welcome to Norway, after watching this, you know pretty much everything you need to know about Norway".
Which of course, was a joke, but even now when I watch it I have to admit it does a pretty good job of covering the basics. We spent 2 months hiking through the mountains and fjords together and visiting Stavanger, Bergen, Oslo, Trondheim, and Lofoten and it was probably the most beautiful summer of my whole life.
I will rewind to some of the other details of our adventures together at another time, but for now, fast forward to the present: after a yearlong trip around the world, I finally returned to Norway just in time to spend Christmas with her and her family.
Learning to ski
This winter, she started teaching me to learn how to cross-country ski. This is a unique experience because as the video says, "Norwegians are born with skis on their feet".
Norwegians are some of the best skiiers in the world; and seeing me out there trying to learn how to turn on the downhill and make it through deep powder snow in the forest must have been quite a sight to anyone watching. As she likes to tell me "awwwww, you look like Bambi on ice".
Nevertheless, I learned quickly and we were doing 20-25km trips within less than a week. While skiing may not be a natural ability for everyone like it is for the Norwegians, it is quickly becoming one of my favorite activities.
New culture, new flavours
In between ski trips, we enjoyed drinks and food by the fire at her family's cabin. The "cabin culture" is another thing that I have come to love and appreciate about Norwegians. Whereas many Americans catch up on the TV shows they missed and on important work emails, Norwegians seem to understand a proper work-life balance much better.
The evenings were spent around the fireplace, playing games and sharing stories. Neighbors from other cabins would drop by to say hello and share a few glasses of Jul-øl (the traditional Christmas beer) or Akevitt (the Nordic national liquor, which is approximately 40%ABV and usually has spices of anise or dill). The myth is that Akevitt helps burn off the fatty meals.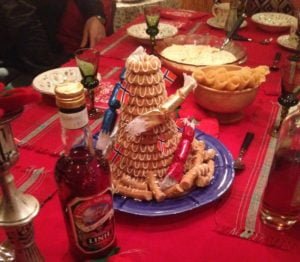 I also got to try some very traditional Norwegian meals, including lutefisk, grøt, and rakfisk. The last of which happens to be a raw and fermented fish dish served cold. Pictured here is a traditional Norwegian tower cake, called Kransekake, along with a bottle of Akevitt.
Norwegian practice
There were also plenty of other festivities in between skiing and eating at the cabin. One in particular was quite funny. Since I am trying to learn fluent Norwegian, my girlfriend printed Norwegian Christmas stories and traditions for me to read aloud for practice. These included:
This is my first blog for Life in Norway, so I would like to keep it relatively short and to the point. Norway reminds me of what the United States used to be like in a lot of ways and what I wish the US was still like. I love the nature, the culture, the people, and even the food.
Life in Norway is good… and I look forward to writing more about it soon. I hope you will share this with friends, follow, and subscribe for updates.