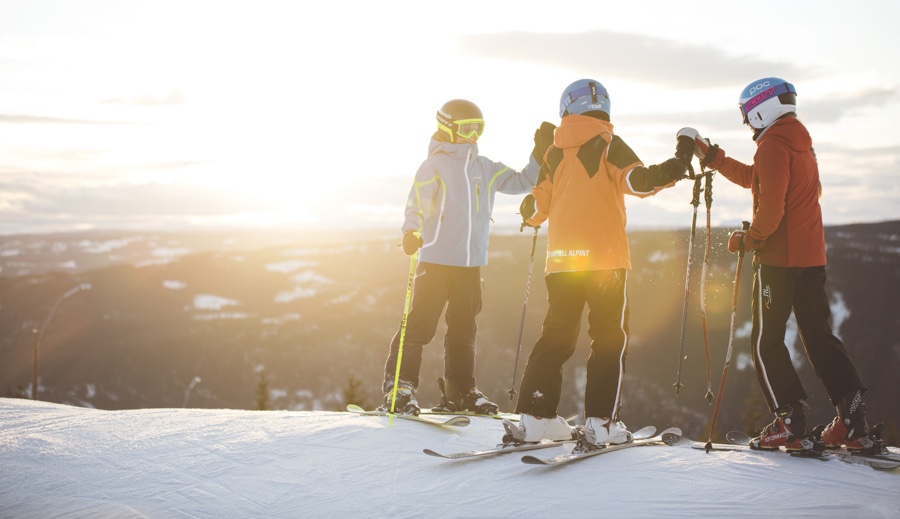 Shit Norwegians Say #2
Following up the classic, "There's no such thing as bad weather, only bad clothes", is this tremendous eye-roller:
Excited Norwegian – "So David, are you going skiing this weekend?"
Me – "No."
Confused Norwegian – "No!?"
Me – "No."
Confused Norwegian – "But look at all this fresh snow, it's wonderful skiing conditions!"
Me – "I can't ski. I tried last year, and I'm really bad.
Confused Norwegian – "Buuuuut you live in Norway now, so you must learn to ski, ikke sant!?"
Me – "It's humiliating being overtaken by four year-olds"
Excited Norwegian – "Ah well you see, in Norway we are born with skis on our feet!"
Me – "Ever heard of Eddie the Eagle?"
When a Norwegian says to me "in Norway we are born with skis on our feet!", I actually hear "You British are so crap at skiing, we are awesome, haha!"
I know it's really an attempt at sympathy, explaining that most Norwegians learn to ski from a very young age and therefore it becomes as natural as cycling or running.
For those new to the blog, I tried to learn to ski earlier this year. I really did. Look!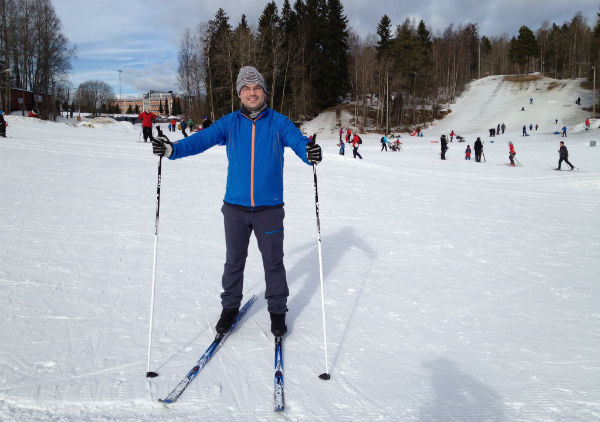 Unfortunately, that's the only time that day I smiled.
I don't just mean bad, I mean really bad. After a day of basically just falling over over hard-packed snow, I managed to reach the stage where I could propel myself forward along flat ground. The next day I managed to move uphill. But downhill? Back to falling over I'm afraid.
Read more: Funny Skiing Quotes
What didn't help was hundreds of kids, some not even of school-age, zipping past me in all directions. Ask a Norwegian for skiing advice and you get nothing of use back.
The reason? They all learned to ski when the idea of falling over was hilariously good fun. Up they'd get, and on they'd go. No fear!
For a 32 year-old trying to ski for the first time, the falling-on-the-floor thing is a bit different. It's a much bigger, much harder thud, and it hurts like hell! Getting up is an achievement in itself, let alone carrying on.
Are Norwegians REALLY born with skis on their feet?
An interesting question. I am yet to find a Norwegian that cannot ski, and the vast majority tell me they were too young to remember when they learned.
I thought I'd found one last month, but the reality left me even more depressed. The conversation went something like this:
Me – "So you ski right?"
Norwegian – "No."
Me – "Hæ!?"
Norwegian – "No, I don't ski"
Me – "OMG! Srsly!? You can't ski?"
Norwegian – "Oh, well, I CAN ski yes, I learned when I was young. You see, in Norway we are born with skis on our feet."
Me – "Oh really, I've never heard that one before. So why don't you ski then?"
Norwegian – "Because I go snowboarding every weekend."
The Winter Olympic revenge
Norway's cross-country skiing crisis at Sochi has given us non-skiers a new opportunity to combat the phrase.
Norwegian – "Ah well you see, in Norway we are born with skis on our feet."
Me – "Ah right. Shame you're not born with the right wax in your kit bags."
Social life in the winter
Whereas in England we like to shut ourselves inside (or at the very least, in the pub) when the winter bites, in Norway people do the opposite. They strap on their skis and head on out into the wilderness.
The reality is, to properly integrate into Norwegian society, you really do need to learn to ski. Perhaps if we have a decent winter next year it'll be time to knuckle down and get on with it – away from pesky kids.
On the other hand…