Now the dust has settled, we take a look at Norway's recent local election results. Here's what they mean for the big cities, and for the next national elections.
A so-called 'blue wave' washed over Norway last week as the latest set of local election results piled pressure on Norwegian prime minister Jonas Gahr Støre.
Although the next national elections are two years away, Støre's Labour party continues to hemorrhage support whenever they are tested at the polls. Their national governing partners the Center party also lost support at the ballot box in this set of local elections.
How did the local elections go in your area? Find out here on NRK. Type in the name of your municipality and you'll see the vote breakdown.
Norway's local elections are held every four years to choose the representatives for municipal administrations across the country. As usual, the 2023 local elections were also an opportunity for residents of Norway deliver a verdict on the popularity of parties in general.
Biggest winners and losers
There's no doubt about the biggest winner across the local elections. For the first time in generations, Høyre, the Conservative party of former prime minister Erna Solberg, is Norway's biggest political party.
"A 99-year tradition was broken today," said Solberg after the Conservatives won 25.9% of the vote across the country. In stark contrast, Labour (Ap) picked up just 21.7%.
Prime minister Jonas Gahr Støre is now under massive pressure as these local results follow his two-year leadership of what some political commentators have called a "historically unpopular" government.
The word "crisis" has been used to reference Støre's leadership of Labour several times, but now the pressure is piling on. "I don't think our politics are working, they're not helping people," said the Labour mayor of Skien to NRK.
Labour board member Masud Gharahkhani called the election results "terrible", adding that "people are disappointed in us and we have to acknowledge that."
Støre himself said he's convinced the trend can be reversed. He said the party will confuct a survey to find out why voters didn't choose Labour. The answer may well be the man himself.
With Høyre's former coalition partners the Progress Party (FrP) also polling well, Erna Solberg seems well placed to recapture her position as prime minister when Norway goes to the polls in the 2025 national elections.
But two years is a long time in politics, and things aren't completely rosy for Solberg. It's recently been revealed that her husband bought and sold shares in Norwegian companies while she was prime minister, raising questions of conflict of interest and even the potential of insider trading. Watch this space!
Local elections in Oslo
Many cities turned blue last week, chief among them Oslo. Høyre polled an astonishing 32.6% with support for the incumbent red-green led administration falling away sharply.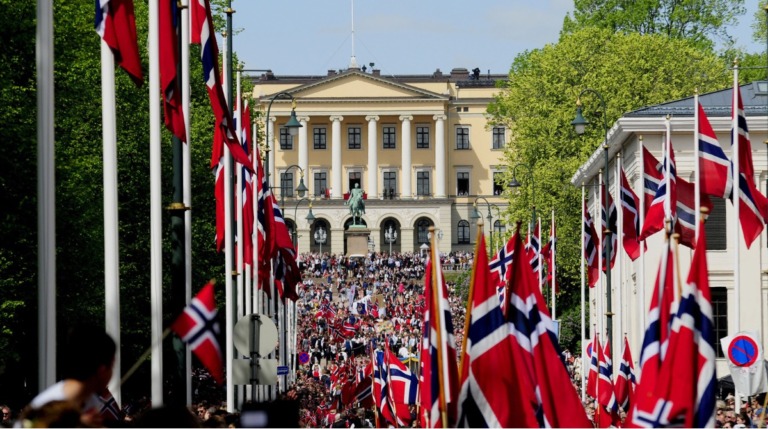 With support for other minor parties also increasing, it gives a centre-right block a majority in the capital city. Outgoing city chief Raymond Johansen was unhappy with the results but said "we will get through this."
Other cities
Other cities to switch from red to blue majorities include Kristiansand, Stavanger, Porsgrunn and Sarpsborg. The latter had seen Labour-led administrations for 110 years.
There was some good news for Labour in Trondheim, however, but it came down to the luck of mathematics. Labour lost support yet again, polling significantly worse than Høyre in a city traditionally known for its strong Labour vote.
But when support for minor parties is taken into account, it gives a left-leading, five-party, red-green coalition a majority of one. This would mean Labour leading the city despite winning less than one-quarter of votes.
Over the coming days and weeks, the final situation will become clearer as parties do deals to form administrations across the country.