Bakklandet is Trondheim's most photogenic neighbourhood. Come walk with me!
In the summer:
And in the winter:
Known today for its timber homes, cafe culture and cyclists, its origins actually lie in trade and industry, home to seamen, fishermen and labourers.
As delightful as the street is today, it was very nearly a motorway. In 1965 the city plan proposed the area be demolished and replaced with a 4-lane highway. Needless to say, local residents opposed the plan and after a fight that lasted almost 20 years, the area was saved.
Each year the shops and bars of Bakklandet spill out onto the street for a week-long festival known as Bakklandsdagene. Here's my friend Chris enjoying the view across the river:
It was Sunday night and only a few bikers and locals could be spotted. But it was delightful nonetheless; the cobblestone streets and cute shops and boutiques, all of them nearly side-by-side, seemed to bring out even more of the city's charm. We managed to find a cozy little bar, tucked below one of the buildings we passed (Keith – Pardon My Norwegian)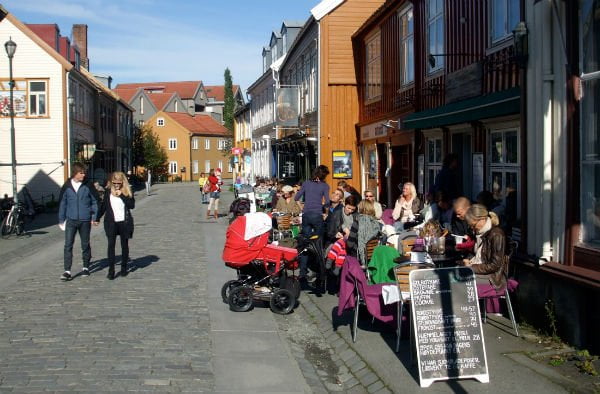 You can easily spend an afternoon browsing the galleries and boutiques. My favourite is the art gallery of Høie Glass & Metall, where you can buy some great hand-made glassware:
Bakklandet is a popular neighbourhood for cycling. So much so, small paved sections were added to the cobbled roads to make cycling far easier. The street is also the starting point for Trondheim's bicycle lift, a tourist attraction in itself!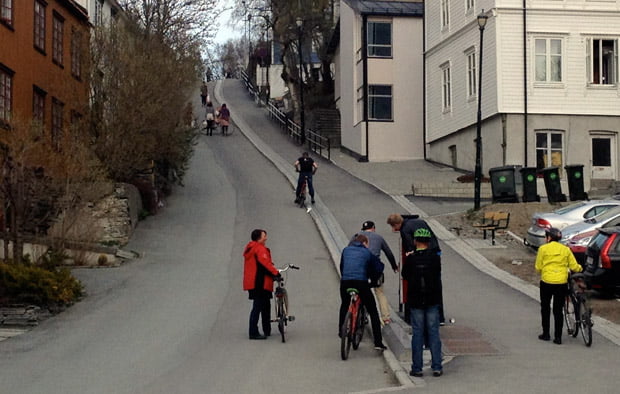 Here you'll find some of the best pubs in Trondheim, including Den Gode Nabo and Antikvariatet, complete with cosy interiors:
And last but not least, the most photographed view in Trondheim is found here, from the Old City Bridge (Gamle Bybro) down the Nidelva river: