Ålesund Aquarium is a popular, family-friendly attraction in the beautiful Norwegian coastal city. Here is what you need to know to make the most of your visit to Northern Europe's biggest saltwater aquarium.
When someone mentions Norway, what comes to mind? Breathtaking fjords, Northern lights, or perhaps the midnight sun? But what about… penguins? Yes, you read that right.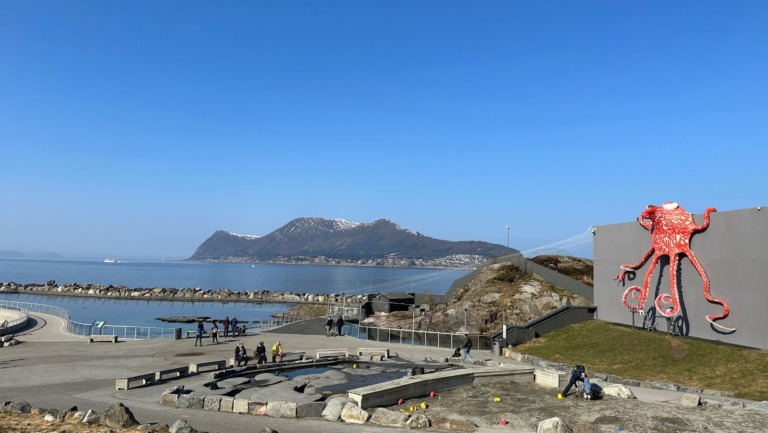 While these charismatic creatures are typically associated with much colder Antarctic climates, there's a place in Norway where you can watch them waddle around and dive into icy waters. Welcome to the Ålesund Aquarium.
Before I go on, I visited the aquarium earlier this year specifically to see the penguins and I made a short YouTube video about the trip. If you prefer to watch your stories, feel free to watch it there, or stay on this page and hit play below:
Ålesund is best known for its art nouveau inspired architecture, wonderful waterfront views, and spectacular surroundings. But it's also home to one of the best aquariums in Norway.
Ålesund Aquarium, known as Atlanterhavsparken (the Atlantic Sea Park) in Norwegian, is Northern Europe's largest saltwater aquarium. As one of the best things to do in Ålesund, it offers a deep dive into the marine life of the North Atlantic.
The story of Ålesund's penguins
Though the aquarium houses a diverse range of marine species, the undeniable stars are the lively colony of penguins. These birds, native to the southern hemisphere, have found a comfortable home in Ålesund.
Watching them in their specially designed environment is both entertaining and educational. They glide through the water with grace, interact with each other, and sometimes engage in playful antics that entertain both young and old visitors alike.
Before we move on, let's address the obvious question. Of course, penguins are not found in the northern hemisphere, so how did they get here? The relatively rare Humboldt penguins are actually guests from Chile and Peru.
The subsequent breeding program has been very successful and several penguins have since gone on to be relocated.
Elsewhere in the aquarium
In addition to the penguins, the outside area has several other features:
Seal Bay: Originally built to house five females and two males, Seal Bay is Europe's largest seal enclosure. The 6,000 square metres of space is designed to reflect the natural habitat of the seal as much as possible. An observatory below the water line allows you to see the seals at play throughout the day.
Otter Island: In 2016, three young orphaned otters were found abandoned in the wild in Northern Norway.
The aquarium quickly built this enclosure to give the orphans a new home, and they survived. They have space to explore and a lighthouse area for shelter.
Back inside, the saltwater tank steals the show. Full of coldwater fish, the enormous 36×17 metre tank holds at least 4 million litres on unfiltered saltwater from the sea immediately outside.
Crustaceans are also in focus including the stone crab and lobster. There's plenty for kids to do too, with feeding time, educational sessions, and some exhibits especially designed for younger visitors.
Zoos and aquariums do have their critics and rightly so in some cases. In Ålesund, there's a genuine effort made to ensure the welfare of the aquarium's residents.
Getting to Ålesund Aquarium
Get there on a short bus ride from downtown Ålesund followed by a 10-minute walk with an uphill stretch. Do allow time to explore the hiking trails in the surrounding coastline. There's some important war history here in addition to the wonderful views.
There are other aquariums in Norway too, including the one in Bergen, which is also home to penguins. But if you're in Ålesund, the Atlantic Sea Park is well worth a visit.