Ålesund, Norway: Travel guide to one of the country's most unique towns. See fairytale architecture in a remarkable natural setting on the coastline of Norway.
If you're looking for something truly different on your next trip to Norway, I've got the ideal destination for you. Today we're heading to the west coast of Norway to the traditional district of Sunnmøre. I love Ålesund, and I think you're going to love it too!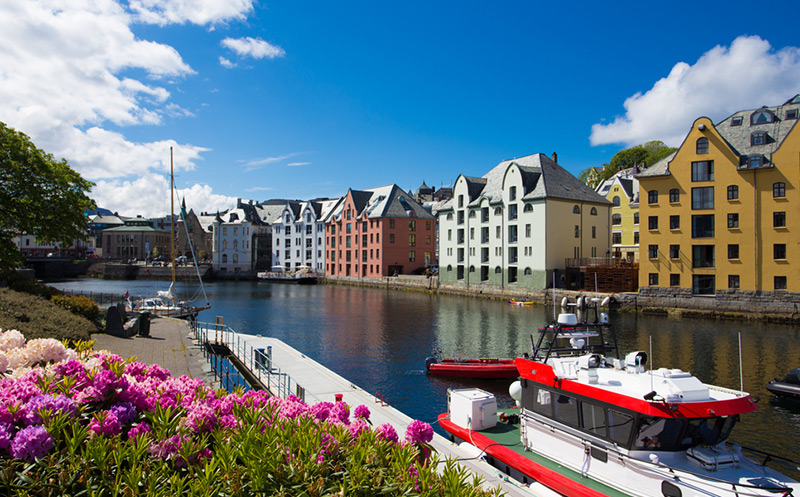 Ålesund is a small waterside town but with plenty to keep you busy. Active types will enjoy the hiking and kayaking opportunities, while there's plenty to occupy history buffs too.
Ålesund Travel Guide
Aside from the wooden houses of the old towns, most Norwegian cities have a similar look and feel to them. In stark contrast to this, central Ålesund's beautiful architecture has more in common with Prague and Brussels than it does Oslo or Bergen.
After a fire devastated the former wooden city in 1904, German money and young Norwegian designers came together to rebuild the city in the popular fashion of the time.
Today, the turrets, towers and carvings of Ålesund stand head and shoulders above any other Nordic city as a shining example of the art nouveau style.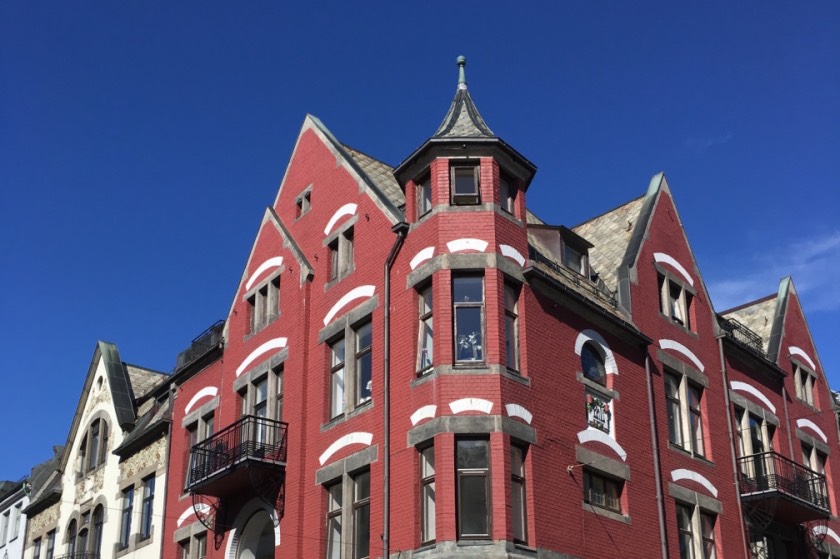 The town is delicately balanced on a collection of islands of all shapes and sizes, helping to create beautiful vistas from almost anywhere in the town. Sunsets at the end of summer can be truly spectacular.
Things to do in Ålesund
The best things to do in the city depends first and foremost on how much time you have. Many people visit from the Hurtigruten coastal voyage.
If that's you, you'll unfortunately have just an hour or two for a quick walk, unless you visit in the winter season. I say unfortunately, but that is enough time to enjoy the atmosphere of this special city.
However, if you're spending at least one night in the town, you have a ton of interesting options. Read on for my recommendations.
Walking tour of central Ålesund
If time is short, simply take a walk around the waterfront to admire the unique architecture that sets Ålesund apart from other Norwegian towns.
Although there's plenty on offer, you don't need to join an organised tour. Just follow the waterfront and you'll find plenty to see in all directions.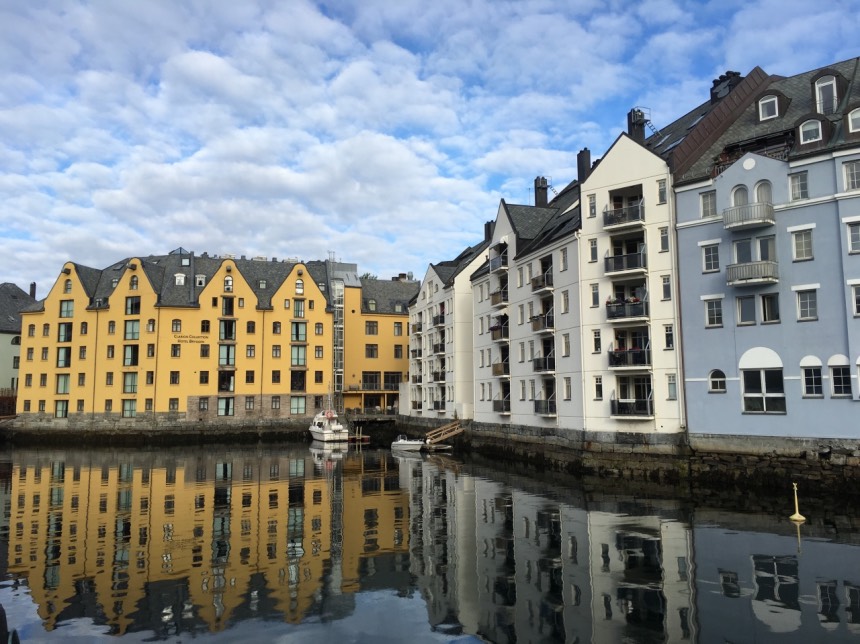 Museums in Ålesund
For more information on why Ålesund looks the way it does, head to the Jugendstilsenteret, a museum that retells the story of the town's fire and subsequent reconstruction.
To find out even more about the city, Aalesunds Museum has artefacts, photographs and paintings from the reconstruction, World War II and other important periods.
While it's not a museum per se, the city's aquarium is one of the best-known in the country. With penguins and otters among the attractions it's a real kid-friendly option for your itinerary. It's known as the Atlantic Sea Park in English and Atlanterhavsparken in Norwegian.
Hiking in and around Ålesund
Another must-do is to climb the steps up Mount Aksla, the town's very own (albeit small!) mountain that offers a terrific view from its summit. So much so, that I'm sure it's the most photographed part of the city:
There's more than 400 steps though, so only consider this if you have a reasonable level of fitness. The steps have been improved lately so as long as you're fit enough, there are no safety worries!
Once you reach the top, you can refuel with an ice cream at the cafe. I've also eaten at the restaurant that offers great local food (albeit pricey) and of course, a wonderful view of the city and the surrounding islands.
Don't fancy the walk? Alternatively, you can drive up through the town's suburbs. Parking can be an issue at peak times when you're doing battle with tour buses from the cruise ships.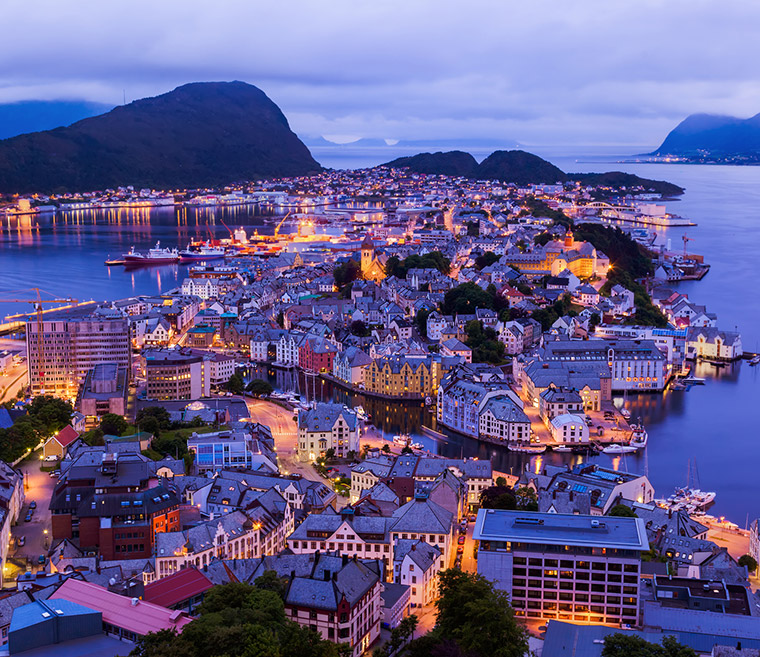 Many other hiking options area available on the nearby Giske archipelago. A 3km-long 'culture trail' on Valderøy island is a popular choice. Climbing Storhornet on Godøya island is one for the keen hiker who wants a view as a reward.
Enjoy the local cuisine
As a coastal city, it should come as no surprise to learn that fish is a big part of the local diet. Just a quick word of warning though, before you ask for the local speciality!
Ålesund is Norway's home of klippfisk, the dried and salted cod used to make the dish bacalao. It can be really tasty, as long as you're expecting the salty taste! The downtown XL Diner is an upmarket venue that specialises in klippfisk.
You may also come across a svele, a Norwegian pancake that is very popular in the wider region and especially on the passenger ferries. The crescent-folded thick pancake is similar to an American pancake. But again, I have to issue a warning. There may be a slice of brown cheese lying inside, so check first!
Where to stay in Ålesund
Although a popular destination, the town centre is extremely compact so the number of hotel rooms is limited. Book well in advance to secure a spot if you want to stay in one of the town's more charming hotels.
Here's our recommendations for the best hotels in Ålesund and a full review of the First Hotel Atlantica, which has a great location at the heart of the city.
Budget-seekers will be happy to hear there is a downtown hostel. There is also some cut-price accommodation further out of the city, including several campsites. These are good choices for those on a budget, with a car, or those who don't mind taking local buses to get around.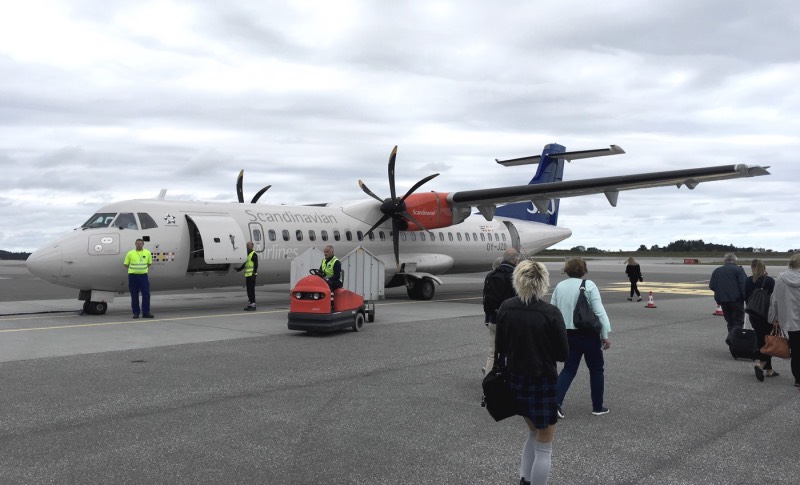 Getting here and getting around
Many people arrive in Ålesund on a Hurtigruten or other cruise ship, as other public transport options are limited. Driving from Trondheim takes around 5-6 hours, while driving from Oslo to Bergen can easily absorb an entire day. That being said, driving is a great way to enjoy some of Norway's spectacular scenery. So, don't dismiss the option too soon!
Flying to the city is also possible. SAS offer flights from Oslo, Bergen and Trondheim, while Norwegian also runs a route to and from the capital. Advance deals are available if you book at least a week in advance. An airport shuttle bus is available to complete your journey to the city centre.
The city has a reliable local bus service but most visitors will simply be able to walk around the major sites. However, the bus can be useful for reaching some attractions including the aquarium. For more information, check our guide to transport in Ålesund.
Nearby attractions
Ålesund is a great base for exploring the Geirangerfjord and Hjørundfjord, two of Norway's most picturesque fjords.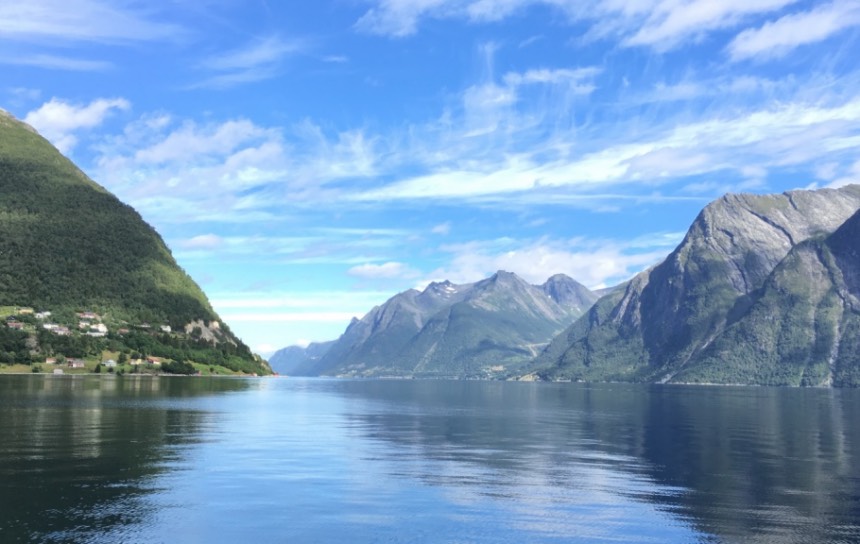 Hire a car and spend a couple of days touring the region, or take one of several organised boat tours from Ålesund.
If you're driving yourself, don't plan a round trip within a day. Spend a night in a hotel, hostel or cabin somewhere in the vicinity of the two fjords and reward yourself with a peaceful evening stroll along the waters edge.
Closer to the town, the Giske archipelago (home to the airport) is full of nature trails, hiking opportunities, beaches and a 12th century marble church.
Pre-travel checklist
Before you visit Ålesund, here's a quick checklist of important things to consider:
Guidebook: The Moon Norway guidebook will help your plan your visit to Ålesund
Accommodation: Book your hotel in advance and save money
Insurance: Don't run the risk of travelling to Norway without adequate cover
VPN: Secure your smartphone's internet connection while you travel
Tours & activities: Save money by pre-booking tours & activities